As you try to restore your iPhone from an iCloud or iTunes backup, a common situation is that you cannot find the Apps and Data screen to proceed to the next step. Don't worry, this article contains all the details that you need to know so that you don't have to rummage through your phone settings and therefore locate the options. This will be an essential trick when you need to migrate your data from existing backup or restore your data from old devices to a new iPhone 15/14 or iPad.
Where is the Apps and Data Screen on iPhone/iPad?
Apps and Data screen is a step of the iOS setup assistant. When starting your new iPhone, iPad for the first time, you will be greeted by the "Hello" screen. Then you will have to select language, countries or regions, Wi-Fi, set up Face ID/Touch ID, and after all these steps, you'll get to the Apps and Data screen, where you can choose to:
Restore from iTunes backup;
Don't Transfer Apps & Data(Set up as new iPhone);
Move data from Android.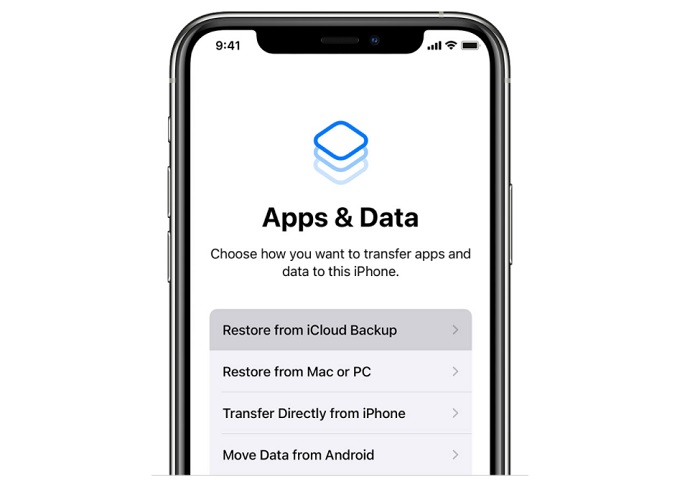 Apps and Data screen only appears in the initial setup of an iPhone or iPad, and that's why you can't find it anywhere on your device after setup. Fortunately, you can still easily get to the Apps and Data screen after setup with the following steps.
How to Get to Apps and Data Screen after Setup
Step 1. On iPhone or iPad, go to Settings > General > Reset > Erase All content and Settings and type your passcode to confirm.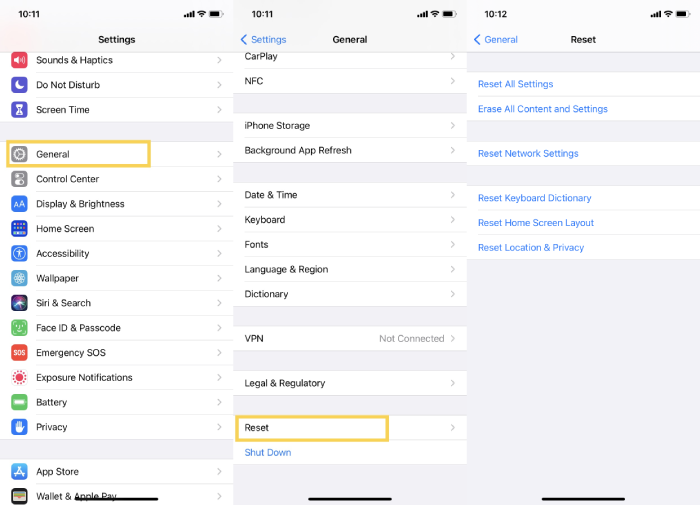 Tip: This will delete everything from your iPhone/iPad, so ensure that the device has been backed up to iCloud or iTunes before you perform the steps. (Tip: How to Restore Data from iCloud Backup without Reset)
Step 2. Your iPhone/iPad will start to erase everything from its internal storage and returns the device to factory-fresh state, after which the device needs to be set up again.
Step 3. When your iPhone reboots with the "Hello" screen, follow the setup assistant to join a network, set up screen lock until you get to the Apps and Data screen.
Step 4. Now you've got two options to restore your iPhone or iPad. Tap Restore from iCloud backup and sign in with your iCloud account to restore the backup. Tap Restore from iTunes backup and connect the iOS device to the computer that the device backed up with to restore the iTunes backup.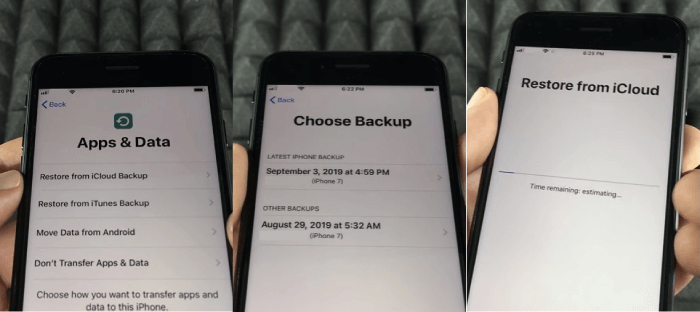 Step 5. Wait until the restore is complete and finish the rest of the setup process.
What If You Don't Want to Erase Your iPhone/iPad?
Obviously, the Apps and Data screen is helpful if you want to restore and transfer data from an old iPhone or iPad. But the inevitable flaw is that the data preserved on your iPhone or iPad will be erased first before you get to the Apps and Data screen. To prevent unpleasant situations such as data loss or failure to restore, an alternative solution to migrate and transfer your data is by using third-party tools. Usually, they don't require any complicated process and help you move data directly and easily.
Therefore, if you want to transfer data between different devices without going to the Apps and Data screen, FonePaw DoTrans can be a reliable choice. Basically, it is an efficient data transferer that supports various platforms. Connect your iPhone or iPad to your computer via a USB cable, you can conveniently import or export different files. You can flexibly transfer data from iPhone to iPhone or iPad, and move data from iPhone to Android without having to confined in systems.
Media files such as your Photos, videos, and music can be transferred efficiently in a few clicks. Other files including text messages and contacts can be extracted and exported conveniently as well. Generally, it eases efforts to manage data store on your mobile devices and provide a better experience when you need back up mobile data on computer.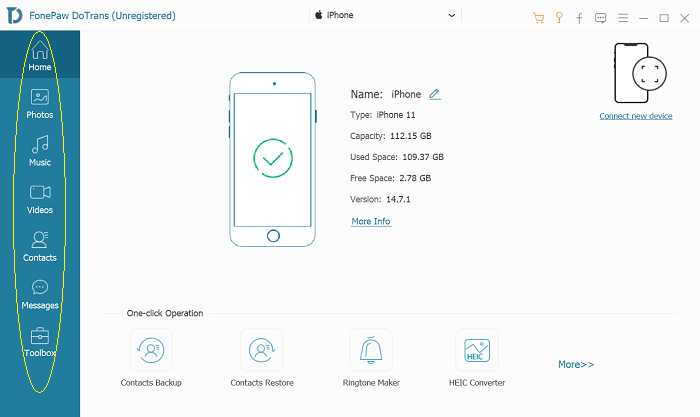 Transferring iPhone data will be much more feasible than wiping out data then restoring from backup in the Apps & Data screen. Here are the steps.
Step 1. Install DoTrans on your PC and launch the program.
Free Download Buy with 20% off
Step 2. Connect different iPhone or iPad, be it new or old, to your computer.
Step 3. After a quick scanning, the Photos, contacts, songs, movies, videos, ringtones, etc. on your iPhones will appear on each section accordingly.
Step 4. Select the content you want to move to your iPhone and click Export > your device's name to start the transfer.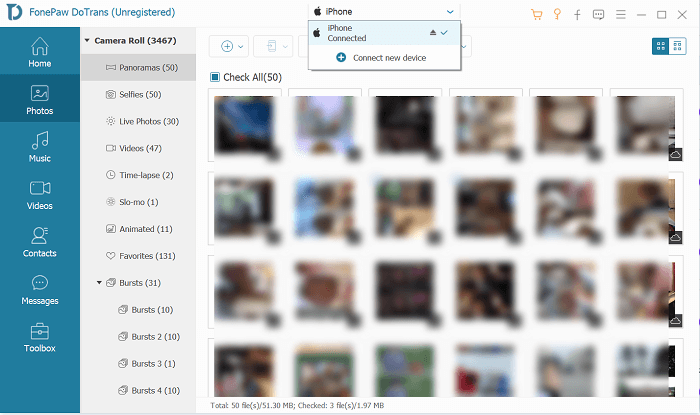 How to Get to Apps and Data Screen on New iPhone
Still, it will be much easier to get to the Apps and Data screen if your get a new iPhone or new iPad. Simply use the manual setup feature and things can be achieved. And this method applies to devices running iOS 11 to iOS 17 and even later versions.
But one thing that worth noting: if you use Quick Start to set up your new device, you won't get to the Apps and Data screen but you can still restore iCloud backup to the new iPhone.
Step 1. Turn on your new iPhone. If you have an old iPhone running on iOS 11 or above next to the new device, you'll see the Quick Start pop-up.
Step 2. Tap Set Up Manually to go to the general Apps & Data screen.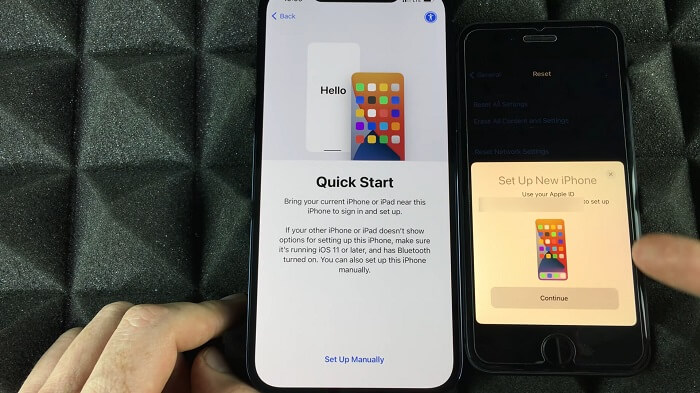 Or you can tap Continue on your old iPhone to set up the new device with Quick Start, which can get you to the Transfer Your Data screen and allow you to transfer data from the old device to the new one withor without iCloud.
Final Words
Above all are the complete guide to access the Apps and Data screen so that you can migrate data on your iPhone and iPad much simply. But if you prefer not to erase your data and transfer data without iTunes or iCloud, third-party data transfer software such as FonePaw DoTrans should help you bypass all the inconvenient rules and even create a backup for you.