Updated on Friday, September 14, 2018.
Though your iPhone doesn't store contacts on the SIM card, if you are switching from a non-Apple smartphone to iPhone X/XS/XR/8/7/6s/6 or transferring iPhone to another cellular carrier, you may have contact information that on the old SIM that you want to import to the new phone. You can easily transfer contacts from SIM card to iPhone if the card is suitable with your iPhone. But things could be that the SIM card is too big or too small to insert into iPhone and your iPhone cannot recognize it. In this post, we divide into two parts to show you the comprehensive way to copy SIM contacts to iPhone.
Part 1: How to Import SIM Contacts to iPhone (When the SIM Card is Suitable for iPhone)
Step 1: Insert old SIM Card into iPhone
First of all, please power off your iPhone. Then, take the new card out of your iPhone and put your old card instead. Once you've changed the card, turn on your iPhone.
Step 2: Import SIM Contacts
Touch "Settings" button from the home screen of your iPhone, then scroll to and tap "Mail, Contacts, Calendars." After that, tap "Import SIM Contacts" to load the phone numbers from SIM card to your iPhone. On this step you can also import your contacts to cloud services you are using such as iCloud or Google contacts.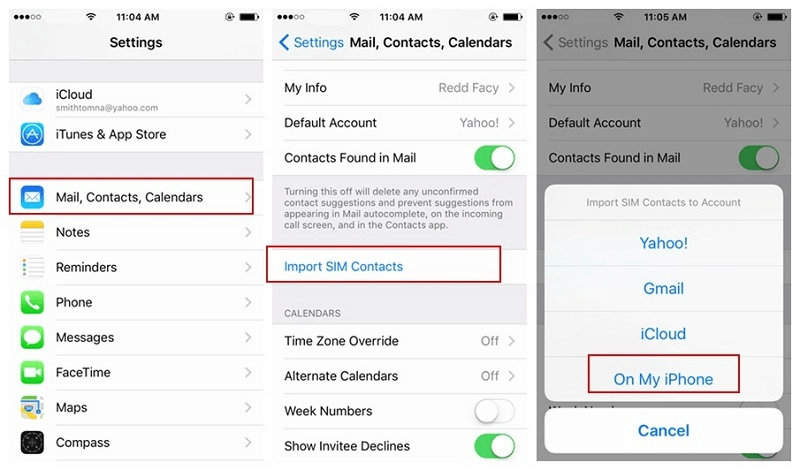 Step 3: Swap the Cards Back
When SIM contacts are imported, you can turn iPhone off and remove the old SIM card from it. After adding the new card and power on your iPhone, you should see all your contacts in your phone book!
Part 2: How to Transfer Contacts from SIM to iPhone (When SIM Card Cannot Be Recognized by iPhone)
What to do if the SIM card is not suitable with your iPhone? In this case, you can make use of some contacts transfer program to import SIM phone numbers to your iPhone. Among all these iPhone contacts transfer programs, FonePaw DoTrans (opens new window) is one of the best. This program enables users to transfer contacts from iPhone to new iPhone (opens new window) without the need of SIM card. If you are using an Android, you can sync the SIM card contacts to Gmail/Outlook and then import contacts from Gmail/Outlook to Android (opens new window).
With FonePaw DoTrans, you can also:
• Transfer contacts from iPhone to computer (opens new window)/Mac, vice versa;
• Transfer contacts from iPhone to Gmail/Outlook/Yahoo;
• Backup and restore iPhone contacts with one click;
• Merge duplicated contacts on iPhone;
• Create contacts group on iPhone;
• Delete contacts from iPhone.