"I accidentally deleted some important family photos and videos from my Samsung Galaxy S9 memory card, how can I get back those missing files from my Android phone?"
Family photos or videos are carrying precious moments with the family members no matter it is happy or sad memories. The accidental deletion of them might make you freak out. Don't worry. Deleted photos and videos can be recovered on Android without computer! In this post, there are 3 methods listed below to recover deleted photos from Android phones such as Samsung Galaxy S9/S8/S7, HTC, LG G, Googe Pixel, HUAWEI Mate, Xiaomi, etc.
NOTE. When accidental deletion happens, the first thing you need to do is to stop using your phone and turn off network connection on your Android device so as to avoid unwanted data loss.
CONTENTS:
Can't Miss:
Method 1. Most Effective Way to Recover Deleted Photos
Some of you might be wondering if it is possible to recover deleted photos if you don't have a backup. I have to say YES. Actually, deleted files are not really deleted. When the files are deleted, the space they used is marked as "readable" which means it's available for new data to use. Therefore, before being overwritten by new data, deleted photos or videos can be recovered from your Android device. Since installing a new app on Android phone generate new data and could overwrite the deleted photos, we recommend you to stop using your phone and employ a desktop data recovery tool.
FonePaw Android Data Recovery (opens new window) is a totally free-to-download desktop program on both Windows and Mac computers, supporting restoring images with .jpg, .png, .gif, .bmp, .webp, .tiff formats. With the program, you can retrieve deleted photos from your Android device in two modes: Standard Scan and Deep Scan, which increase your chances to get back the deleted photos that you are looking for.
Free Download Buy with 20% off Free Download Buy with 20% off
Step 1. Connect Android Device to your Computer
If you are successfully running FonePaw Android Data Recovery, then, connect your Android device to your computer with a USB cable.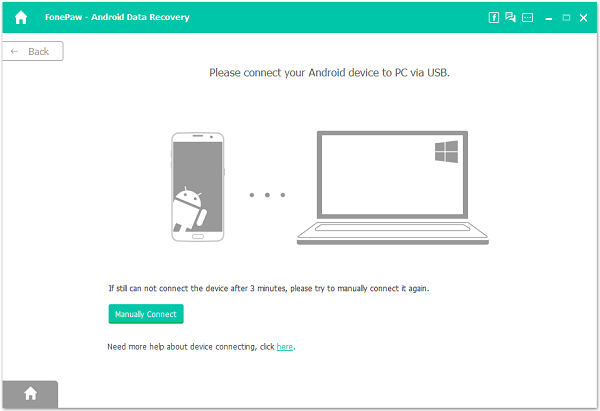 Step 2. Enable USB Debugging
USB debugging allows Android users to transfer data between the Android devices and a computer. If you don't open USB debugging, the program will automatically prompt you to open. Follow the pop-up instructions to finish the operation based on the version of your Android OS. Get more information on: How to Enable USB Debugging on Android (opens new window). After that, click on "OK" and go to the next step.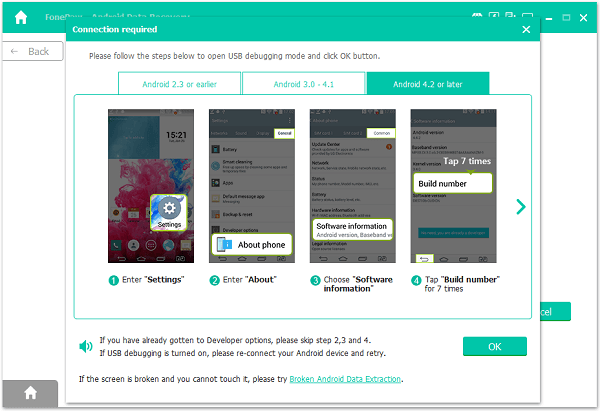 Step 3. Choose File Types
Next, several file types are listed in the program's interface, for example, Contacts, Messages, Call Logs, Gallery, Audio, and so on. In this case, you should check the "Gallery" and "Videos". And then, click the "Next" button to start scanning.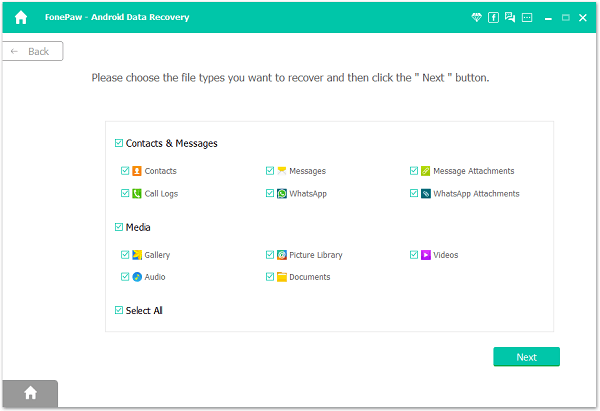 Step 4. Allow FonePaw App to Access Android Storage
The program needs permission to access deleted files on your phone memory. Follow the on-screen instruction to toggle on Install via USB on your phone and install the FonePaw app.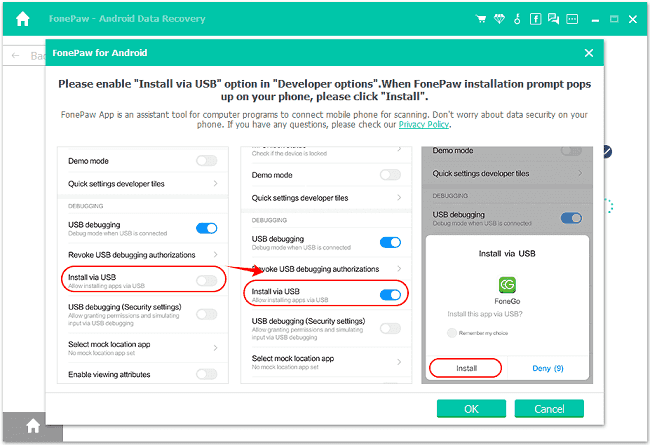 Tap "Allow" when you see the app's request on your phone and click Scan Authorized Files after you have allowed all requests to access the phone storage. The program will perform a standard scan on Android.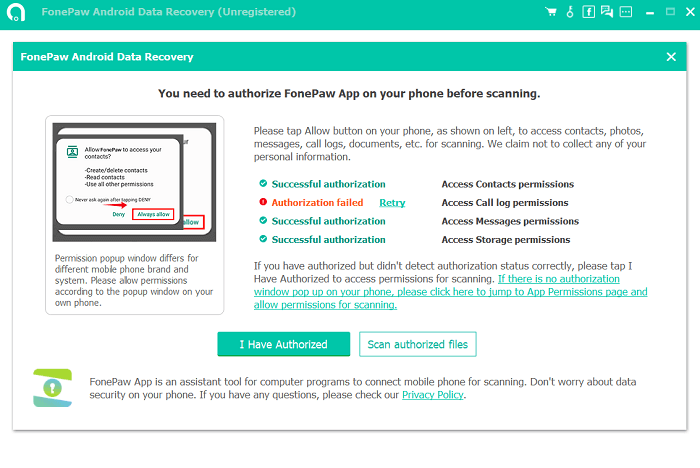 Step 5. Recover Selected Photos/Videos
When the standard scan is finished, you should be able to get back some deleted photos from the phone. If you need to restore more deleted photos and videos, click Deep Scan.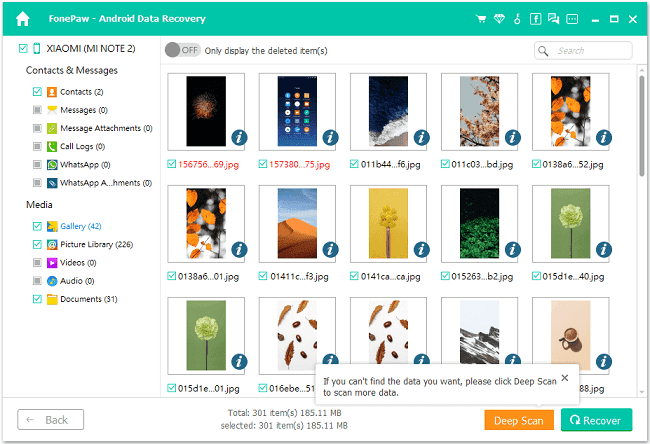 After a deep scan, you can preview all deleted photos and videos on the interface. Pick out the photos and videos you need and click "Recover" button.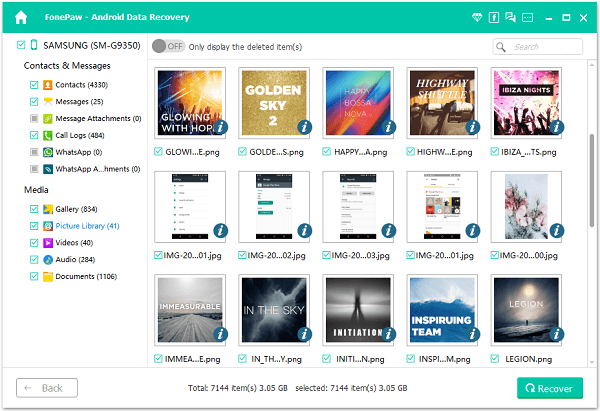 Method 2. How to Recover Deleted Photos from Google Photos without Computer
If the Android phone's gallery is in sync with Google Photos, you can directly find the deleted photos and videos in Trash. Besides, deleted photos will be saved in Trash for 60 days. To recover deleted photos from Google Photos without computer, please follow a few steps below.
STEP 1. Open Google Photos on your Android phone.
STEP 2. Tap on the Menu button to go to "Trash".
STEP 3. In the preview list, you can see all your deleted photos or videos.
STEP 4. Select photos or videos you want to retrieve. Then, tap on the icon at the top right corner of the screen to choose "Restore". In this way, selected photos/videos will go back to Gallery on the Android phone.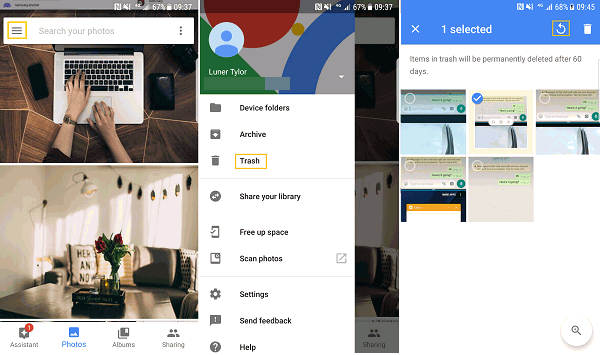 Method 3. How to Recover Deleted Photos from Samsung Cloud without Computer
Similarly, you can easily recover deleted photos from Samsung Galaxy S9/S8/S7/S6/S5 without computer using Samsung Cloud, if you have made a backup. As we know, Samsung phones offer Samsung Cloud service for models like Samsung Galaxy S9/S8/S7/S6/J2/Note 8. Therefore, if you have enabled Auto Backup on Samsung Cloud, you can directly retrieve lost photos or videos from Samsung Cloud without computer.
STEP 1. Open Settings on your Android phone.
STEP 2. Scroll down and choose "Cloud and Accounts" > "Samsung Cloud".
STEP 3. Tap the "Restore" option which is below "BACK UP AND RESTORE" section. And then, data types synced to Samsung Cloud will be listed.
STEP 4. Select "Gallery" > Tap "RESTORE NOW". After a while, you can get deleted photos/videos back.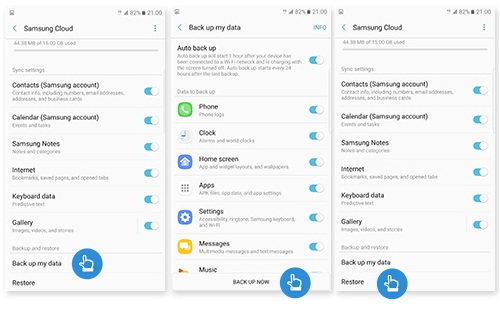 Tip: Recover deleted photos and videos from Samsung Cloud Recycle Bin
If you have enabled Gallery to sync photos to Samsung Cloud, once an image is deleted, you can try to find the deleted photos in the hidden recycle bin in Samsung Cloud.
STEP 1. Open Gallery, tap More > Settings > Recycle Bin.
STEP 2. View the deleted photos and choose the ones you need to restore to your Samsung Galaxy phone.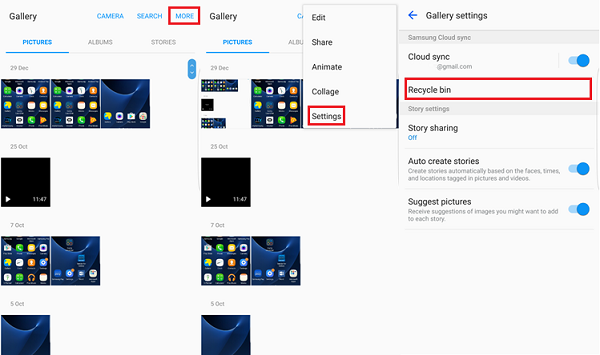 I sincerely hope that you can get helpful information in this post. Please let us know with comments below.