Speaking of screen record on HP laptop, you may come up with some recording software like the built-in tool Xbox Game Bar. It really is a great tool, but there are many limitations when using it to record on Windows 10. For instance, only one program window can be recorded so you cannot switch windows and the mouse will be captured.
Fortunately, there is a better way that allows you to screen record on HP laptop. That is using a professional screen recorder. All you need to do is selecting a recording region and sound, adding annotations if needed, trimming the recording, and saving it. Wonder what recorder can help you screen record on HP with many bonus functions? Let me show you.
How to Screen Record on HP Laptop with Audio
No matter what Windows version you are using on your HP laptop, you can screen record on HP laptop easily with a tool like FonePaw Screen Recorder. It contains basic recording functions that allow you to record an online course or live video that you can't download with audio and without being covered up by other windows even though you are using other software when the screen recording is on. More function details are listed below.
What Can Be Recorded
and Saved?
What Can Be Customized?
What Preferences Are Optional
for the Recording?
High quality Videos, audios, Screenshots, GIFs
Recording area, windows
Show countdown
Before recording
Computer screen and your face
Mouse Clicks
Beep
Online meetings with/without permission, online courses, shows, games…
Almost anything showing on your screen
Annotations and callouts
Show recording boundary
During recording
Watermarks
Hide float bar
Timer setting
Move the recording region
Output formats
Hide desktop icons
Audio volume
Hide system taskbar
Hotkeys
Open preview window interface
After recording
Video and audio parameters
Hide main interface when taking screenshots
All
the time
Now that we've covered the bonus features of FonePaw Screen Recorder, let's move on to how to use this recorder to screen record on HP laptop. Download it now and get the screen recording started.
Free Download Buy with 20% off
Step 1. Select a Recording Region
Launch FonePaw Screen Recorder and click the first tool Video Recorder. Then select a recording region.
Optional advanced setting: There are some preset resolutions in pixels as well as for you to choose. Besides, you can select full screen or a specific region/window.

Click Advanced Recorder, you can lock the record window or move the window as the setting here.
What's more, some windows that you don't want to record can be excluded if you untick them after clicking Exclude window and record in the drop-down menu.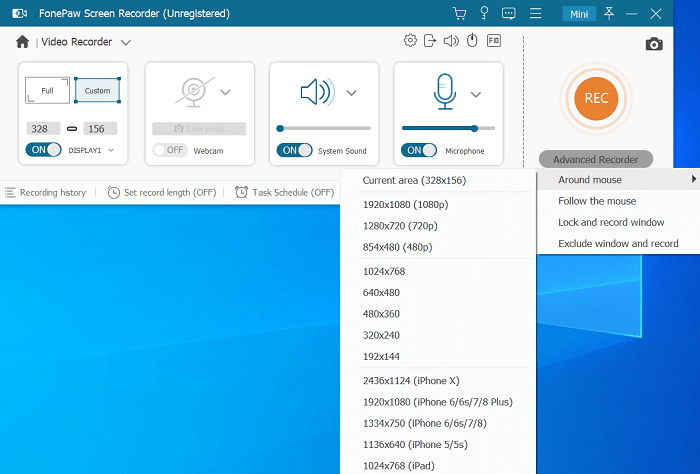 Tip:
The camera icon on the top right corner is the screenshot button. There are some gadgets that allow you to draw or add text to the image you've captured. You can copy it without saving or save it into your target folder.
Step 2. Choose the Audio if Needed
Turn on the system sound/microphone switches if you need to record both your voice and the sound from your HP laptop.
Optional advanced setting: Click on the speaker/microphone icon on FonePaw Screen Recorder, and hit Sound Check in the drop-down menu. You can test the sound volume here.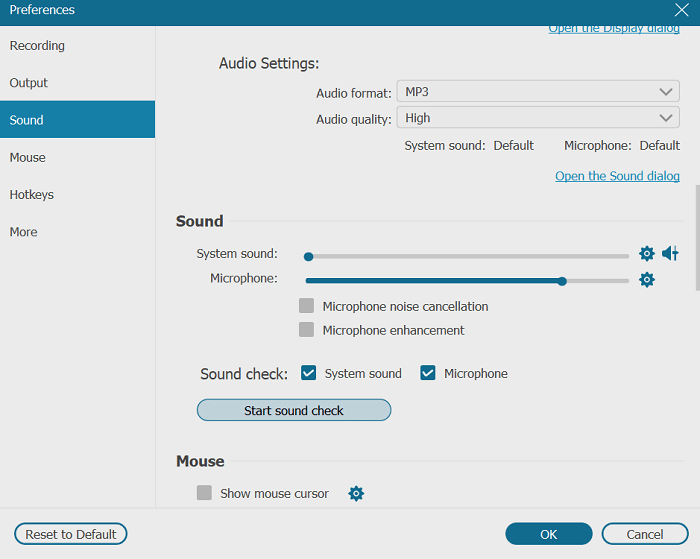 Step 3. Set Preferences
Click the gear icon on the recording page and you can set the recording preferences here. It's recommended to tick the last option so that you can preview or trim the recording after it's done.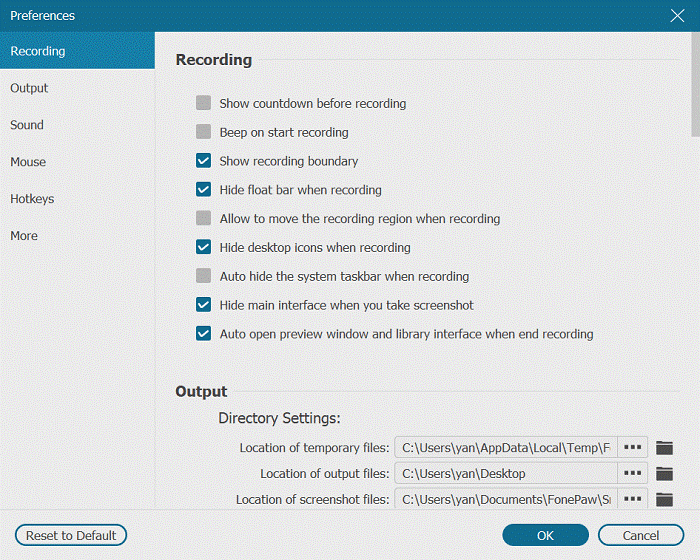 On tab Output, you can get the location of the temporary files, output files and screenshot files customized. Screenshot, video and audio formats can be selected here too. Recording a GIF file only needs you to change the format from the default one to GIF before you start recording.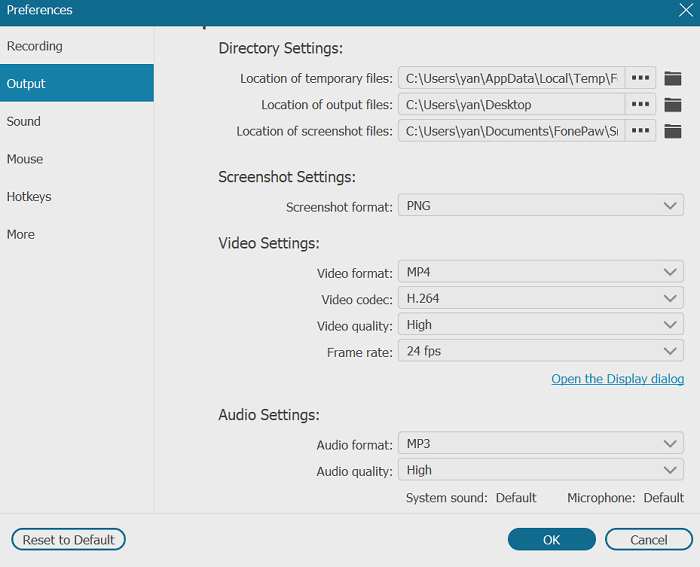 On tab Mouse, you can choose if to show your mouse cursor during screen recording. Color of mouse clicks and mouse area can be customized too.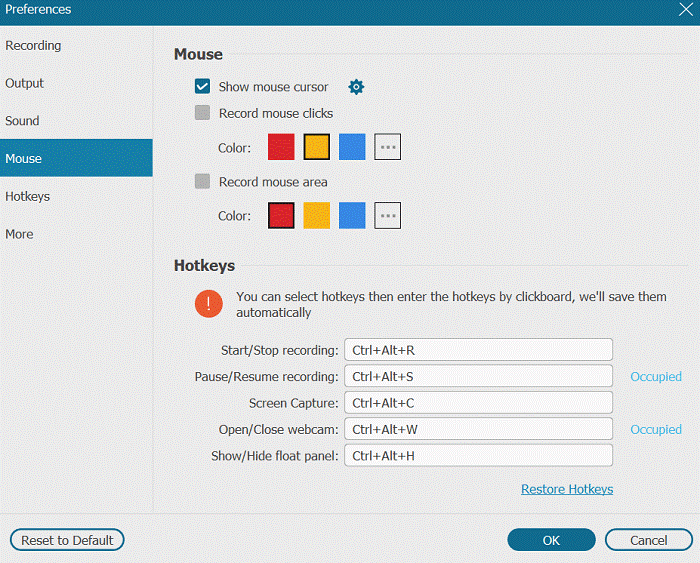 Step 3. Start to Record a Video on HP Laptop
Hit the REC button and the recording will be started. And there are some actions you can take on the floating bar during the recording:
Capture the recording frames by clicking the camera icon.
Set a timer to stop recording automatically by clicking the clock icon.
Draw, add callouts or wordings on the screen recording by clicking the edit icon.
Turn op/down the sound volume of the system and microphone
Exclude some windows that are not supposed to be recorded
Pause and resume the recording process
Minimize the floating bar

Step 4. Stop Recording and Save It
Hit the Stop button on the floating bar and you will go to the preview window (unless you unticked the preview option on the recording preference tab). If the recording is perfect for you, just click Save.

Tips:
1. You can take screenshots on the video for some images you need by clicking the camera icon.
2. If you wish to cut the video or save a recording that is longer than 3 minutes, a paid version will be required.
3. If you want to recommend FonePaw Screen Recorder to your friend who is using a Mac Computer, here is a detailed guideline on how to record Mac Screen.
Free Download Buy with 20% off
FAQs About Screen Recording on HP
Can I Record a Video with a Background of My Screen?
Yes, you can. When you are using FonePaw Screen Recorder, go to the Video Recorder page. Then turn on the Webcam switch. You will see a window showing yourself. Once you start recording the screen, you will be recording a video of yourself with a background of your screen.
How to Screen Record on HP Pavilion?
You can choose an excellent recorder like FonePaw Screen Recorder to get your screen recorded on HP Pavilion with simple steps: select the recording region > hit REC button.
Meanwhile, you are using a system of Windows 10 on HP Pavilion, you can screen record with one particular window easily on a built-in recorder named Xbox Game Bar. Use the keyboard shortcut "Win+G" and you will open this recorder and start to record or stop the recording by "Win+Alt+R".
However, there's one thing you need to know. HP Pavilion of new model can screen record without lag, but if you are using an old one, some setting may need to be done if you want to screen record on it smoothly.
Conclusion
Recording a screen on HP Laptop is much easier than you thought it would be, right? With a trustworthy screen recorder, you can get anything on your screen recorded and share them with your friends, families, or colleagues. If they ask you how to screen record on an HP laptop or Mac later, I bet you will be appreciated if you recommend them FonePaw Screen Recorder, the versatile screen recorder.
Free Download Buy with 20% off Free Download Buy with 20% off