Overwatch is a multiplayer team-based shooting game on the computer. As game players, we all want to record the precious moment when we are playing with our team members. Also, top-level players can record some tutorials for the rookies. In the following, you can get where are Overwatch highlights saved and how to record play of the game Overwatch.
How to Record Overwatch Gameplay (No lag)
Although Overwatch can capture the video clips of the game, we found that some users still complained about it. For example, Overwatch highlights cannot record long videos but only capture up to 3 highlights per round. Some users may also want to record what they want freely during the game but highlights are limited in the recording.
To record what you want and long video of your Overwatch game, FonePaw Screen Recorder might be a better choice.
FonePaw Screen Recorder is a professional screen recorder that helps you record game, screen, audio and capture screen. When you are recording Overwatch or other gameplay with FonePaw Screen Recorder, one of the best parts is that you can customize the recording area and parameters. Furthermore, it provides 60fps for no-lag gameplay video recording.
Besides, you can set the recording length for the gameplay. The steps are simple:
Video Tutorial: How to Record Gameplay Without Lag [PC & Phone]
Step 1 Free to download and launch the FonePaw Screen Recorder.
Free Download Buy with 20% off Free Download Buy with 20% off
Step 2 Click the Gameplay Recorder on the main interface. You can customize the recording area here.

Step 3 Set the system sound, microphone, record length as you like. Then click Rec.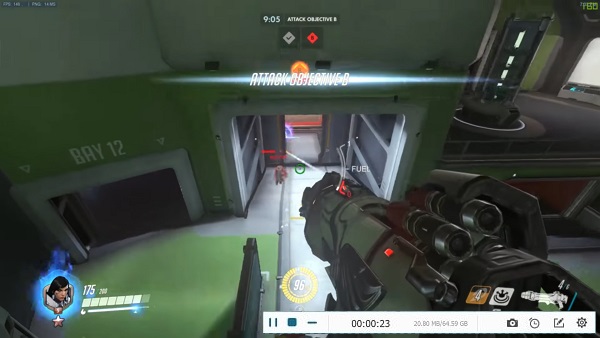 Step 4 When you finish the recording, click the Stop button. You can use the clip feature here. Click Save and choose the save path. If you are not satisfied with the clip you've recorded, click Re-record to record again and the clip will not be saved.
How to Save Overwatch Highlights
#Types of Overwatch Highlights
Overwatch has the screen recording feature, which calls Highlights. It houses the player's collection of short clips saved from previous matches. It mainly includes three types of contents: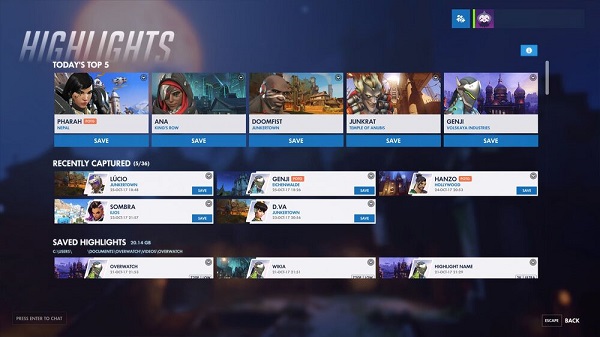 1. Today's Top 5
The Play of the Game, such as High Score, Lifesaver, Sharpshooter, will be automatically generated during the game. These are kept in "Today's Top 5" and will be retained for 24 hours until it is replaced by the new highlights.
2. Recently Captured
Players can capture the last 12 seconds of their gameplay. The highlights will appear in the Recently Captured section of the Highlights menu. Players can capture up to 3 recent highlights per round and keep 36 of these highlights at a time.
3. Saved Highlights
Highlights can be saved as a video on your computer. You can also change various video quality settings to record a highlight of different quality
#Save Overwatch Highlights
Overwatch highlights don't automatically save on your computer. If you get a video file of one of your amazing plays, you'll need to take the following steps to make the highlight save in your PC or Mac.
Open Overwatch and you need to go to Controls > scroll down to "Request Highlight" area to find the button to records highlights.
Press the button whenever you want to capture the last 12 seconds of your play. It will be saved in the Recently Captured automatically once you have pressed the button.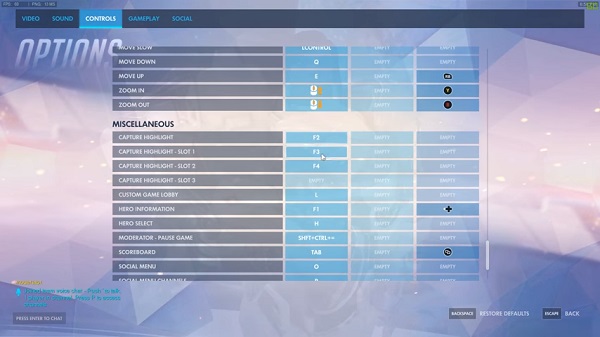 Open the Highlights menu, right-click the highlight you want to save and click Record.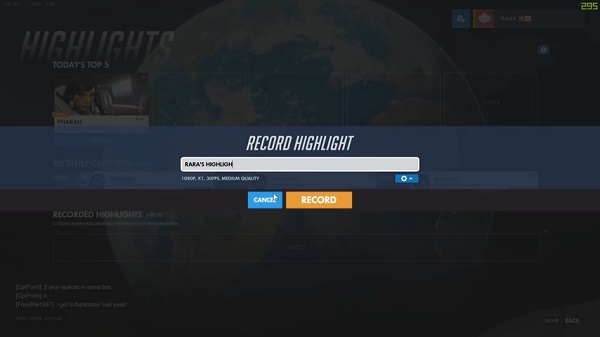 If you watch the saved Overwatch highlight in PC, keep reading.
Overwatch Highlights Save Folder
After you record your cool moment in the game, you can save and export those 12-second clips to the computer. To find your clips, go to Documents folder in the PC, the video clips should be saved under 'Overwatch'. Overwatch highlights are saved in the Documents folder on your PC by default, but you can change the save location by yourself in these steps.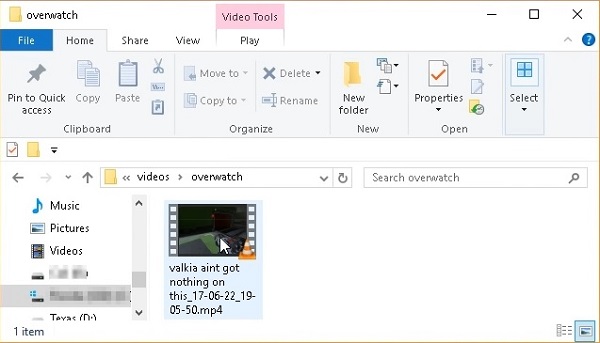 First, make sure your Overwatch is closed.
Next, press Windows key and type %Documents% and hit Enter.
Then Navigate to \Documents\Overwatch\Settings. Open the Settings_v0.ini file. Find the MovieExport > add the line [MovieExport. 1] with your custom file location between the quotation marks:VideoPath = ""
Finally, save your changes and launch the game.
To sum up, If you want to save the clips of your Overwatch highlight, you can follow above tutorials to find out where Overwatch highlights are saved on PC. If you want to record a brilliant long-time Overwatch gameplay video without lag, you can use FonePaw Screen Recorder. It's now free to download.
Free Download Buy with 20% off Free Download Buy with 20% off