OBS Studio is one of the most popular video recording and live streaming software programs. As a video recording application, OBS Studio takes up a lot CPU when working. Many people have reported that they got "Encoding overloaded! Consider turning down video settings or using a faster encoding preset" error from OBS Studio when the program runs quite slowly or fails to encode videos. Actually, this issue is related to high CPU usage. To fix this problem, you can try the solutions below.

OBS has a certain system requirement for lag-free screen recording and streaming. If your computer doesn't work well with OBS, it's time to get a lightweight screen recorder (opens new window), which takes less CPU usage to get a high-quality recording.
You May Need:
How to Fix OBS Black Screen? (opens new window)
Best OBS Alternatives to Live Stream and Record Screen (opens new window)
1. Reconfigure Output Resolution
The higher resolution you set for encoding videos with OBS, the more pressure the CPU will get, and your computer may overheat, as a result of which, your screen may freeze and the videos may stutter. So the first workaround is to downscale the OBS output resolution to reduce CPU usage.
Step 1: Launch OBS Studio and click on Settings at the bottom-right side of the screen.
Step 2: In the new pop-up window, select Video on the left side, and then clickOutput (Scaled) Resolution to lower the resolution by a notch or two.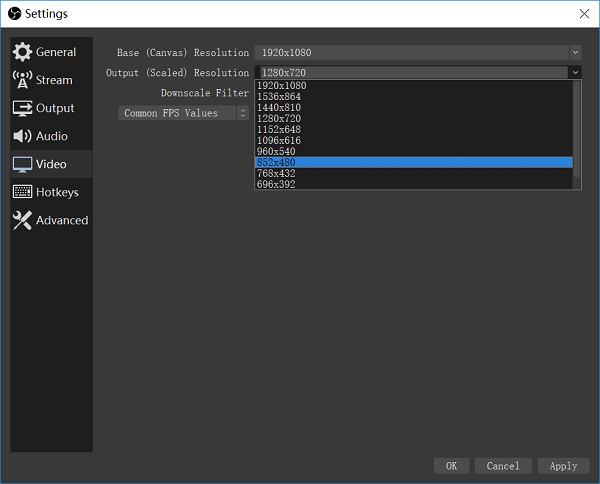 Step 3: Save changes, exit the program and reboot your computer. Launch the app to record video or stream again to check if the encoding overloaded error still occurs.
2. Reduce Frame Rate
If you capture video in a higher frame rate than that your computer can process, chances are that your computer will run slowly and other unexpected problems may also occur, like this OBS Studio encoding overloaded error. So you may need to reduce the frame rate in your OBS settings to avoid this problem.
Step 1: Go to OBS settings.
Step 2: Click Video on the left side of the pop-up window.
Step 3: Select Common FPS Values and set it to a lower value, such as 30 FPS, 25 FPS.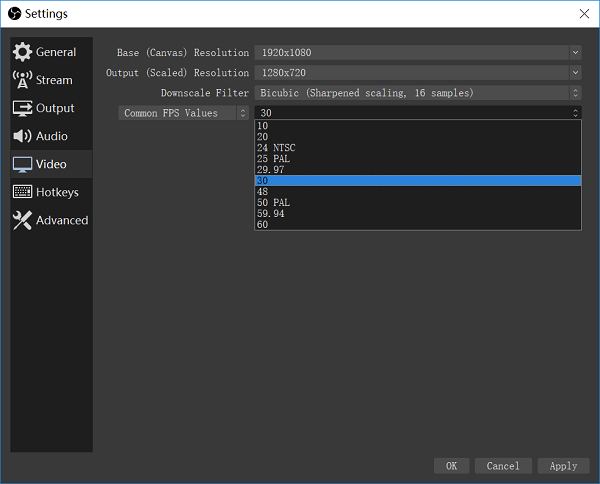 Step 4: Save changes, reboot your computer and restart the program to see if the error is solved.
3. Change x264 Preset Settings
The OBS video encoder is x264 by default, which you can adjust to reduce CPU usage and fix the encoding overloaded error. It has several presets and "very fast" is used by default. Faster preset means the encoder will run fast to process the video without using too much CPU but at the cost of video quality. So if your OBS encoding overloaded issue is still unsolved, try changing the x264 to a faster preset.
Step 1: Launch OBS Studio and go to Settings.
Step 2: Click Output on the left side of the pop-up window.
Step 3: Change the Output Mode to Advanced.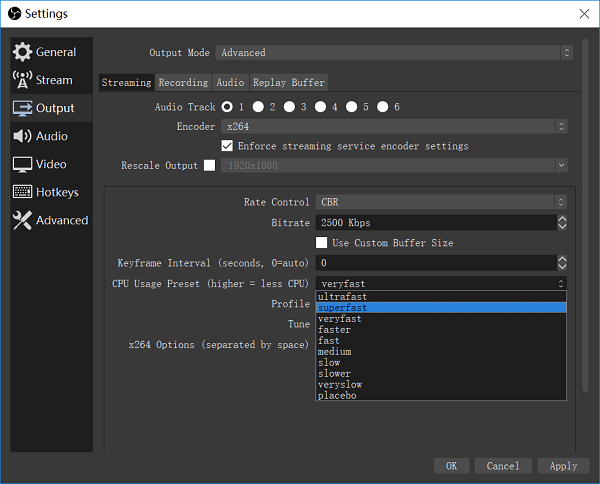 Step 4: Now you can change the preset CPU Usage mode to a faster speed, such as superfast, ultrafast.
4. Try Other Screen Recording Tool
If the above solutions cannot solve your problem, maybe it is time for you to leave OBS and have a try at other screen recording tools. FonePaw Screen Recorder (opens new window)is an excellent screen recorder which can satisfy your various needs of screen recording. It has a simple and clean user interface which makes it easy to use.
With this tool, you can record games (opens new window), desktop and any other screen activity s in high quality without bothered by "encoding overloaded" error anymore. What's more, this recorder enables you to add annotations, highlight mouse cursor, enable webcam in screen recordings. You can also set a timer for the recorder to schedule a recording (opens new window) or end a recording automatically.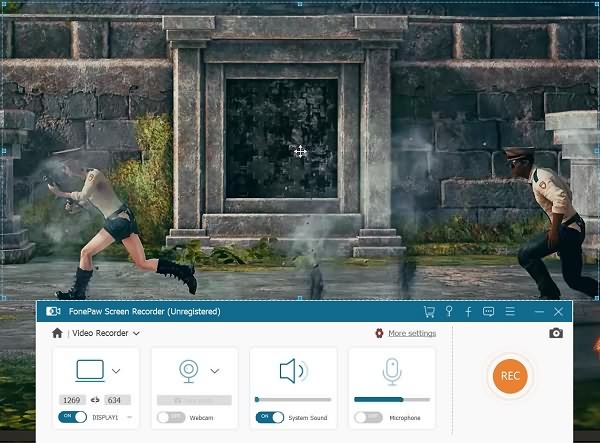 Here is how to use FonePaw Screen Recorder:
Step 1: Click the button below to download FonePaw Screen Recorder.
Step 2: Launch the app and click Video Recorder.
Step 3: Customize your settings. You can go to Preferences to set the quality and the frame rate of the output file. Besides, in Preferences > Output, the option Enable hardware acceleration can help to reduce the CPU resource the app needs when recording.
Step 4: Click the REC button to start recording.

5. Use Hardware Encoder
You can also consider using hardware encoder as an alternative. Hardware encoders namely Quicksync, AMF, and NVENC are encoders that come on recent Intel Integrated GPUs, newer AMD GPUs, and recent NVIDIA GPUs. The benefit of using hardware encoder is that it doesn't require too much CPU resources and thus reduce encoding load while on the other hand, this benefit comes at the cost of video quality. Here is how to use hardware encoder in OBS:
Step 1: Launch OBS Studio and go to Settings as mentioned above.
Step 2: Click Output on the left panel of the pop-up window.
Step 3: In the right panel, select Advanced output mode.
Step 4: In the Encoder option, choose Quicksync, AMF, etc.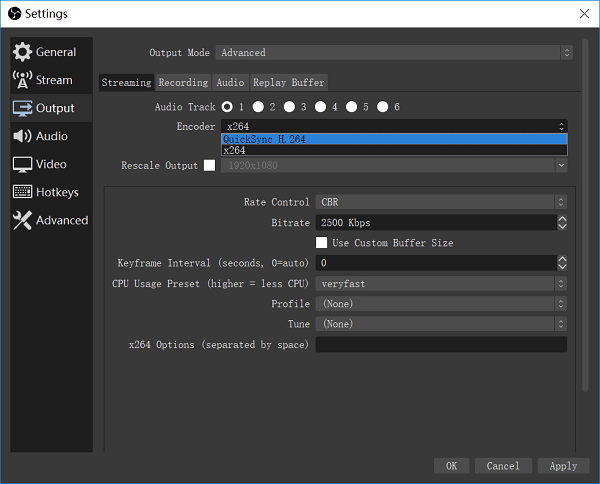 6. Set High Priority for OBS
The computer processor works on the principle of priority. It is unrealistic that there is only OBS running on your computer. In this case, you can set OBS to a high priority so that more CPU resources will be allocated to OBS.
Step 1: Launch OBS.
Step 2: Press Ctrl + Shift + Esc at the same time to open Task Manager.
Step 3: In Task Manager, click the Details tab and find OBS. Right-click on OBS, select Set Priority, and then set a higher priority for OBS according to your need.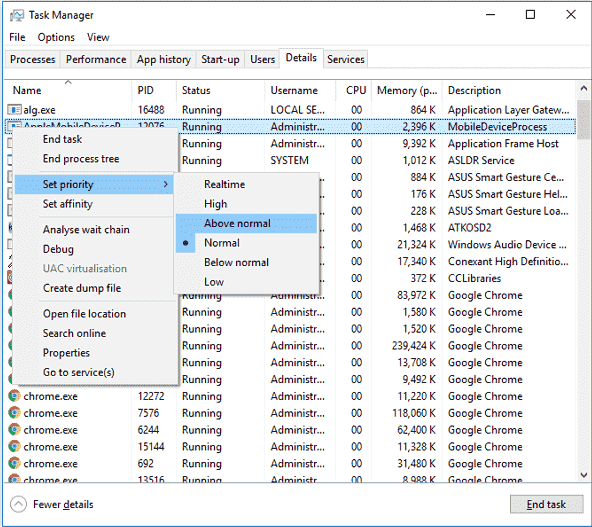 7. Free Up CPU Usage
If you launch too many programs on your computer, they will all take some CPU resources, and thus little was left for OBS to process encoding videos, which is very likely to cause encoding overloaded error. In this case, just free up your CPU usage simply by ending those unnecessary processes.
Step 1: Press Ctrl + Shift + Esc to open Task Manager.
Step 2: In the Processes tab, right-click those programs that you don't need, select End task.
The solutions above should be able to solve the OBS encoding overloaded error. If all of them are not of help for you, just have a try on some other screen recorders like FonePaw Screen Recorder (opens new window).