Summary: How to sync an iPhone with more than one PC/Mac, or with a new PC/Mac? Here are some simple but feasible tips to sync an iPhone with iTunes on a new computer without erasing data on your iPhone.
"I want to sync my iPhone 6s to a new laptop. However, when I start to syncing with the new computer, iTunes wants to erase everything in order to start syncing with this new machine. I cannot figure out how to do this without losing everything on my phone. What can I do?" -- Frustrated user
Don't Miss Out:
It is not an uncommon frustrating situation that when iPhone users want to sync iPhone with new computer they get the "Sync and Erase" message from iTunes. By design, the iPhone will sync iTunes content with one computer at a time. Any attempt to sync such content with a second computer will result in ALL iTunes content being first erased from your phone and then replaced with the content from the second computer.
This post will show you two solutions to sync iPhone X/8/7/6/5 to a new computer without losing data: using transfer tool or using iTunes.
How to Sync iPhone to New Computer without Losing Everything?
To sync iPhone to a new computer without losing photos, messages, contacts and so on, you just need the help of FonePaw DoTrans (opens new window). This software is designed to transfer files among iOS devices and computers. It is capable of syncing iPhone to a new laptop by transferring iPhone files to new computer (opens new window) without erasing contents. Unlike iTunes, this software can also transfer non-purchased files such as photos that were synced to your phone or music ripped on your own to the new computer.
Now, free download the trial version of DoTrans below and check out the following to sync iPhone contacts, calendar or other data to Mac/PC.
Free Download Buy with 20% off
STEP 1. Install and run the program
Download, install and run the program on your computer. Then, connect your iPhone to the computer by using the USB cable coming with your iPhone. Then, in the pop-up primary window, you will see the device is shown there.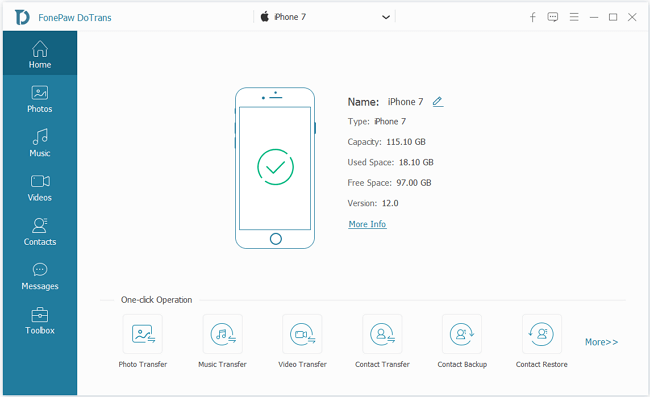 STEP 2. Sync iPhone with new computer
On the bottom line of the primary window, you can quickly sync data to the new computer without erasing data on your iPhone.
Sync iPhone to a new computer: On homepage, click "More" > "Transfer Data to Folder." You can choose to sync music, playlists, movies, podcasts, iTunes U, music videos, TV shows, audiobooks, contacts, SMS, from iPhone to your new computer.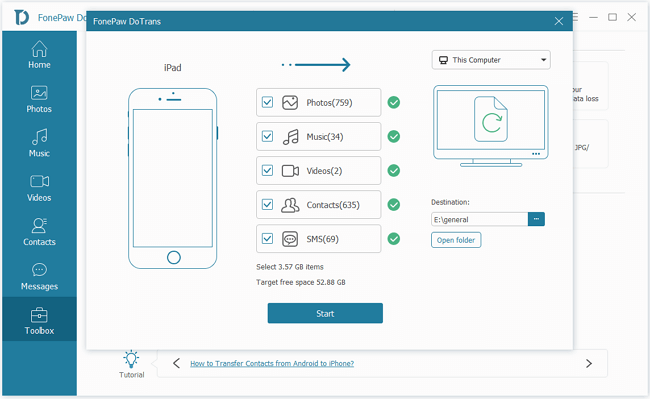 Selectively sync iPhone to new PC: Find Photos, Music, Videos, Contacts, and SMS in the left column and select those you need, click Export to PC to save the iPhone data on a folder on your PC.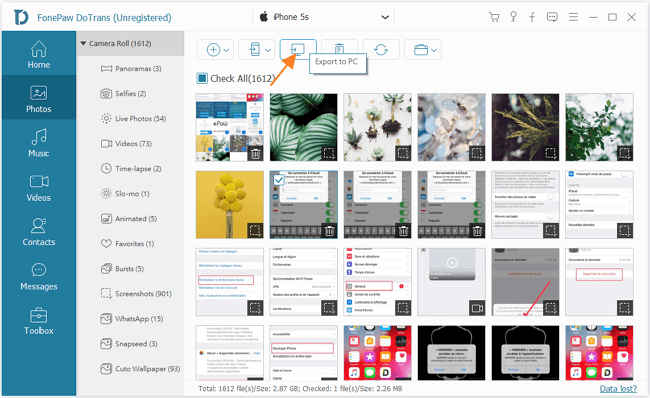 STEP 3. Sync successfully
When the transfer is ongoing, please don't disconnect your iPhone. The progress bar will show you the percentage of the transfer process. When the transfer is done, you can click "Open Folder" to find iPhone files in the target folder.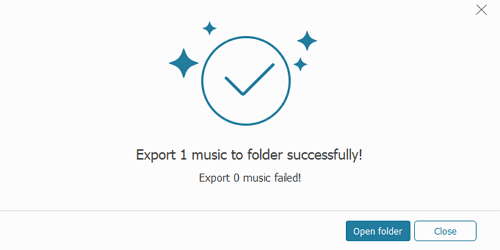 Note: Many readers may also come across the iTunes issues and ask "why is my phone not syncing to iTunes". So the above guide can also be a good solution to fix iTunes not sync problem.
How to Sync iPhone with New Computer with iTunes?
Every time when plug your iPhone into a PC or Mac, iTunes will ask if you want to erase this iPhone and sync with this iTunes library. However, if you want to sync iPhone to more than one PC/Mac, or with a new PC/Mac without erasing the iPhone's data, you are recommended to try the first method above instead of using iTunes to sync. But if you only need to transfer purchased books, music, movies, apps from iPhone to your new PC, you can use iTunes's "transfer purchase" feature to get it done without erasing contents on iPhone. Here is how to do so:
Click Edit > Preferences. Check "Avoid iPods, iPhones, and iPads from syncing automatically" to avoid any inconvenience.

Authorize new PC to use Apple ID.Click Account > Authorizations > Authorize This Computer. Enter your Apple ID to authorize.

Use USB cable to connect iPhone to new PC.

Go to File > Devices > Transfer Purchases from iPhone.

Wait until the syncing to be completed. Thus, this is how to sync your iPhones with iTunes.
Note: Like sync iPhone to new computer, it's same important to sync files between computers, especially synchronize multiple folders to a new computer. The free backup software (opens new window), AOMEI Backupper, provides file sync (opens new window) feature to backup your folders without restoration, and you can even transfer the changed data to the destination in a real time.
Which is the Best Way to Sync iPhone with Computer/PC?
From the below chart, we can conclude that: if you want to sync iPhone with a new computer without worrying losing pictures, messages, music etc. on iPhone X, iPhone 8, iPhone 7, iPhone 7 Plus, iPhone SE, iPhone 6s Plus, iPhone 6s, iPhone 5s and so forth, FonePaw DoTrans and FonePaw iOS Data Backup & Restore are good choices for your consideration. What's more, if you want to add files from computer to your iPhone, iPad or iPod, for example, transferring music from computer to iPhone (opens new window), that's easy as well.
| | | | |
| --- | --- | --- | --- |
| Tool | iTunes | DoTrans | Backup & Restore |
| Erase Data | Yes | No | No |
| Procedure | Difficult | Simple | Simple |
| Non-purchased contents | No | Yes | Yes |
Above is the whole guide to change computers to sync with iPhone. If you have any problem when following the above steps, just leave us a messages on the comment box below.