In our daily lives, there are occasions when we need to recover deleted call logs on iPhone, especially when we accidentally delete unsaved numbers and want to call back, or try to find and preserve important call logs. How to retrieve deleted call history on iPhone then? It can be challenging, since it doesn't sync to iCloud or Gmail like contacts and notes, making rescue attempts more complex.
However, the difficulty does not equate to impossibility. This article will introduce 4 workable methods to help you restore deleted call history on iPhone. Whether or not you have the habit of backing up iPhone call logs, these methods will allow you to effortlessly get them back.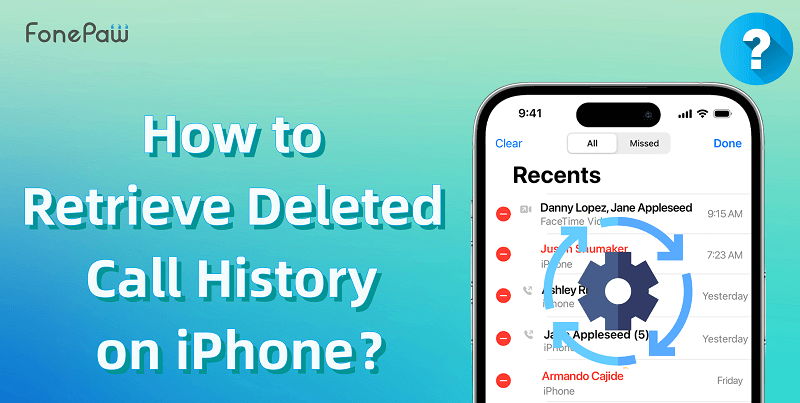 1. Retrieve Deleted Call History on iPhone Without Backup
You may consider that recovery usually requires an original backup. But what if you haven't got the time to back up your call history in advance? Don't worry! This problem can be easily fixed by powerful iPhone data recovery software.
FonePaw iPhone Data Recovery is the one you're seeking. Its interface is clean and easy to handle, allowing you to check and recover all data from iPhone without backup effortlessly, including viewing and finding the call history that is accidentally deleted or is too old to be shown on iPhone 15/14/13/12/11/XR. After that, you can save these important phone numbers, call histories, text messages, etc. to call or contact back.
Free Download Buy with 20% off Free Download Buy with 20% off
👍 More Features of FonePaw iPhone Data Recovery:
Recover 30+ types of files, including iPhone call logs, restored or disappeared contacts, and deleted photos/videos.
Restore integrated LINE/Messenger/FaceTime call history associated with iPhone call logs.
Support free scanning to confirm in advance whether deleted call logs can be located.
Allow preview of detailed information for iPhone call logs, including name, phone number, date/location, incoming/outgoing type, call duration, and missed call status.
Support one-click selection for the recovery of all call logs.
Recover data in HTML format to the computer, making it convenient for access through a web browser.
The following tutorial will guide you to recover deleted call history via FonePaw iPhone Data Recovery within clicks.
STEP 1. Install FonePaw iPhone Data Recovery
After installing FonePaw iPhone Data Recovery on your Windows/Mac device, launch the software and connect your iPhone to the device using a USB cable. When the connection is completed, select the "Recover from iOS Device" mode and submit "Start Scan" to detect the call deleting history on your iPhone device.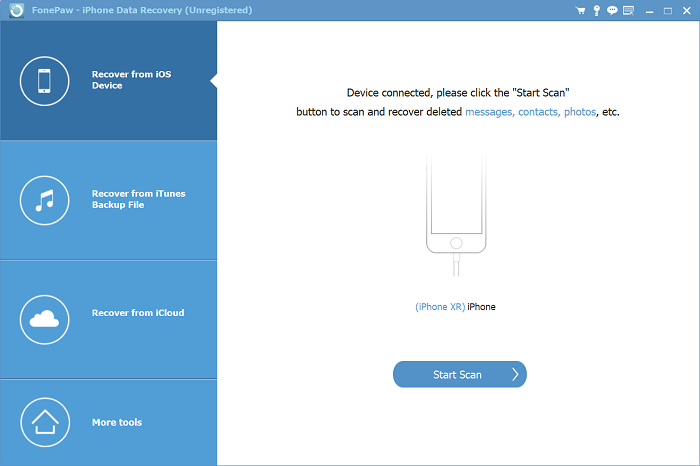 STEP 2. Preview and Select Call History
After the scanning process is over, FonePaw iPhone Data Recovery will bring you to the data preview window for accessing all the data such as call history, messages, notes, etc. for selecting to recover. You should choose Call History and preview for choosing the records you desire to recover from your iPhone.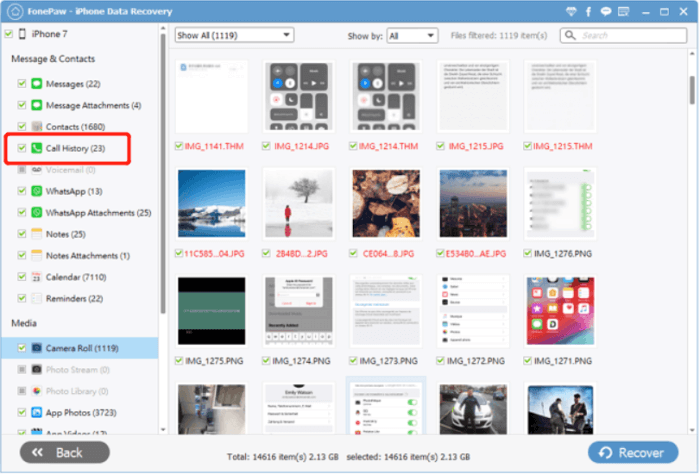 STEP 3. Recover Deleted Call History
You can check to see all call logs with one click, or keep only those deleted call histories that have been marked red. Finally, just hit the "Recover" icon, and your selected call history will be recovered as an HTML or CSV file to your desktop locally.
If you're still confused about the whole process, you can check out this video tutorial for further understanding.
Free Download Buy with 20% off Free Download Buy with 20% off
In all, do you now have a clearer understanding of the simple operations of FonePaw iPhone Data Recovery? With just a few clicks on the program interface, you can easily recover accidentally deleted or suddenly disappeared iPhone call logs, which are truly fast, accurate, and user-friendly. Hit the button now to try out this best iPhone data recovery software on your Windows PC or Mac device!
2. Retrieve Deleted Call History on iPhone from iTunes Backup
If you have the habit of regularly backing up your iPhone data with iTunes, you can directly restore your iPhone contacts, call history, and other important data from iTunes, which is a highly successful method. However, it's important to note that it restores the entire iTunes backup file, will overwrite the data in your iPhone now, and may occasionally get stuck or result in a failed recovery. Here are the detailed steps for the operation.

Note:
Because of the instability of using iTunes to restore call history on your iPhone, it would be better to back up the current data on your iPhone to your computer in advance.
1. Download and install the latest version of iTunes, then launch it and connect your iPhone to the computer.
2. Click on the "iPhone" icon located in the menu bar to access the device information interface.
3. Navigate to "Settings" > "Summary" > "Backups" and click on "Restore Backup." If there are multiple backup files, select the one that contains the mistakenly deleted/disappeared iPhone call logs for restoration.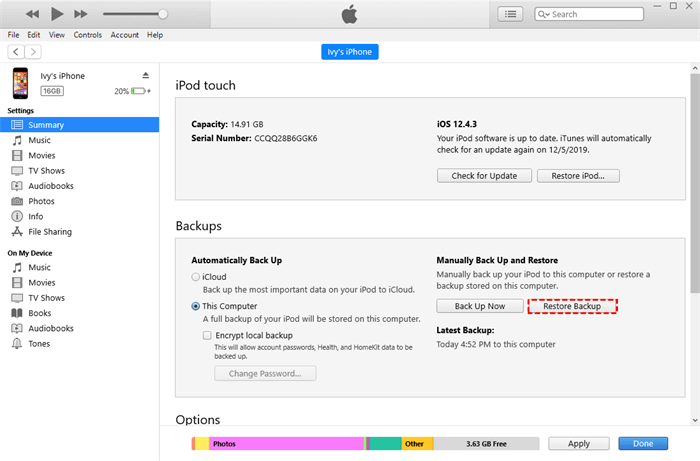 Tips: If you are using a Mac computer and have previously backed up your iPhone data to the Finder app on your Mac, you can also directly retrieve deleted call history on iPhone from Finder.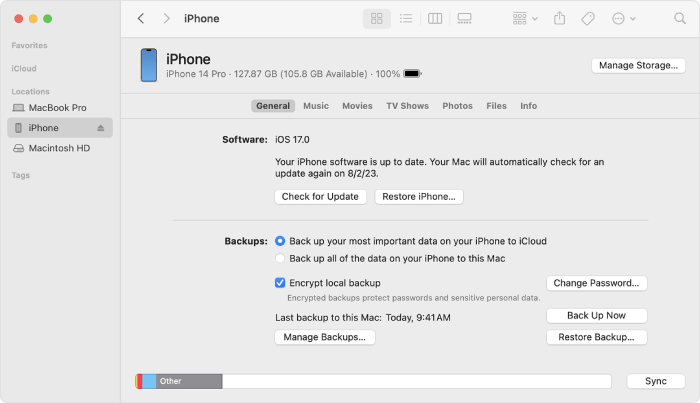 3. Recover Deleted Call Logs from iPhone via iCloud Backup
Many iPhone users will use iCloud to back up important data, such as call history, voicemail, etc. from their phones. If you are one of those people, you can also use iCloud to look up deleted call history on iPhone, and then directly get back your iPhone voicemail, call history, and other data. Here's the step-by-step guide for you to get things done.

Note:
This method will reset your iPhone, so please make sure to back up your data and files in advance.
1. Navigate to "Settings" > "General" > "Transfer or Reset iPhone" > "Erase All Content and Settings."
2. Wait for the iPhone to reset and restart. Follow the on-screen instructions, and on the "Apps & Data" interface, select "Restore from iCloud Backup." Choose the relevant backup file for recovery.
3. Wait for the iPhone to restore call logs and other settings.
Tips: If you don't want to lose the current data on your iPhone, there is a more user-friendly way of using an iPhone data recovery tool for help, such as FonePaw mentioned before. It allows you to freely view what content is backed up in iTunes and selectively recover iPhone call logs. This way, you don't have to wait for the system to restore the entire iTunes backup file!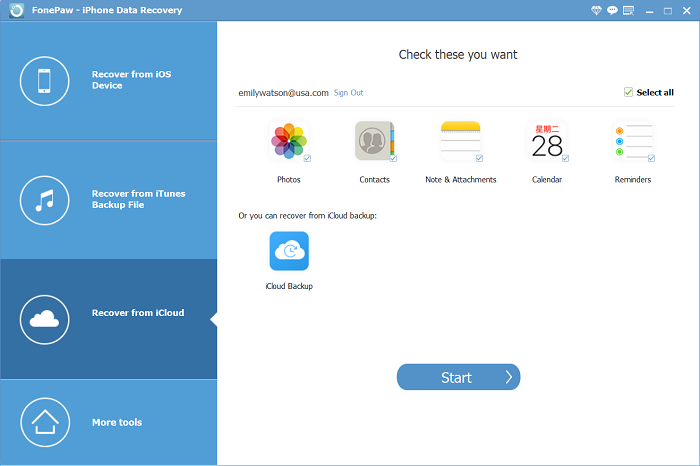 4. Retrieve Deleted Call History on iPhone from Cellular Carrier
If you need to recover lost call records, including incoming and outgoing calls, you can generally contact your cellular carrier to obtain iPhone call logs. However, this process requires users to provide personal information to verify their identity and also requires obtaining consent from the other party involved in the call.
Moreover, telecom providers have specific retention periods for call logs, some retain them for six months, while others keep them for a year. If you want more information or inquire about the possibility of retrieving deleted call records, I recommend calling the customer service center of the relevant telecom company for detailed consultation.

Tips:
You can also request a spreadsheet of contact attempts for your FaceTime and iMessage, which includes details such as the contact number and device, on the "Apple Privacy" section from Apple's official website on demand.
FAQs on iPhone Call History Recovery
Q1: How to View Call History on iPhone?
It's easy to check your call history on iPhone with the Phone app on your iPhone. You just need to tap the Phone icon and choose the Recent column. Here it will present the 100 most recent call histories, and if you want to see the details of the call history, tap the "i" icon on the right for more info.
Q2: How Long Does Apple Store Your Call Logs?
For the call logs preserved on your iPhone, Apple sets no time duration like how long you can store the calling records exactly. But the device is able to save the last 100 calls for you. If you want to access the call history further, you are required to access your cellular carrier for the call log/billing statement.
Final Words
Even though iCloud and iTunes backups can also help you recover your data, looking at it from various aspects, using FonePaw iPhone Data Recovery is indeed the best method. Even if you don't usually back up your iPhone, it can directly locate mistakenly deleted or disappeared iPhone call logs from the iPhone's database. It has also developed a selective recovery feature, allowing you to preview and choose specific call logs for precise restoration without causing any data loss.
Hit the button below, and give FonePaw a try, to retrieve deleted call history on iPhone with ease!

iPhone Data Recovery
The best solution to recover lost data from iOS devices!