For the situation that when someone wants to call you up while you are in a meeting, iPhone has got a voicemail feature to help people leave a message to you. We may have dozens of important voicemail messages on our iPhone. What should we do if we delete them accidentally when we're cleaning up our storage?
This article will introduce 4 ways to recover deleted voicemail on iPhone, including the with backup and no backup situations. If you're struggling with this problem and have no idea how to get them back, the tutorial is for you. Hope you can find a way that can help you out.
Undelete Voicemail on iPhone from Recently Deleted Folder
As we all know, the iPhone Photos app has a Recently Deleted album, where you can get your deleted pictures within 30 to 40 days back in one click. Similarly, its Phone app also owns this handy feature to help undeleted voicemail messages.
So, if you accidentally deleted some important voicemails recently, you could try to retrieve them here. The recovery procedure, which is similar to restoring a photo from the "Recently Deleted" album on iPhone, is quite easy to follow. Let's see how to make it work.
STEP 1.Open the Phone app on your device and select the "Voicemail" option from the menu bar to access your voicemail message inbox.
STEP 2. Here you can see all the voicemail messages you've made. Scroll down, find the "Deleted Messages" option and click on it.
STEP 3. Look through the deleted voicemail messages and select the one you want to restore. And then tap it, you can see at the bottom right is a little trash icon with a line through it. Tap it and recover your voicemail message back to your normal list.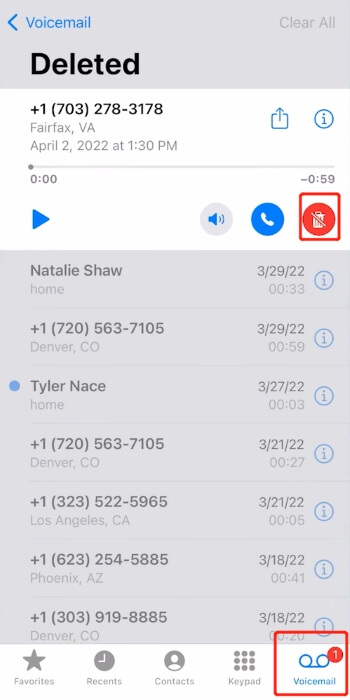 If you can't find the voicemail you want here, let's move to the next way.
Recover Deleted Voicemail on iPhone without Backup
Deleted voicemail messages can only be reserved for a period of time on your iPhone. And later they'll be deleted permanently. What should we do to get them back if these files are permanently removed?
Using a third-party tool is the best option, especially when you have no backup. You may have difficulty choosing an excellent recovery app from the App Store. This article aims to give you a hand with that.
An outstanding recovery app should have a high recovery rate, intuitive UI, comprehensive features as well as easy operation. Therefore, you can have an efficient and convenient recovery, saving your time and effort. FonePaw iPhone Data Recovery is our highly recommended software since it boasts all features mentioned above.
It will help you out of the recovery problem even if you haven't turned on your iPhone or iTunes backup in advance. The app provides three cleaning modes, namely recovery from iOS devices, iCloud Backup, and iTunes Backup. The first mode has the ability to scan the iPhone's internal storage and recover deleted data directly.
In addition to voicemail, many types of files that we normally use can also be recovered, such as Messages, Photos, Contacts, Videos, and so on. Now, let me show you the recovery steps with this handy software.
Free Download Buy with 20% off Free Download Buy with 20% off
Step 1. Connect your iPhone to the computer and scan the device
Install FonePaw iPhone Data Recovery on your computer and launch it. Then connect your iPhone to the computer with a USB cable.
Since you may not have enabled the backup on your iPhone, let's select the first cleaning mode to recover the deleted voicemail from your devices directly. Then click the "Smart Scan" button on the screen and wait for the scanning result.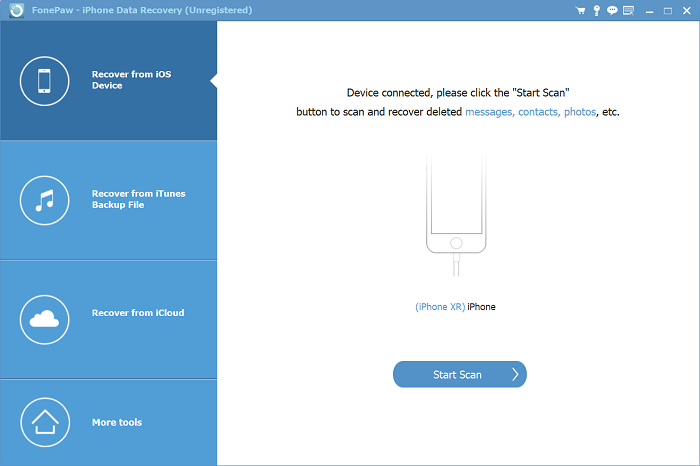 Step 2. Preview and choose the voicemail you need
Once the scan is over, you will see all data including deleted and existing files on your iPhone. Go to the "Message and Contracts" category and preview your voicemail files. You can also click the filter box at the top of the screen to get deleted content only.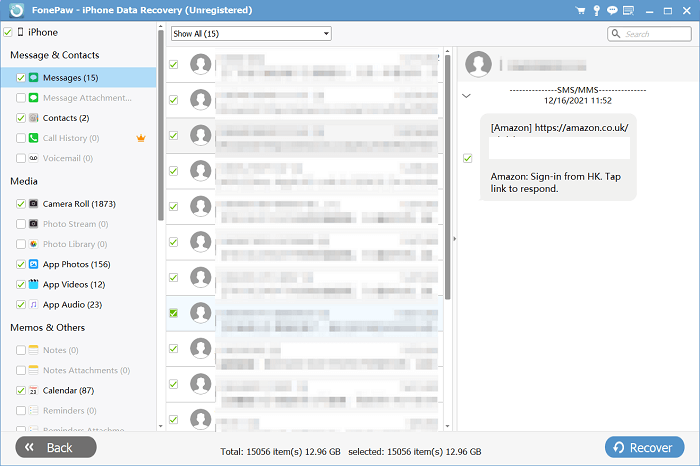 Step 3. Recover voicemail to your computer
Then, choose the voicemail messages you want and click the "Recovery" button. You need to select a download location on your computer. Once it's done, click on the "Recover" option and then you can retrieve your voicemail messages back.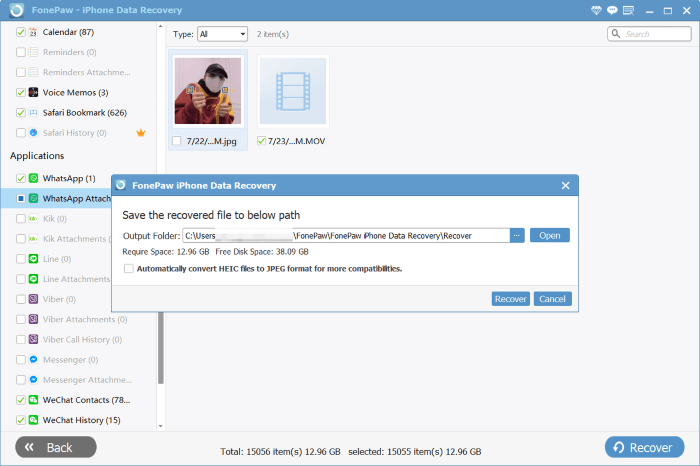 Free Download Buy with 20% off Free Download Buy with 20% off
Tips: As I mentioned above, this software has three scanning modes. In addition to the direct scan on your iPhone when you have no backup, its other two modes can do great jobs as well when you have iCloud or iTunes Backup.
But these two modes are different from the official backup and recovery method, you do not need to format iPhone and clear all the data. With this app, you can selectively recover the part you want from the scanned list, which is more user-friendly.
Recover Deleted Voicemail on iPhone with iTunes Backup
Retrieving deleted voicemails may still be possible if you've emptied your Recent Deleted folder as Apple provides official ways for users to recover deleted voicemails from Backups.
The following are two ways offered by Apple. However, it should be noted that these ways will wipe your system and reinstall everything. If your backup is incomplete, there is a risk of losing some important files. Therefore, make sure that all of your data is completely backed up before trying them.
Now, let's go through the detailed recovery steps of undetected voicemails on iPhone with iTunes backup.
STEP 1. Connect your iPhone to the computer with a USB cable. Click on the phone icon and then select "Summary" in the Settings menu on the left side.
STEP 2. Then go to "Backups" on the right side and click the "Restore Backup" option to choose the backup file you want. Click on the "Restore" button.
STEP 3. Wait for a few minutes. When the restoring process is complete, and you'll see the deleted voicemails on your device.
Note: You can't preview the backup file before restoring to iPhone.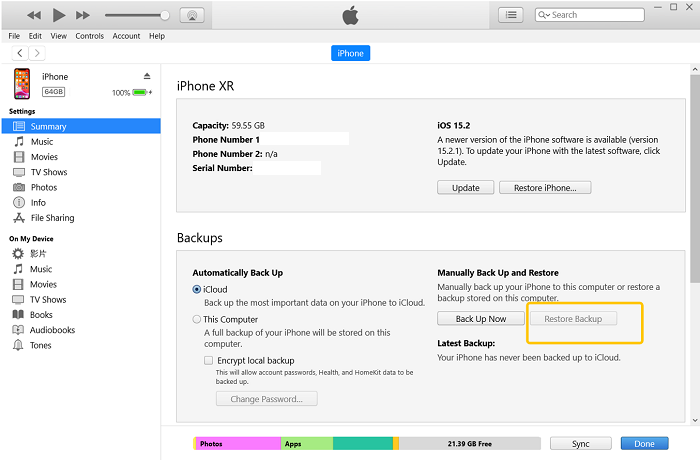 Recover Deleted Voicemail on iPhone with iCloud Backup
In addition to iTunes, iPhone also comes with an iCloud Backup. Though it's convenient, similarly, it will also erase all of your existing files from the iPhone. Therefore, you'd better prepare all file copies and save them to a computer or a flash disk for safety. To recover the deleted voicemail this way, follow the steps below.
STEP 1. Open the Settings app and go to the "General" section. Tap "Reset" and select the "Erase All Content and Settings" option. And then all media and data will be deleted and all settings will be reset.
STEP 2. When you finish the onscreen setup steps, you'll reach the "Apps & Data" screen, then choose "Restore from iCloud Backup". Sign in to iCloud with your Apple ID.
STEP 3. Select "Choose Backup" and you'll see all the backups you've made. Look at the date and size of each and choose the one you contained your deleted voicemail. Click it to restore your deleted voicemail.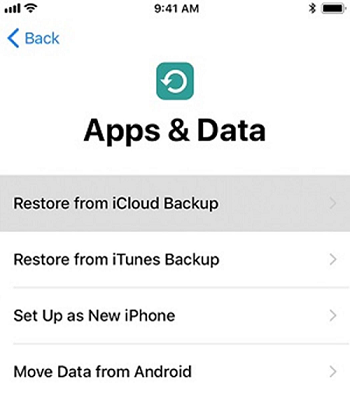 Conclusion
FonePaw iPhone Data Recovery is a great choice whether you have a backup of your voicemail or not. With this app, you can get all existing and deleted files on your iPhone by simply connecting your iPhone to a computer that has installed FonePaw iPhone Data Recovery, and then clicking on the scanning button.
Due to the inconvenience and risk brought by iTunes and iCloud backup methods, FonePaw is still recommended even if you have enabled them because you don't need to erase all content and reinstall all settings.
In addition to the third-party software, this article introduces three other ways for you to restore voicemail messages. Choose the appropriate and trusted method according to your own situation to help you out of the problem.

iPhone Data Recovery
The best solution to recover lost data from iOS devices!