Although iPhone comes with dozens of quality ringtones, we want to our own special ringtones. This guide will shows you all possible ways to get ringtones on iPhone, iPad and iPod Touch. You can get ringtones on iPhone with or without iTunes.
How to Get Custom Ringtones on iPhone without iTunes (Free)
If you want to make your own ringtones for iPhone with songs in your music library, you can use a ringtones maker for iPhone 11/XR/XS, iPhone X/8/8 Plus, iPhone 7/7 Plus, iPhone 6s/6s Plus, iPhone 6/6 Plus. FonePaw DoTrans (opens new window) is such a ringtone maker. It can:
Add ringtones to iPhone from PC, iPad, iPod Touch or other sources without iTunes;

Make ringtones with any song you like;

Get old ringtones on new iPhone;

Transfer ringtones from iPhone to computer, iPad and other devices.
As a data transfer tool for Apple devices, DoTrans can also transfer photos, videos, music, contacts and messages from iPhone, iPad, iPod Touch to other devices.
Download the trial version of this program to give it a shot.
Free Download Buy with 20% off
After downloading DoTrans on computer, connect iPhone to PC with the USB cable. The program will recognize your device in seconds. And you will see the information of your iPhone including type, version, capacity, serial number and more display on the main interface. You can then use DoTrans to add ringtones to iPhone or make iPhone ringtones.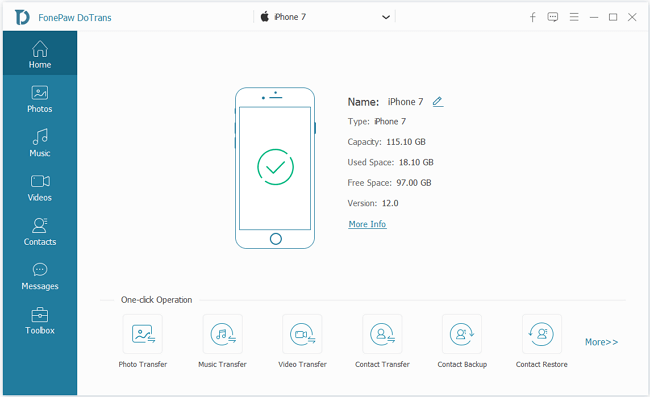 1. Get Ringtones on iPhone
On the left column, click "Music" > "Ringtones". To get a custom ringtone on iPhone, you can click "Add Files" button, you can see the local folder where you keep the audio files. Then select the audio files you want and then click on "Open" to add them to your iPhone.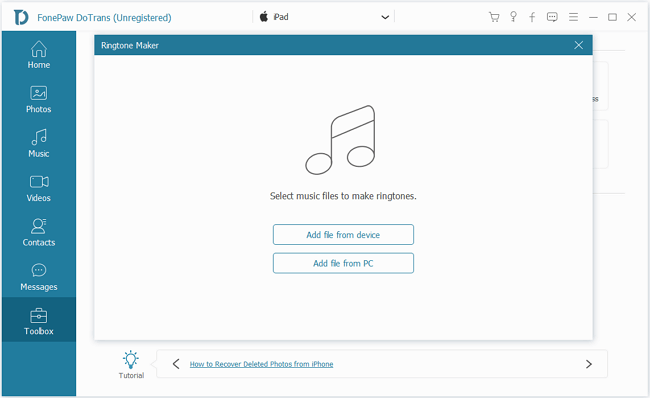 2. Make Songs Ringtones on iPhone
Select a song and right click to choose Ringtone Maker. The ringtone creating window will pop up. You can set a starting point and ending point to clip the song. Then click Generate to convert the song to ringtone on your iPhone.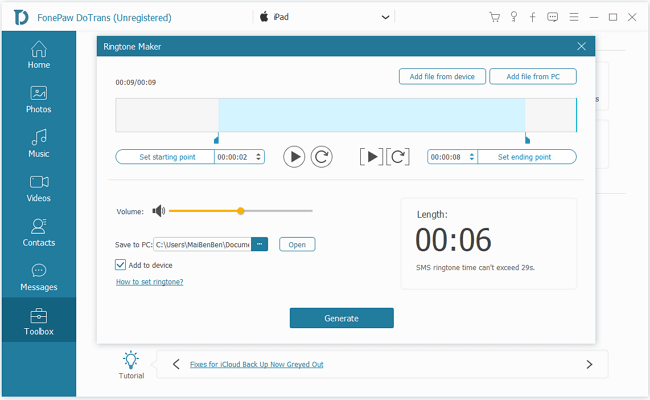 3. Get Old Ringtones on New iPhone
After you have successfully added your custom ringtone to iPhone, you can see all delivered custom ringtones display on the top of the ringtone list. And then go to "Settings" > "Sound" > "Ringtone" to select the ringtone.
Only three steps, you can make ringtone for iPhone according to your own preference. If you got a new iPhone XR/XS, and you want to transfer ringtones from old iPhone to new iPhone, FonePaw DoTrans (opens new window) can do it for you as well. Besides putting ringtones on iPhone, it allows you to put other data such as video, songs, contacts etc. from computer to iPhone, or from iPhone to computer, or from iDevice to iDevice.
Free Download Buy with 20% off
Solution 2: Add Ringtones to iPhone via iTunes
Step 1. Add Ringtones to iTunes
Launch iTunes on computer; get access to ringtones on iTunes by choosing "Tones" in content menu under the music play button. After choosing "Tones", ringtones on iTunes will be listed. If the ringtones that you like aren't listed, click "File" and choose "Add File to Library" to add ringtones on computer to iTunes. If you would like to add all ringtones in one folder to iTunes, click "Add Folder to Library".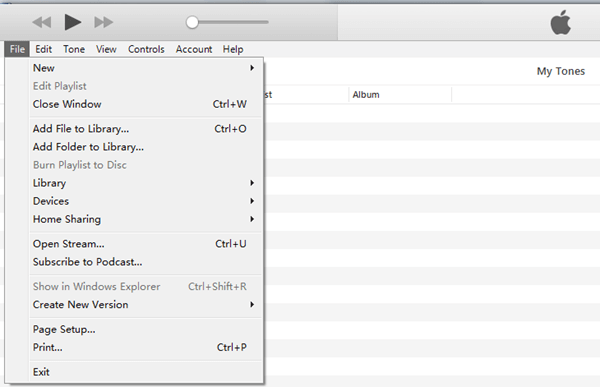 Step 2. Add Ringtones on iTunes to iPhone
Plug your iPhone into computer via USB cable. iTunes will detect your phone automatically and the icon of your iPhone will appear next to the content menu. Click the icon and enter your iPhone.
After entering the iPhone, choose "Tones" in "Settings" list, on the main window, find "Sync Tones" and tick it. If you would like to add all ringtones on iTunes to iPhone, enable the option for "All tones"; otherwise, choose "Selected tones" and select tones you like from ringtones listed below. After choosing the right ringtones, click "Apply" on the bottom right of the screen, iTunes will then begin to add ringtones to your iPhone.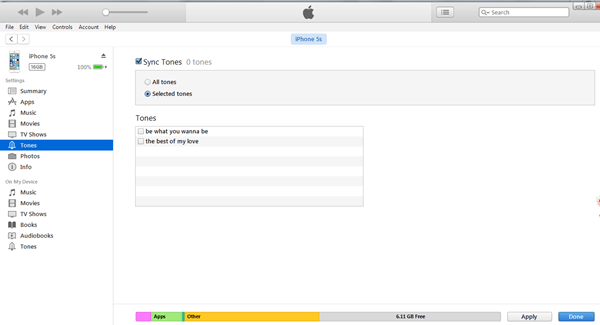 You are also able to directly download your favourite ringtones from iTunes store on your iPhone, for example, the song of Game of Thrones. Then you can set it as your personal ringtone.