Are your iPhone running out of memory? When you find your iPhone, especially 16GB iPhone, lack of space, the first thing comes to your mind should be removing some large files. Usually, photos, high-resolution movies, TV shows, music videos and iTunes U would take up too much storage on your iPhone. Then how to get rid of those videos from your iPhone quickly? One way is: go to "Video" app, then tap "Edit" in the upper-right corner, and afterwards hit "X" badge of the movies, music videos and TV shows you want to delete. But somehow, some of you may find that the edit button does not show up after upgrading device to iOS 8. To delete videos from iPhone without too much of a hassle, you can try the workaround below.
What you need is FonePaw iOS Transfer (opens new window), which is the up-to-date technique to erase videos from your iPhone with ease.
# Want to Delete Movies, TV shows, Music Videos, iTunes U from iPhone
1. Download and Install FonePaw iOS Transfer
First of all, free download the trial version of FonePaw iOS Transfer on your computer. If you need help to install it, you can go to this article for directions: How to Install FonePaw iOS Transfer (opens new window).
Free Download Buy with 20% off Free Download Buy with 20% off
2. Connect iPhone to PC
Launch FonePaw iOS Transfer and connect your iPhone to computer. Within seconds, you can see that your iPhone is successfully detected by this software. Here you can back up iPhone (opens new window) in one click by selecting "To iTunes" or "To Folder".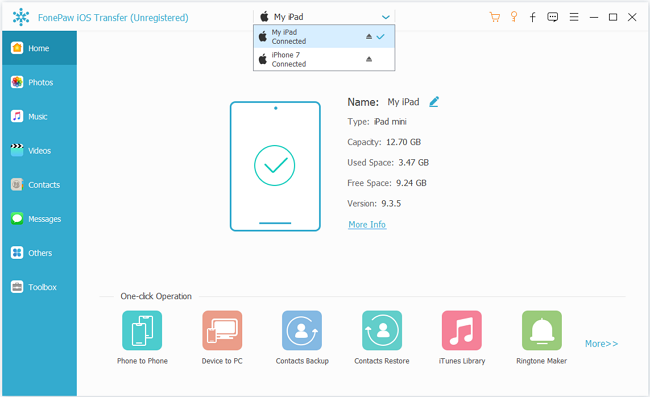 3. Delete Videos from iPhone
Click on "Media" in the left side column, then choose "Movies", "TV Shows", "Music Videos", or "iTunes U". In the video list, tick the episodes you don't need, and click "Delete". When the pop-up window shows up asking you "are you sure you want to delete the selected items", choose "Yes", then you are done.

Note: The videos can be removing by FonePaw iOS Transfer are Movies, TV shows, iTunes U, and Music Videos. The shot videos stored on Photos app can't be deleted in this way.
It may take some time to remove those videos depending on the size of your Movies, Music Videos, iTunes U and TV shows. You can transfer videos from iPhone to computer (opens new window) before deleting them. If you have some movies you want to add to your iPhone, you can also use FonePaw iOS Transfer to transfer videos from PC to iPhone (opens new window) without iTunes.
Free Download Buy with 20% off Free Download Buy with 20% off