Summary:
Don't know where are Android contacts stored? Want to know how to backup contacts on Android? Try out FonePaw DoTrans to save your Android contacts fast and easily.
How to Backup Contacts on Android with Google Account
It is a convenient way to make sure your contacts are always backed up. Google will constantly sync your contacts, which includes all current contacts, as well as ones you add or delete at any point. Once you have backed up Contacts on Android with Google Account, you will always have your numbers in the cloud and ready for download. In this way, you will no longer be afraid of the sudden failure or damage of your phone and you can also feel free to switch your devices.
Step 1. Go to Settings app > Accounts > Select your Gmail or Google account
Step 2. Go into Account sync and make sure Contacts is checked on
Step 3. Open the Contacts app, and then tap on the 3-line menu button
Step 4. Select Settings > Google Contacts sync settings > Manage Settings > Toggle on Automatically backup & sync device contacts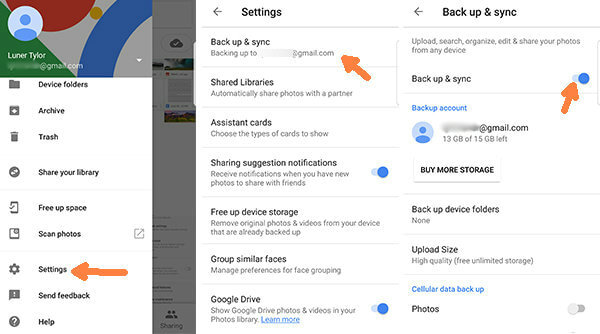 How to Export Contacts from Android Phone to PC/Mobile Phone (Recommended)
If you prefer a simpler way to export contacts from Android to PC or another Android phone, you can use a professional data management tool - FonePaw DoTrans, which can transfer your contacts, photos, messages, etc. from Android phone to PC, another Android/iOS device in one click.
Save Contacts from Android to PC
Step 1. Download and install DoTrans on your computer.
Free Download Buy with 20% off
Step 2. Connect your Android phone to the computer with USB cables.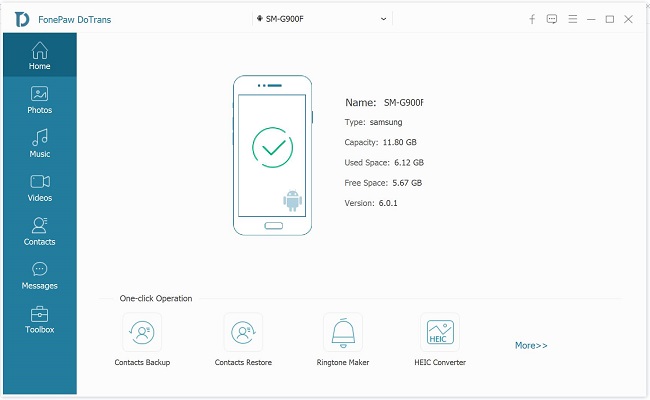 Step 3. Click "Contacts" on the left side. Tick the contacts that you need.
Step 4. If you want to save contacts on the computer, click on the "Export to PC" icon on the top and choose "to CSV File" or "to Vcard File". CSV files can be opened in Excel.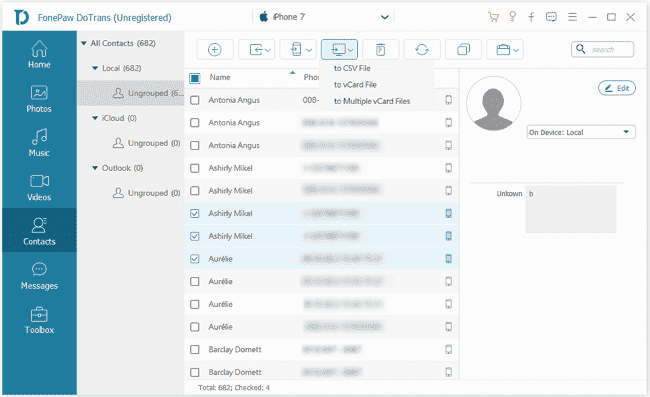 Tip: If you want to transfer contacts directly to another Android phone, connect the source phone to the computer. Then select the contacts that you need, click the phone icon on the top and select the receiving phone.
How to Export Contacts from Android as VCF Files
You can follow the below steps to export your Android contacts to PC as VCF files without searching through the phone for the contacts storage location.
Step 1. Go to "Contacts" on your Android and open the menu tab.
Step 2. Choose "Import/Export" and tap "Export" > "Internal Storage" to save the contacts as a VCF file in a specific folder of your Android SD card.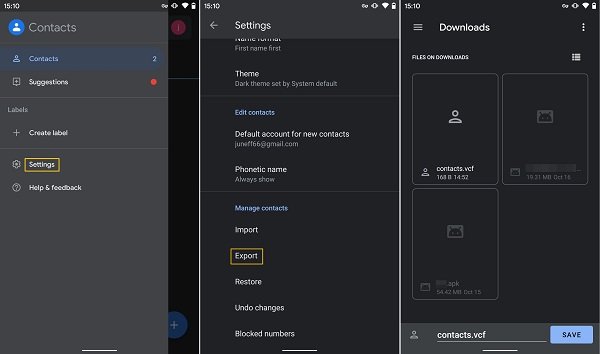 Step 3. Connect your phone to the computer with a matched USB cable.
Step 4. Click on your phone icon on the computer and open the folder where the VCF files are stored. Then you can export the contacts to your computer.
Step 5. Send the VCF file to another Android phone from your computer if needed.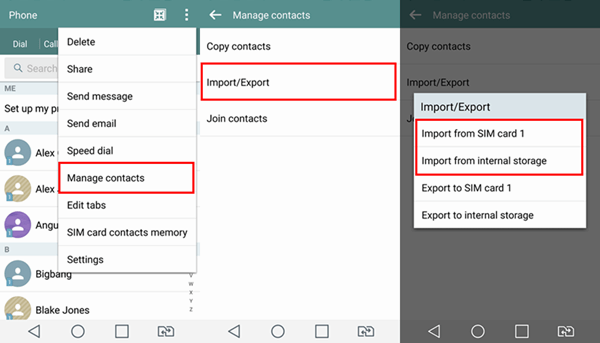 Where Are Android Contacts Stored
Sometimes you want to find out where contacts on your Android phone are stored when you need to back up contacts from the phone to computer or get back contacts from a broken phone. Here are a few ways to help you find what folder Android contacts are stored and how to export contacts from Android phone, even if the phone is not working.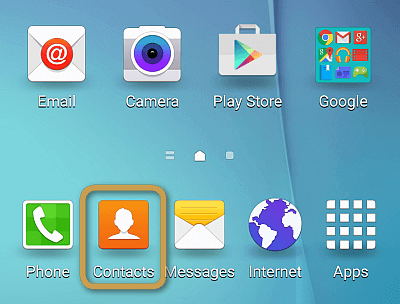 Part 1: Where Are Contacts Stored on Android (Galaxy S9/S8/S7/S6 and more)
Android phones, such as Samsung Galaxy S10/S9/S8/S7/S6, LG, Pixel, Motorola, usually save contacts in one of the following locations.
1. Android Internal Storage
If contacts are saved in the internal storage of your Android phone, they will be stored specifically in the directory of /data/data/com.Android.providers.contacts/databases/contacts.db. The contacts folder will not be found until the phone is rooted, therefore, you can't easily navigate to the contacts folder as you do with the Pictures or Screenshots folders.
Moreover, contacts in this folder are not saved as VCF files but SQLite 3 files, which need to be opened with a dedicated program, such as SQLiteman, DB Browser for SQLite.
Although it is not easy to access contacts file location on Android, you can easily export contact files from Android to PC or another phone with a helpful transfer program - FonePaw DoTrans.
2. SIM Card
It's possible that your contacts are stored in the SIM card of your Android phone. If your phone goes wrong and would like to back up your contacts, try to take out the card and insert it into another phone. Then go to "Contacts" on the new phone to check whether the contacts are available.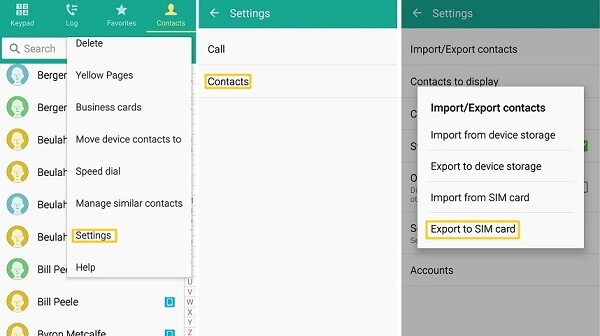 3. SD Card
If your Android phone is equipped with an SD card, your contacts may be stored on the SD card as well. Take out the card and try it on another phone to check if you can export your contacts from the SD card.
Part 2: Find Contacts from Broken Android
FonePaw Android Data Recovery is designed to get back your Android data, such as Contacts, Messages, Call logs, WhatsApps, Photos, Video & Audio, and Documents from Android devices that are broken and not working properly. Read this related article: How to Recover Contacts on Android [3 Useful Ways]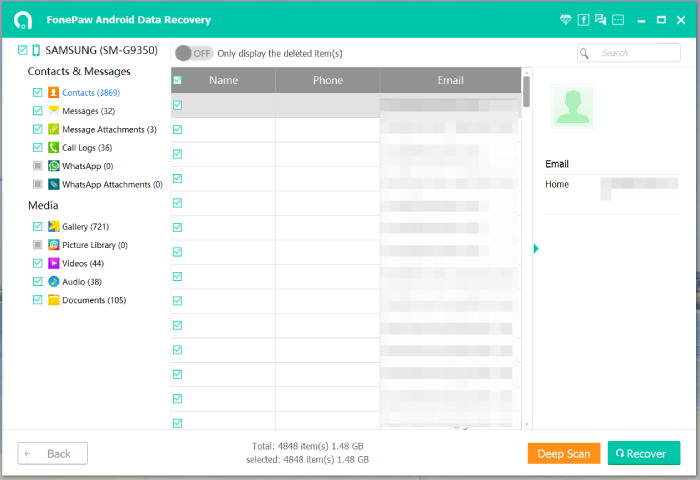 Free Download Buy with 20% off Free Download Buy with 20% off
If you have more questions about contacts on Android, leave your question below in the comments.