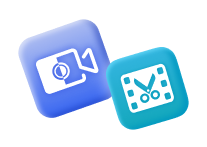 Screen Recorder + Video Converter Ultimate
Shop Now
Looking for free video recording software to record all your activities on the computer screen? Bingo, this is the right place for you. This guide lists the 6 best FREE video recording software for Windows and Mac that will enable you to easily record the screen when playing games, streaming movies, watching TV episodes, Live sporting events, or the online webinar. Also, the full comparison will be shown in the last section if you have no idea which one to start. Now, go over all the video recorders below and get your best match.
FonePaw Screen Recorder (All Devices)
FonePaw Screen Recorder is a multifunctional video recording software free download available for its free trial. It offers 7 record modes to work in different situations and is able to record onscreen activities like online streaming videos, meetings, open classes, gaming, live events, and so on. Also, you can record your webcam, only audio, or the screen of your iPhone/iPad/Android devices.
Better yet, during the recording, it provides you with a floating toolbar that allows you to add lines, shapes, arrows, texts, step icons, and pictures if needed. Moreover, you can highlight the key points using its magnifier or mouse effects to present a clear and professional video recording.
When the recording ends, you are able to trim, compress, merge, split, or convert the video before saving it to your local folder. The supported video formats include MP4, MOV, F4V, WMV, MPEG-TS, and WebM with optional quality from lowest to lossless. It's user-friendly for you to try out.
Free Download Buy with 20% off Free Download Buy with 20% off
Pros:
Foolproof to use with an easy-to-go UI design.
Support lossless video quality output of recordings.
Support universally-used video wrapper formats in advanced codecs.
Provide 7 record modes for all kinds of recording scenarios.
Add a custom webcam overlay when recording the screen.
Add real-time annotations/texts, and magnify key points in the recording.
Apply mouse and keystroke effects to follow your route.
Cons:
Paid to use with a free trial available.
Support Windows and Mac, but can also record mobile devices on the computer.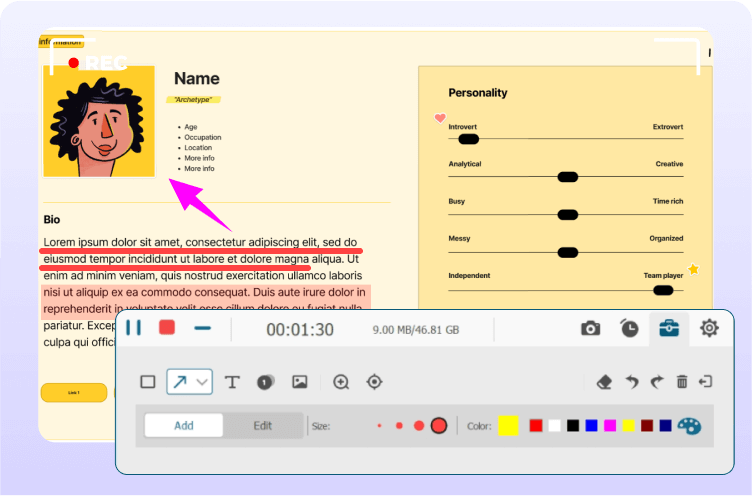 Xbox Game Bar (Windows Only)
If you're a senior player of Windows games, you must be familiar with Xbox Game Bar. This free video recording software comes with Windows 10/11, so you don't need to download it from Microsoft Store. It lets users record onscreen activities on Windows 10/11 at 30FPS or 60 FPS.
Simply press the Windows key + G to open up Xbox Game Bar, and then you'll see four widgets including Capture, Audio, Performance, and Xbox Social. You can interact with Xbox gamers while screen recording your epic gaming moments. Also, you can capture a screenshot and share it on Twitter during the recording. If you just want to record the screen once or twice, it's a good helper indeed.
Pros:
Free and easy to use without hassle.
Preinstalled application on PC Windows 10 and 11.
Chat with Xbox players in real-time.
Share screenshots to Twitter instantly.
Cons:
Only support Windows 10 and 11.
Cannot record the screen with your webcam.
Cannot record webcam only.
Support recording videos in MP4 with no quality options.
Ezvid (Windows Only)
Ezvid for Windows functions as both a video editor and the best free video recording software Windows 10 supported. This dedicated program enables users to record the computer screen on Windows 7/8/10/11. Unlike Xbox Game Bar, it can record the activities on the screen with a webcam overlay, so audiences will know your reaction when watching your recording. Better yet, you can draw lines or add stickers from its source center during the recording.
When done, you can clip the video, merge the video with local files, add an oral introduction, or add a text background at intervals. Then, you can add free music to bring tunes for your video and share it to YouTube with one click. Ezvid is quite a nice tool for new beginners.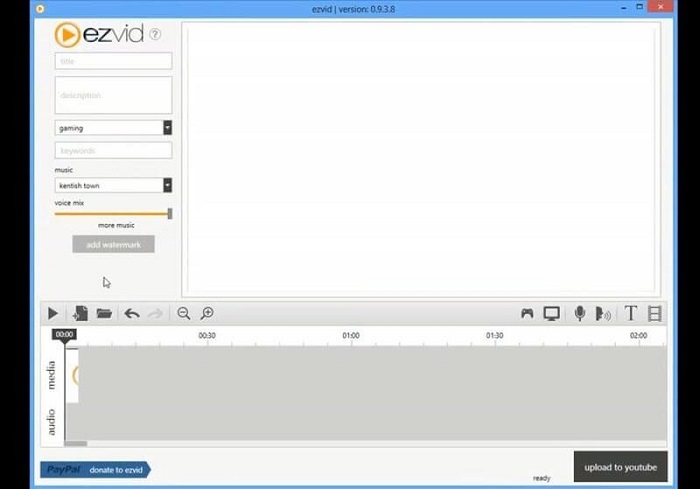 Pros:
Free to use without any extra fee.
User to start for newbies.
Work for all Windows versions.
Function as a video recorder and video editor.
Record both the screen and the webcam at the same time.
Provide useful tools during and after the recording.
Cons:
No support for Mac, iPhone, iPad, and Android.
Record video in MP4 format only.
Cannot choose video quality to save.
Cannot record only the audio to MP3.
Photo Booth (Mac Only)
Photo Booth is a preinstalled application for all Mac models. This free video recording software Mac supported makes it easy to take a selfie, capture a group of 4 photos, and shoot a video with your friends. Also, there are around 20 effects available that you can apply a preferred effect to make your video more amusing.
However, this free software only allows you to record your webcam, but doesn't support recording onscreen operations. If you want to record the screen of your Mac, you should try another native application - QuickTime Player instead.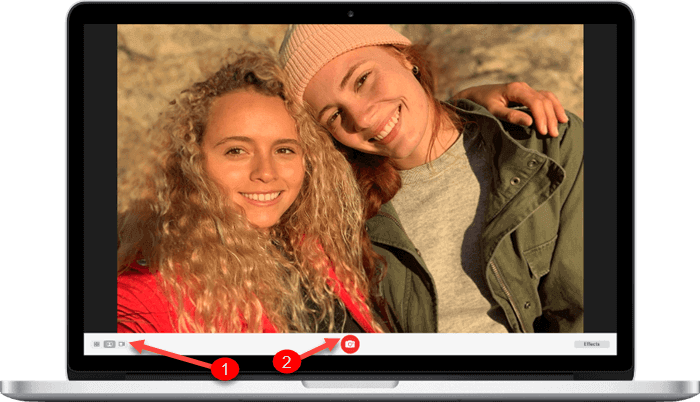 Pros:
Free and easy to use on all Mac operating systems.
Record a video with an internal or external camera.
Capture photos with your webcam.
Apply 20+ effects to bring more fun.
Cons:
Support Mac only.
Cannot record activities on your Mac screen.
Cannot record only the audio.
Cannot save videos with higher video quality.
VLC Media Player (Windows & Mac)
VLC Media Player is free video recording software and is well-known as a multimedia player to watch local videos and DVD disks. Actually, it can also work as a desktop recorder for both Windows and Mac. It allows you to record the playing video in the program, record your digital TV, or the activities on your desktop with your webcam and microphone if needed.
You'll need to set the desired frame rate for the recording. If you have no idea, 30FPS is recommended. A higher frame rate will also lead to time relays and glitches during the recording. However, you cannot set a select region, but record the full screen or the fit window.
Pros:
Free to use on Windows and Mac computers.
Work as a multifunctional tool.
Record the full screen or a window.
Save the recording to MP3 with audio only.
Save the recording in various formats in MP4, MKV, AVI, FLV, FLAC, WebM, OGG, and so on.
Cons:
Complicated to use for new starters.
Cannot record only the web camera.
Cannot record the screen and webcam together.
Unable to add annotations or texts during the recording.
Support no real-time annotation or highlights.
OBS Studio (Windows & Mac)
OBS Studio is short for open broadcaster software that is mainly used to go live for platforms like YouTube, Twitch, and so on. Also, it can work as free video capturing software. This is a pretty advanced tool, so it would be a bit hard for newcomers to get down to it. Moreover, you can apply filters to make a vivid video, or add different scenes to make custom transitions.
While you're streaming via OBS studio, you can save it as a recording in MP4, FLV, MOV, MKV, TS, and M3U8. Video quality is optional, including Same as stream, High Quality, Indistinguishable Quality, and Lossless Quality. Surely, higher quality generates a larger video file.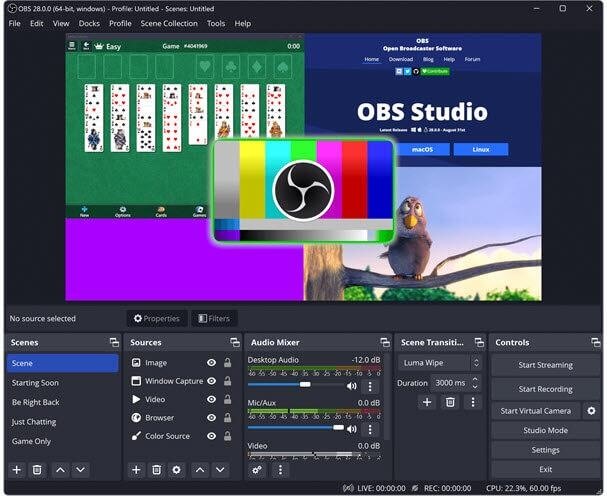 Pros:
Open-source software free of charge.
Work on Windows and Mac desktops and laptops.
Go streaming with advanced widgets and features.
Record the webcam with 20+ default filters.
Record your display or gaming on the computer.
Ensure lossless video quality output.
Output your recordings in popular formats.
Cons:
Hard to use for people to start.
Cannot record onscreen activities and webcam at the same time.
Cannot record online videos, live events, online meetings, etc.
Don't support iPhone, iPad, and Android devices.
Comparison Among 6 Best Free Video Recording Software
Free tools are indeed a good helper, but it gets confused when it comes to having many choices. Therefore, to help you sort out the best free video recording software of 2023, here comes the comparison chart among the 6 best video recording software for Windows and Mac mentioned above. Now, let's check it out.
 
FonePaw 
Xbox
Ezvid
Photo Booth
VLC
OBS
Supported OS
Windows, Mac
Windows 10/11
Windows
Mac
Windows, Mac
Windows, Mac
Video Formats
MP4, MOV, F4V, WMV, MPEG-TS, and WebM
MP4
MP4
MOV
MP4, MKV, AVI, FLV, FLAC, WebM, OGG
MP4, FLV, MOV, MKV, TS, and M3U8
Video Quality
Up to lossless
×
×
×
×
Up to lossless
Real-time Editing
√
×
√
×
×
×
Post-Processing
√
×
√
×
×
×
Capture Screenshots
√
√
√
×
×
×
Record Webcam
√
√
√
√
×
√
Record Screen
√
√
√
×
√
√
Record Android/iOS
√
×
×
×
×
×
Record Online Videos
√
×
×
×
×
×
Record Online Meetings
√
×
×
×
×
×
Record Gaming
√
×
×
×
×
×
Record Live Events
√
×
×
×
×
×
Add a Webcam Overlay
√
×
×
×
×
×
Conclusion
As you can see in the comparison chart, free video recording software has limited features, but it's totally enough to use if you just want to record your screen or webcam on the computer once or twice. However, if you want to record both, or add real-time annotations, you may consider a professional paid program.
Free Download Buy with 20% off Free Download Buy with 20% off
FonePaw Screen Recorder enjoys a great reputation and popularity among YouTubers, binge-watchers, and game players. It makes it easy-peasy to produce your masterpiece video and movie. Don't miss this best video recording software if you want to go viral on the internet.