When you receive a video with the extension .vob from someone else, you may wonder what VOB files are and how you can play a VOB file.
In this post, I will introduce what VOB files are and show you 4 compatible VOB file players. If you have a VOB file and want to learn how to open it on Windows PC or Mac, keep reading the following content.
What Is A VOB File?
VOB (DVD Video Object) is a kind of video file format. Usually, it can be seen in the Video_TS folder with the extension .vob at the DVD root. As a container format, VOB files contain information like video, audio, subtitles, DVD menu. What's more, it can also multiplex them into a stream form. Sometimes, files in VOB format may be encrypted.
Formatted as MPEG2 system streams, VOB files are not so well supported by some media players, such as Windows Media Player and Quick Time. If you want to play your VOB video smoothly on your computer or any other device, you need to convert your VOB files to other common formats or find a compatible VOB player. The article below will show you how to play VOB files with different VOB file players.
4 Ways to Play VOB Files
VOB Converter
If the built-in media player on your PC/Mac doesn't support VOB files, or you want to upload your VOB files to some video-sharing websites like Twitch, where VOB format is not supported, then you need a VOB converter to convert your video. FonePaw Video Converter Ultimate (opens new window) can help you with that.
Free Download Buy with 20% off Free Download Buy with 20% off
It is a software designed not only to convert, edit, and play VOB videos and audios but also allow you to create your own VOB videos. With advanced technology, it is really easy to convert your VOB videos or audios into different formats, such as MKV, AVI, WMV, MP4, and more, in a few seconds. You are also able to edit your VOB files before converting them. The converter is available both on Windows and Mac.
To convert your VOB file, simply add your VOB file to the converter and select one output format, click Convert All to start the conversion.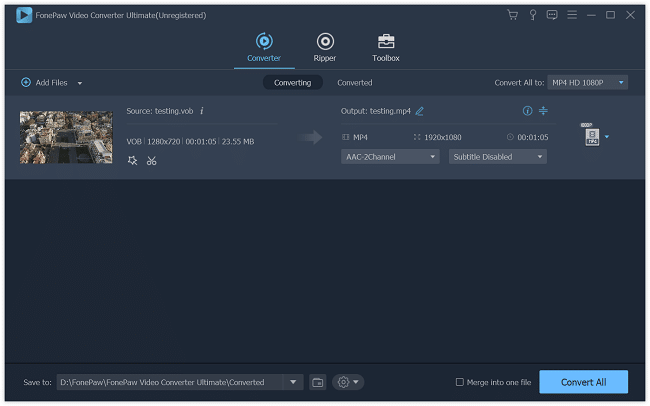 You May Like:
How to Convert VOB to MP4 (opens new window)
VLC Player
The VLC media player is one of the best ways to play a VOB file. It is an open-source player that can support many video file formats, especially VOB format, and it is free to use. What's more, it is compatible with both Mac and Windows, and it also has mobile versions.
To use this VOB file player, you need to get the free software from its official websites first. And then install it on your computer or mobile devices. After installing, simply open your VOB file with VLC media player, and the player will play the video.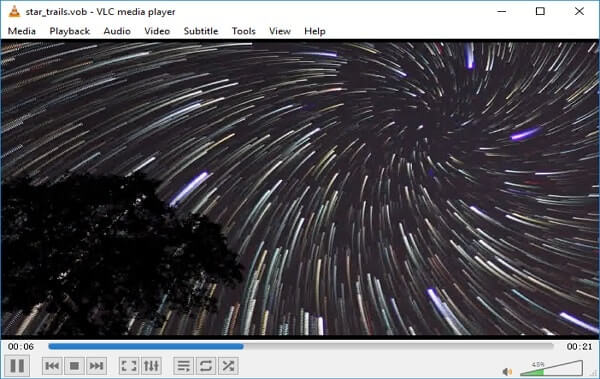 Windows Media Player
Windows Media Player (WMP) is another popular player. It is said that the latest Windows Media Player 12 supports VOB format and some other less common formats. Also, there are many plugins that you can download to improve the player.
If Windows Media Player on your Windows PC isn't able to play a VOB file, two possible reasons should be considered. The player on your computer is not the latest one or it lacks the video codec that a VOB file requires.
To solve this problem, you can download Windows Media Player 12 or update the codec. The codec could be updated and downloaded automatically on your WMP by simply clicking Tool > Options > Player > Download codecs automatically.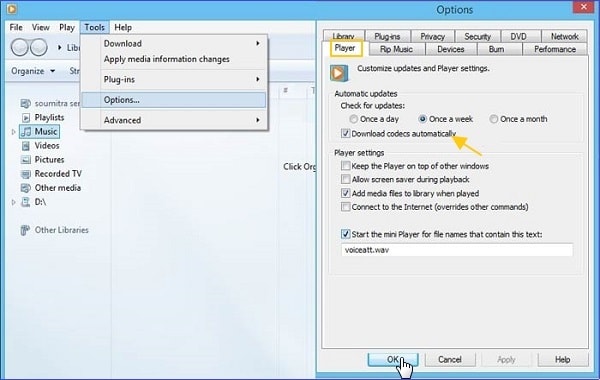 When the process comes to an end, you can restart your WMP, then drag your VOB file to WMP, and it will start to play your VOB file. It's really easy.
Note: If the Windows Media Player on your computer can't play a VOB file, you can also use a powerful VOB converter (opens new window) to convert the VOB file to a format supported by the WMP.
MPlayerX
MPlayerX is a free and open-source media player software on Mac. It is an alternative for you to play VOB files if you are a macOS user. MPlayerX is powered by FFmpeg and MPlayer. This indicates that it can support any format, including VOB format, without extra plugins. Moreover, you can see a beautiful interface and play your VOB file smoothly.
To open the VOB file with MPlayerX, you can free download the player on your Mac first, open the player on your Mac after installing, and then drag your VOB file to the player, it will give you a clear and smooth playback.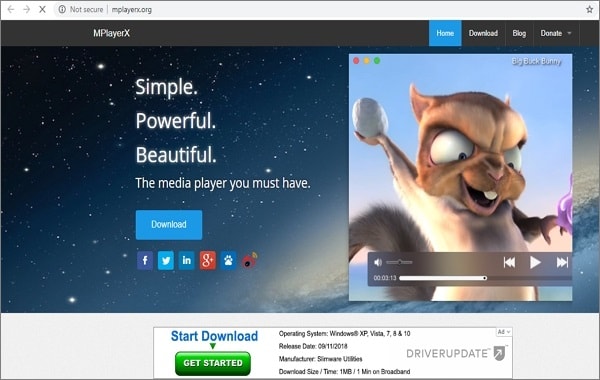 That's all about this post. If you have used a more powerful VOB video player, welcome to share with us in the comments.