Mistakenly Deleting and losing important Facebook messages can be very scary since Facebook told us that you will not find information or content that have been deleted because this is deleted from Facebook servers. In fact, there is still hope to recover the Facebook messages with three simple tricks. The tutorial is going to show you how to do so on Android phones.
Tricks: Recover Archived Messages on Facebook Messenger
Firstly, you should make sure if the messages is archived or not. When the messages are archived, you couldn't find them on your current conversation list, but they can be accessed. To archive a Facebook message on Android phone:
Launch Facebook and tap the messenger icon.
Long press on the conversation you want to archive and on the pop-up, tap "Archive".
The conversation will disappear from conversation list.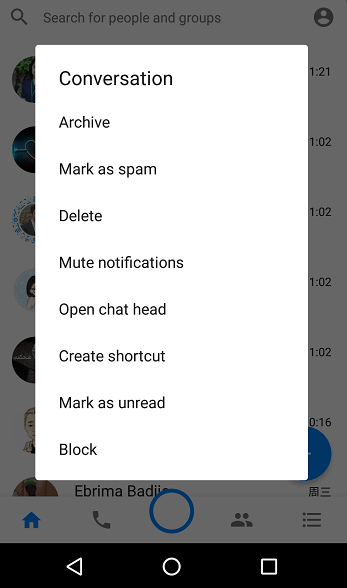 If the message is archived, you can easily access the archived messages.
On Facebook app, tap the search bar, type the name of the people you are looking for. Choose the person and your archived conversation with the person will be displayed.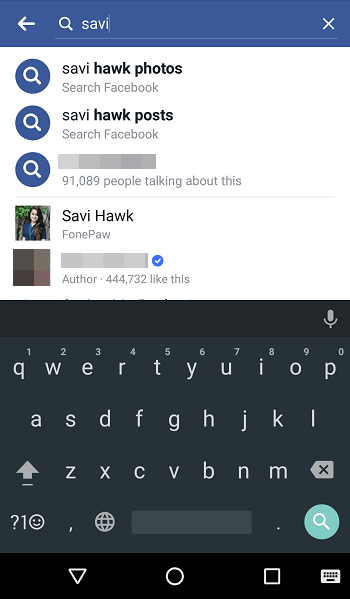 If you log in Facebook on web page, you can easily view the archived messages on "Messages" > "More" > "Archived".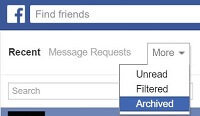 Tricks: Recover Deleted Facebook Messages from Android Phone Memory
If you are sure that you have deleted the messages, there is no way to retrieve or view the messages on Facebook Messenger. However, Facebook keeps a copy of Facebook data on your Android phone memory. So you can access the deleted messages from phone memory.
Step 1. Launch the file explorer on your Android phone. If you don't have one, download a file explorer from Google Play store. This app will help you quickly access the Facebook folder.
Step 2. Hit "Internal Storage" > "Android" > "data".
Step 3. Find the the "com.facebook.orca" folder, which records the data of Facebook Messenger. In the folder, tap "cache" > "fb_temp", which store all the backup files that are automatically saved by Facebook Messenger.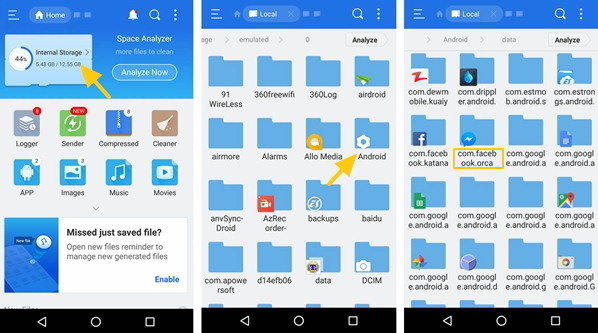 Also, you can find the deleted Facebook messages data by connecting your Android phone to computer. Use USB cable to connect the device to computer, open the device, and click the folders "SD card" > "Android" > "data" > "com.facebook.orca" > "cache" > "fb_temp".
As for the photos, you can recover also when they are deleted. Only if the photos had been saved on your phone, you can restore them after scanning with FonePaw Android Data Recovery (opens new window).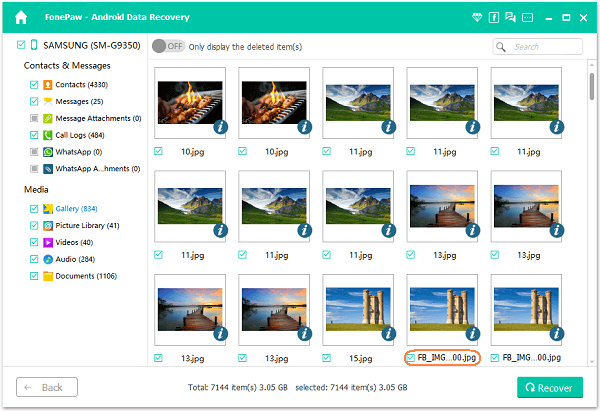 Tricks: Recover Deleted Messages from Downloaded Facebook Data
Facebook allows users to download a copy of Facebook info, including messages, emails, followers, friends, chats and more. To prepare for the possible data loss, you should have a copy. Here are specific steps:
Step 1. Log in your Facebook account on https://www.facebook.com/. Go to "Settings".
Step 2. Under "General Account Settings", you'll see "Download a copy of your Facebook data". Click the link.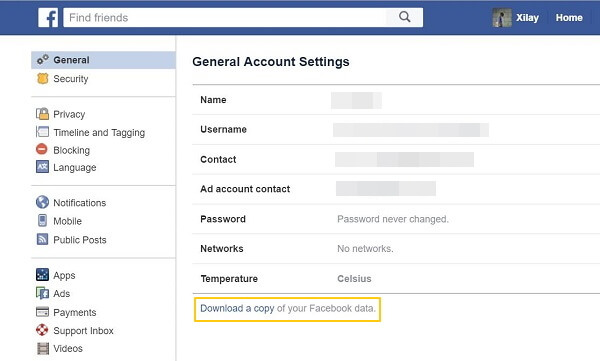 Step 3. Click "Start My Archive". If you would like to learn about what will be included in the archive. Click "And more".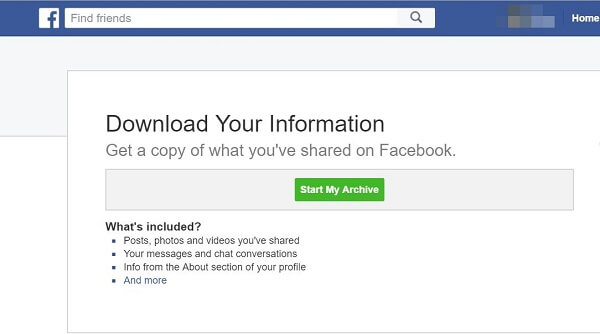 Step 4. You'll be asked for password. Enter the password and you'll be informed that an Email has been to your mailbox.
Step 5. Find the Email and click the link to download the archive.
Step 6. Click "Download Archive" and a zip file containing all your Facebook information will be downloaded to your computer.
If you have the copy, you can search the deleted messages from the files. Open the zip file and you should find a folder with HTML files. Choose the HTML file named as "Messages" and all your Facebook messages are presented like this: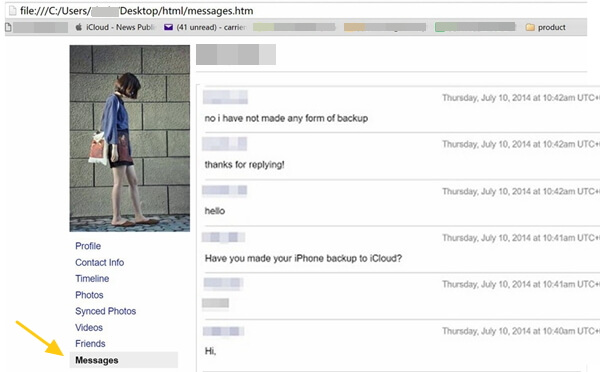 Note: If your messages have been deleted before you download the archive, you are unable to find the deleted messages because they won't be included.
Except for Facebook messages, if you accidentally lose phone messages, WhatsApp messages, photos, contacts, or other data on Android phone, you can try to recover the deleted data with a professional tool - Android Data Recovery (opens new window).