This post has been updated in July, 2019
Summary:
This post aims to show you how to share music between phones with AirDrop, Family Sharing and a powerful music transfer tool - FonePaw DoTrans, an update for iOS Transfer. Please scroll down and check the ways below.
Is it possible to send Apple music I purchased from iPhone to iPhone? I'm using iPhone 7 Plus. How to AirDrop Music between iPhones? I'm new to iPhone. (I used to Android.) Please HELP.
- Apple Communities
Extra Tips for Music User:
As a music lover who "explores" great songs every day, I meet some great songs from time to time too. For this splendid music, I not only listen to them repeatedly, but also I will share them with family and friends that I think might enjoy them just as much as I do. In this post, I will show you three most feasible ways to share music on iPhone via AirDrop, Family Sharing, and DoTrans for iOS.
Part 1: How to Transfer Songs from iPhone to iPhone Using AirDrop
AirDrop is an ad-hoc service allowing data transfer between iOS devices like songs, photos, videos, and so on. It's like a bridge between two devices using Wi-Fi and Bluetooth. Do you know how to share Apple Music song to your friends using Airdrop indeed? Let me show you the ropes to AirDrop music.
STEP 1. Make sure both iPhones are connected to Wi-Fi and have Bluetooth on.
STEP 2. On target iPhone, follow these:
On iOS 10 and former, launch Control Center and tap "AirDrop".
On iOS 11 and latter, launch Control Center, firmly press on the upper left module, and tap "AirDrop".
STEP 3. Choose "Contacts Only" or "Everyone" to enable "AirDrop".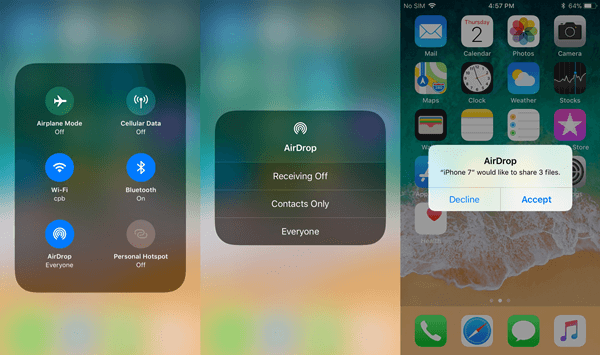 STEP 4. On source iPhone, open Apple Music and select the desired song or album.
STEP 5. Tap the "…" icon and choose "Share Song/Album".
STEP 6. Tap the icon of target iPhone and wait for acceptance.
STEP 7. On target iPhone, select "Accept" to receive songs shared through AirDrop.
Note that don't forget to turn off AirDrop after receiving songs.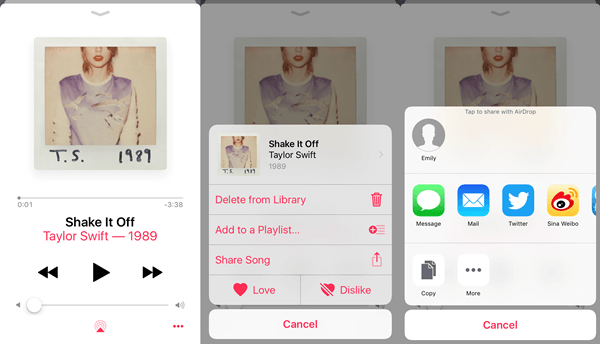 Note: On the receiving device, you need to confirm to accept so that you can send successfully. There are obviously particular things which you need to know to share iPhone Apple Music with Airdrop smoothly:
Both of the Apple devices should use Apple Music which can only be used on iOS 8.4 and the later. And it is limited to recent iOS devices.

Limited data types can be transferred: music, photos, videos, contacts.
Part 2: How to Share Music on iPhone with FonePaw DoTrans (Video Tutorial Included)
Both the other two methods may not satisfy you since Family Sharing only allows you to share purchases while Airdrop requires Apple Music subscribed. That's why I like FonePaw DoTrans most.
FonePaw DoTrans (opens new window) allows iPhone, iPad and iPod users to switch music between iOS devices without limitations, including latest iPhone Xs/Xr/X/8/8 Plus. Regardless of the music is purchased from iTunes Store, downloaded from the internet or ripped from CD, you can transfer them from one iPhone to another easily. Also, there are no Apple Music subscription and Wi-Fi requirements. As longs as your iOS devices are running from iOS 6 to iOS 12, you can use it.
STEP 1. Download and install FonePaw DoTrans on your computer (Windows or Mac).
Free Download Buy with 20% off
STEP 2. Connect your iPhone and the iOS device you want to share music with to the computer.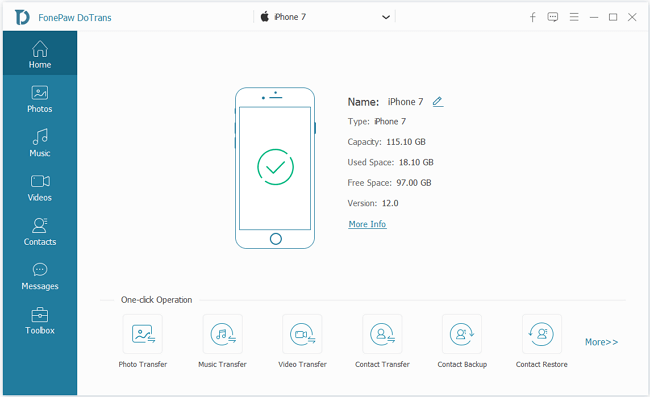 STEP 3. When both the device is detected, click "Music" on the left toolbar. Tick those music you want and click "Export to Device" icon > "the device's name".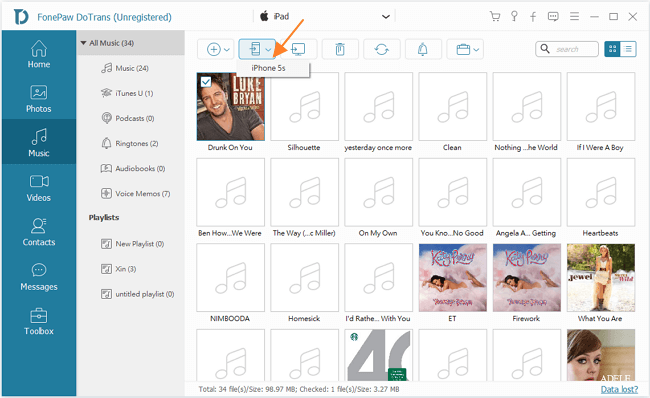 Optional: You are also able to right click on certian audio item to transfer music from iPhone to iPhone or other devices (Android/PC). There are other options: "Play", "Music Info" and more, so you can check one by one.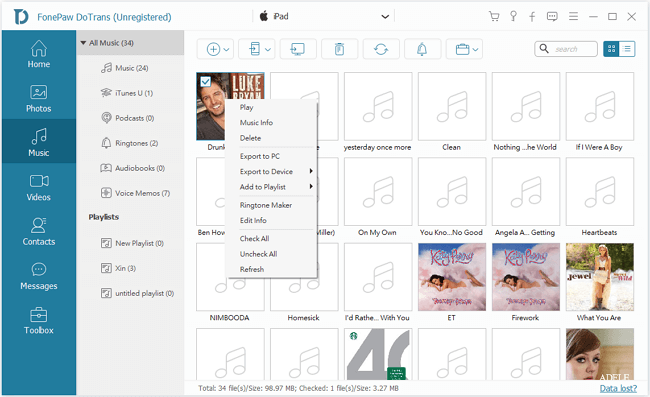 Simple and easy to use, FonePaw DoTrans (opens new window) works great for those who love findings and sharing music with iPhone, iPad or iPod. It is no exaggeration to say that this program makes the whole experience of streaming music between iPhone an enjoyable one.
If you are using an Android phone, you can check these articles to share music:
Part 3: How to Share Music on iPhone with Family Sharing
One of the most interesting and perplexing features in iOS 8 is "Family Sharing". With Family Sharing, family members and granting members get immediate access to each other's music, movies, books, apps, etc. that purchased from iTunes Store.
STEP 1. Go to Settings > iCloud > Set up Family Sharing... > Get Started > Continue on iPhone to enable Family Sharing. Then, a credit or debit card is required.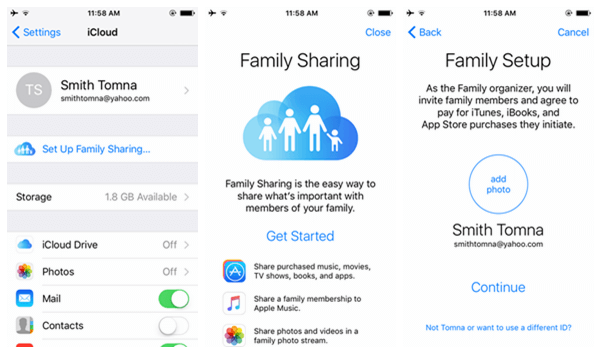 STEP 2. As the Organizer of the Family Share plan, you're responsible for setting up a payment option for future iTunes and App Store purchases. That means you're responsible for paying for other members' purchases.
STEP 3. To add family members to your group, tap "Add Family Member...". You'll be able to invite members via email address (up to 5 total), which they will need to confirm.
STEP 4. Once you've set up Family Sharing, everyone can access each others' apps, music, movies, TV shows, and books. Navigate to iTunes Store > More > Purchased. Select a family member and download the music you want from them.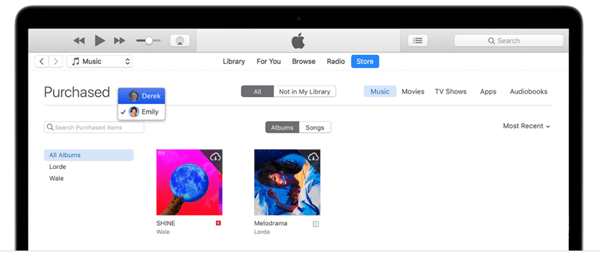 By using Family Sharing, you must know that:
• You can only share purchased music on iPhone, which means the music you ripped from CD, downloaded from the internet, received from others are all cannot be shared.
• Family Sharing is unavailable on the iPad, iPhone 4/3GS, iPad touch 4 and older models.
• The Organizer is responsible for all new purchases, which yes, is kind of pain.