So you have got a fancy new Android phone, but before you can explore the new world of Android, you'll have to first transfer all contents from your old iPhone to the new Android. You are leaving the old iPhone behind, but not your precious old photos, contacts and other important data.
Unlike transferring from iPhone to iPhone or Android to Android, moving from iOS to Android is more complicated as you are transferring the data across the platforms. To make things easier, this post will guide you through all steps to transfer all data(photos, videos, contacts, music, text messages, etc.) from iPhone to Android. You'll find iPhone to Android transfer is easier than you thought.
iPhone to Android transfer software: One-stop solution to move everything from iPhone to Android
You can let an iPhone to Android transfer software to do all the jobs for you to save time. FonePaw DoTrans (opens new window) is designed to help people directly transfer contents from iPhone to Android via USB cables. Photos, contacts, songs, videos, etc. can all be transferred in one click. Just plug both your iPhone and Android device to a PC and DoTrans will turn them into 2 storage devices for you to manage and transfer data easily.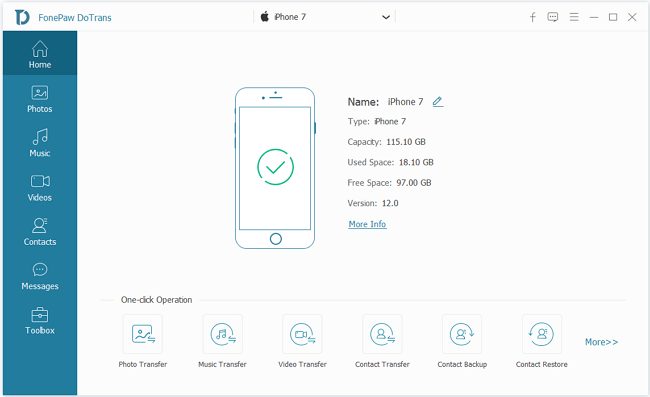 Install DoTrans on your PC and open it.

Connect your iPhone and Android to PC with a lightning cable and a USB cable.

Select the connected iPhone. All the iOS data on the device will be organized by category.

To transfer data, for example, photos, from iPhone to Android, click Photos, tick all photos or select only the needed photos, click Export to device button and select the connected Android device.
The selected iPhone data will be transferred to the Android phone in minutes. After you see "export XX successfully", click the Android device on DoTrans to view the transferred result.
Or you can just pick up the Android phone and view the transferred data from iPhone in the related apps such as Gallery, Music, Contacts.
DoTrans is really a one-stop solution for iPhone to Android transfer, giving you full control of what to transfer between iPhone to Android. Also, data transfer from iPhone to iPhone (opens new window), Android to Android, Android to iPhone, Mobile to PC are supported.
Photos & videos
Photos and videos are the easiest data to transfer from iPhone to Android. You can easily transfer iPhone pictures and videos to Android by either the USB connection or cloud storage.
Transfer photos & videos from iPhone to Android manually
Step 1 Plug your iPhone into one of the USB ports on your PC and plug in the Android phone to another port.
Step 2 Open My Computer(This PC) and you should see the iPhone and Android under the "Portable Devices".
Step 3 Click iPhone storage and open the DCIM folder. Copy all the photos you want to transfer to Android.
Step 4 Open the Android storage > DCIM folder. Paste the iPhone photos and videos into one of the existing folders or create a new folder to receive the media files.
Tips:
Make sure you have chosen the MTP USB option to receive the photos and videos from iPhone.

It is recommended that you copy a small number of photos & videos from iPhone to Android for one time. Errors may occur when you are moving hundreds of photos from iPhone to Android via Windows File Explorer.
Transfer photos & videos from iPhone to Android via Cloud
There are cloud storage services you can use to share files across iOS and Android platforms. For example, you can use Google Photos to move images and videos from iOS devices to Android. Download Google Photos for iOS on your iPhone. After signing in with your Google account, you can turn on Backup & Sync upload all photos & videos from your library to cloud storage. Then you can install Google Photos on Android (opens new window) and see the iPhone photos there after signing in with the same Google account.
Tip: Uploading iPhone photos in Google Photos require a stable Wi-Fi network and it could take a really long time to finish the syncing if you have a lot of files. You can use DoTrans to moving photos & videos to speed up the process.
Music
If you are ready for the Android world, but what about the music on your iPhone? Can you take your iPhone music to the new Android device? Well, it depends. If you have subscribed Apple Music service, you can download Apple Music for Android and continue to enjoy the service. As for the songs you have purchased from iTunes Store or downloaded on your iPhone from somewhere, you can move the music from iPhone to Android (opens new window)directly via DoTrans.
Or you can manually move the iTunes purchases from iPhone to Android by doing the following.
Step 1 Connect your iPhone to iTunes on your PC and select Transfer Purchases to save the purchased music on the iTunes library of your PC.
Step 2 Connect your Android phone to the PC and navigate to User > Music > iTunes > iTunes Media via File Explorer to copy all the iPhone music.
Step 3 Paste the music into your Android phone.
Note: Music, Movies, TV shows with DRM protection from iTunes Store can't be transferred from your iPhone to Android.
Contacts
Contacts transfer is a must-have step when you switch to a new phone. And transferring contacts from iPhone to Android can be really complicated without extra help from tools like DoTrans. DoTrans provides one-click transfer method to directly copy all contacts from your iPhone to Android device (opens new window) within several clicks, after which you can find all your contacts from iPhone right there in the Contacts app of your Android phone.
Without DoTrans, you'll have to go through the following steps to move contacts from iPhone to Android.
Step 1 Back up contacts on iPhone to iCloud. Go to Settings > iCloud and turn on Contacts.
Step 2 Go to PC, open a browser and navigate to iCloud.com.
Step 3 After signing in with your Apple ID, click Contacts, select all and click More > Export vCard to save iPhone contacts as .vcf files on PC.
Step 4 Plug in your Android phone and on the phone, open Contacts > Import/Export to import the vCard contacts from iPhone.
Also, if you use Google Contacts, you can import the contacts to Google Contacts and sync them with your Android phone.
Text messages
Transferring text messages from iPhone to Android is very tricky. There are data transfer apps claiming that they can move text messages from iPhone to Android but do not actually do the trick.
If there are important messages that you want to keep forever, you can use DoTrans to download the text messages from iPhone to PC (opens new window) and save them as an HTML, CSV, TXT file. In this way, you can review the messages any time you want.
Also, if you are switching from iPhone to Samsung, Samsung offers the Smart Switch program, which can import text messages to Samsung devices from iTunes backups. So you will need to make an unencrypted iTunes backup first and download Smart Switch for PC to import the SMS messages to the Galaxy device.
Calendar
There are 2 ways to import calendar events from iPhone to Android.
Sync to Gmail calendar
On your iPhone, Go to Settings > Accounts & Passwords > Add Account to add your Gmail account and turn on syncing for Calendars. Then you can access the iPhone calendar from Android via Google calendar.
Export from iCloud
After backing up calendar events on iPhone to iCloud, you can go to iCloud.com and share the events you want to transfer to Android as Public Calendar.
In the URL of the public calendar, change the http to webcal and hit Enter. You'll be provided with the option to download an ICS file. After downloading the file, go to Gmail > Calendar > Import calendar and import the ICS file. The iPhone calendar events will appear in the Google calendar.
Documents
As for the documents, such as Word, Excel, PPT files, on your iPhone, you can manually send them to Android phone via emails if there are not many of them. Or you can upload the files from iPhone to Dropbox, Google Drive or other cloud storage and then download them to your Android device to get them transferred.
Apps
There is no way to transfer apps from iPhone to Android as iOS apps are just different from their Android version. Luckily, most apps are available in both iOS and Android versions. Therefore, you can easily install the apps you need from the Google Play Store after signing in with your Google account. If in some rare cases, the app that you need is exclusive to the iOS system, I sure you can find its Android alternative from Play Store.
Wrap-up
That's all you need to switch from iPhone to Android. If it seems too much work to transfer data one by one manually, an iPhone to Android transfer tool like DoTrans (opens new window) can make things much easier. It is free to download now and you may give it a try. If there is any question, let us know in the comments.