You must have stored lots of songs of your favorite artist in your Android, since it is easy to download or purchase music via all kinds of Android music apps. Have you ever thought of sharing these wonderful songs with your friends who have an Android and the same idol with you when the singer releases a new album. And how do you transfer music from Android to Android? You can, of course, turn to Bluetooth, Zapya, Wi-Fi Direct, NFC, etc. in "Settings" of your device. But today we will show a new way called FonePaw DoTrans, which can do the same job with higher efficiency.
# Something about FonePaw DoTrans
FonePaw DoTrans (opens new window) is an expert to help migrating music files that you want in your Android device to another. Once connected to PC, the program will scan and search for all the music so that you don't find out the folder where the songs are stored. And the program allows you to export all the music to the destination at one time. Items in the source device will not be wiped. They are just copied and pasted. Download the software below and we'll walk you through exactly steps.
Free Download Buy with 20% off
1. Bridge Android Phones or Tablets into PC
Plug your Android devices to the computer where the program is launched. Select one of them as the source device. Wait for a while, the program will detect and read the data including media in the target device.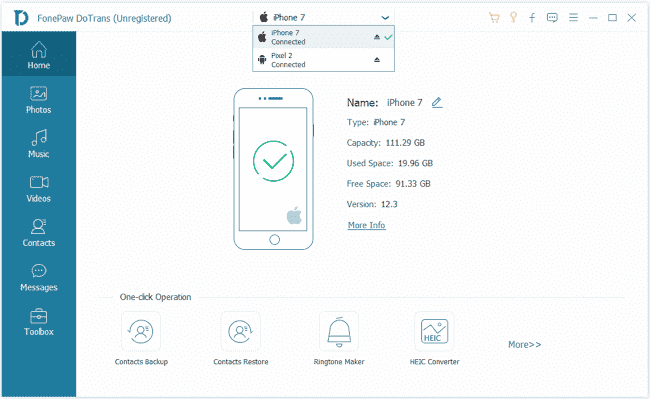 2. Set to Copy Files
When the software have read the data in the device and shown the quantity of items, select "Music" in the left menu.
Supported Audio Files: voice memos, music, audio books, ringtones, alarms, etc.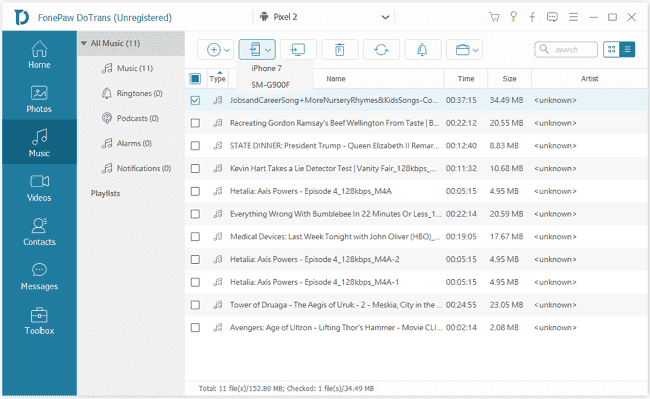 3. Clone Music to the Target Device
After you select the music items and the destination device, the audio files will be copied to another Android device.
Besides to transfer music from Android to Android, you are able to create playlist for the audio items or play them one by one on both the source device or destination device.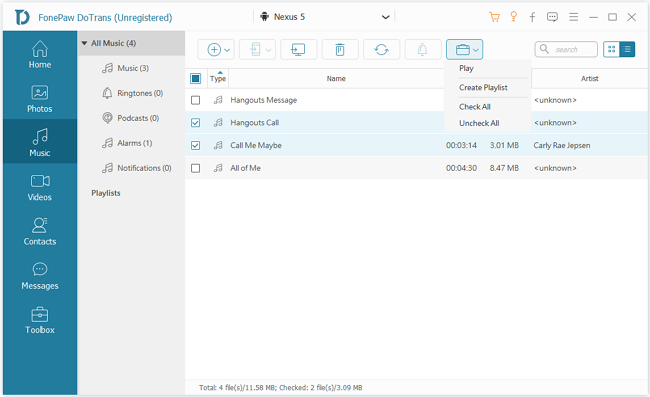 You have done the job, delivering 140 songs with the album info and playlist from one Android to another. Now your friends can enjoy the songs you shared!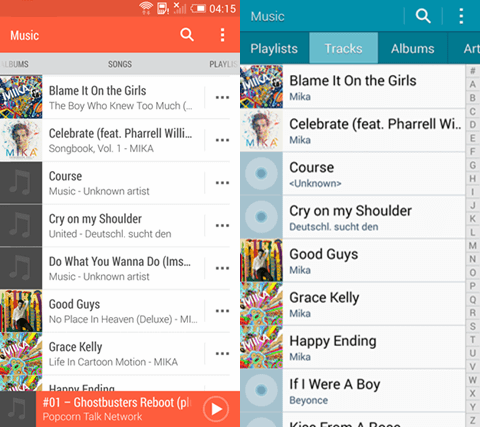 Does the software satisfy you? If yes, leave your comments below. And meanwhile, you can go to the bottom of the product page and click on the Subscribe button below so that you will receive the free Newsletter about new features of latest version of this program.