"My little girl and I were looking through photos of her kindergarten graduation ceremony on my Samsung Galaxy S6 Edge. But when I left for a while, she casually tapped on the phone. Then, all valuable pictures were, unluckily, gone! Who can tell me the way to recover deleted photos from Samsung Galaxy? " Experience like this upsets us because pictures of specific stage of our live are truly precious to us. We use all conceivable means and attempt getting them back, but always in vain. And of course we don't have a time machine to go back to the past and prevent the misfortune. But, we have FonePaw Android Data Recovery to be a Samsung photo recovery that truly meets our need.
FonePaw Android Data Recovery (opens new window) is a efficient but simple recovery programl for recovering Android photos from Samsung Galaxy S9/S8/S8 Plus/S7/S6/S6 Edge/S5, etc. Users can recover deleted images in .jpg, .png, .gif, .bmp, .webp, .tiff format and more. What's more, it is available to back up the existing items and store in the computer.
Free Download Buy with 20% off Free Download Buy with 20% off
Note: Stop using the Android phone once photos are lost so that they won't be covered by the new data.
# The Way to Recover Lost Photos on Samsung
Step 1. Connect Android Phone to Windows PC
Install FonePaw Android Data Recovery on a Windows 10/8/Vista/XP computer and open the program. Then connect your phone to the USB cable port using the USB cable and enable USB debugging on the phone (opens new window).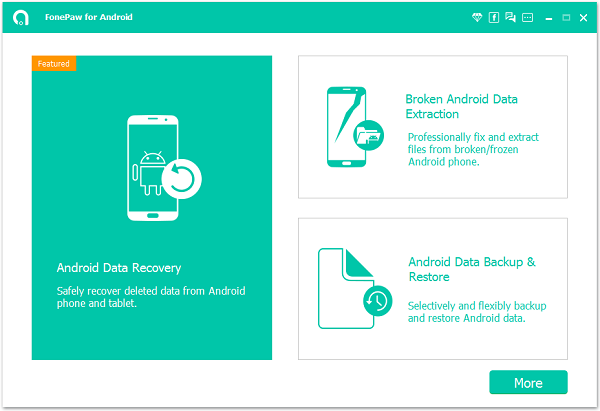 Step 2. Select File Types to Scan
You can see the window as below. Select "Gallery" or "Picture Library". Then click the "Next" button. The program will follow the option and scan pictures in the device only.
Note:
If you want to restore cache images, choose "Picture Library". Otherwise, select "Gallery".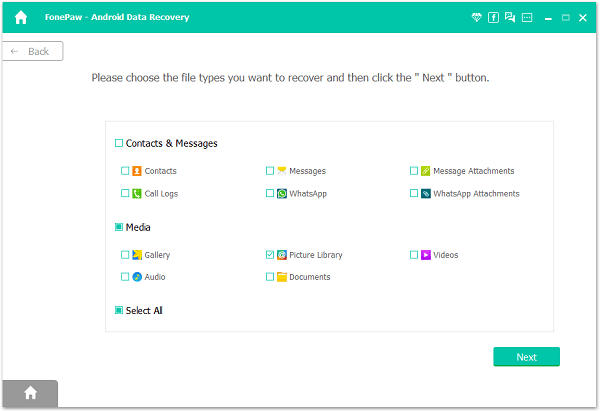 Step 3. Grant FonePaw Program to Scan Android Images
FonePaw Android Data Recovery will set to scan all the pictures in your phone, including the existing ones and the deleted ones. This process can take some time. Please await the scan result with patience.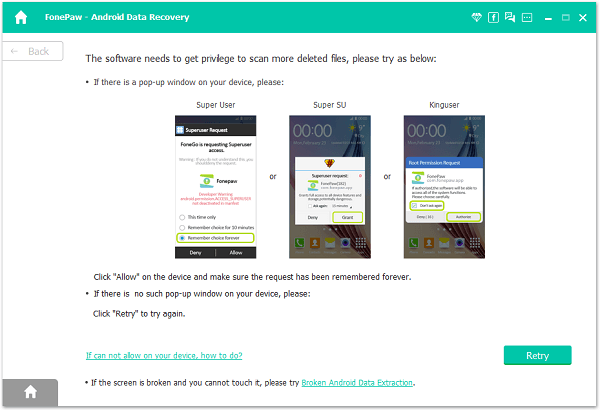 Step 4. Preview and Recover Lost Photos of Samsung
Scanning is finished. Click "Gallery" or "Picture". Thumbnails of the items and the name of them will be displayed in the table. Names of deleted items are written in red. You can preview them in full size if you have bought the software and registered with the verification code. After that, you can mark whichever ones you want and get them back.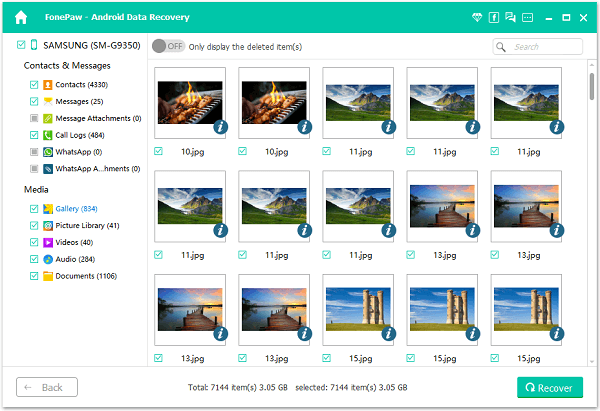 If you encounter any problems during the process, leave them below or find answers in our support page. When you succeed in recovering your deleted photos, keep on a good habit of regularly backing up your precious data. Plus, FonePaw program can help you recover deleted contacts from Samsung Galaxy phones (opens new window), retrieve deleted text messages on Samsung Galaxy (opens new window), and recover deleted call Logs in Samsung (opens new window).
Free Download Buy with 20% off Free Download Buy with 20% off