Are you wondering how to retrieve deleted text messages on Samsung Galaxy? It's easy to misdelete messages if you are not careful when clearing unwanted chat history. And things can be even worse if the deleted SMS means a lot for yourself and can't be reproduced. Although there is no medicine for regret, there is actually medicine for the misdeleted text messages on your Samsung Samsung Galaxy S10/S9/S8/S8 Plus/S7/S6/S5/Note8/Note5/Note4. This post will give you clues about recovering deleted text messages with/without a computer.
People Also Read:
Where Do the Deleted Messages Go?
Your deleted messages are not actually being deleted from your Samsung phone. When you remove a text message from the inbox, the data about the text message is still maintained on the phone temporarily. When the storage space is later needed for other content, the phone will wipe out the data and reallocates the memory to the other content. So, the trick to get the deleted messages back is to recover the data before being wiped out permanently.
Since the data of deleted messages are stored in the inaccessible location of phone memory, we need a professional data recovery tool to help us. FonePaw Android Data Recovery (opens new window) is specially designed for the Android system to recover deleted Android files:
Recover deleted text messages without privacy risks;
Supports a wide range of Android devices, for instance, Samsung Galaxy S8/S8 Plus/S7/S6 Edge/S6/S5/S4/S4 Mini/S3, Samsung Galaxy Note 8/Note 5/Note 4/Note 3, Samsung Galaxy Tab S/Note Pro and many more.
Easy-to-use and works effectively.
Free download the trial version.
Free Download Buy with 20% off Free Download Buy with 20% off
Attention: Please stop using your Samsung Galaxy once you realize that the messages are mistakenly deleted.
Retrieve Deleted Text Messages from Samsung Galaxy
Step 1. Get Samsung Galaxy Detected by the Computer
Launch FonePaw Android Data Recovery. Bridge your Samsung Galaxy to the computer using a USB cable. Ensure that you have turned on the USB debugging on your Samsung Galaxy so that it is accessible. If not, go to your Samsung Galaxy and open the USB debugging (opens new window).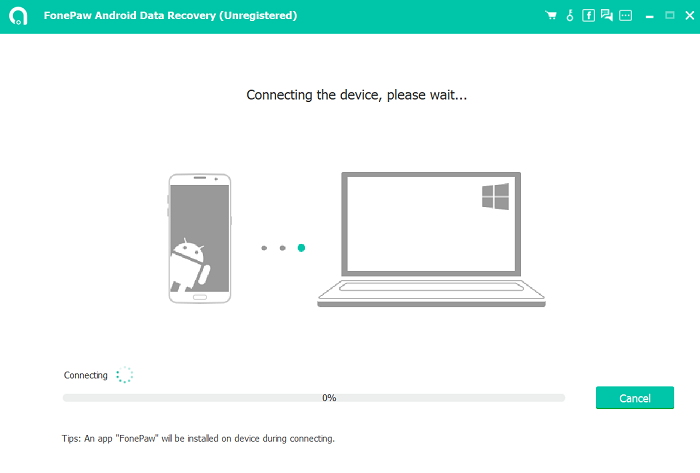 Step 2. Select Text Messages to Scan
When your Samsung Galaxy is successfully connected to your computer, it is high time you need to select and scan file types of android devices. Tick the box followed by "Text messages".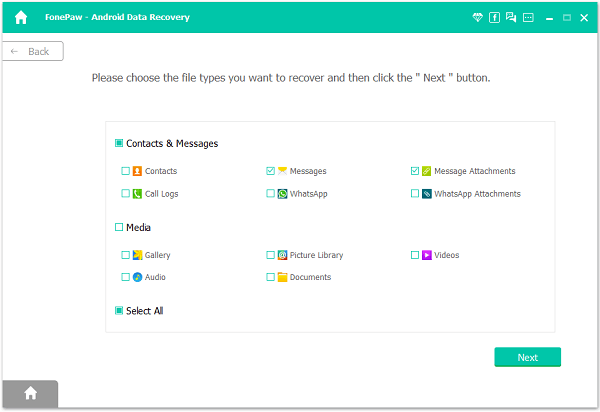 Step 3. Authorize FonePaw App on your phone before scanning
Go to your Samsung Galaxy phone. You need to install the FonePaw app and give access permission to the software. After that, on your computer, click "Scan Authorized Files".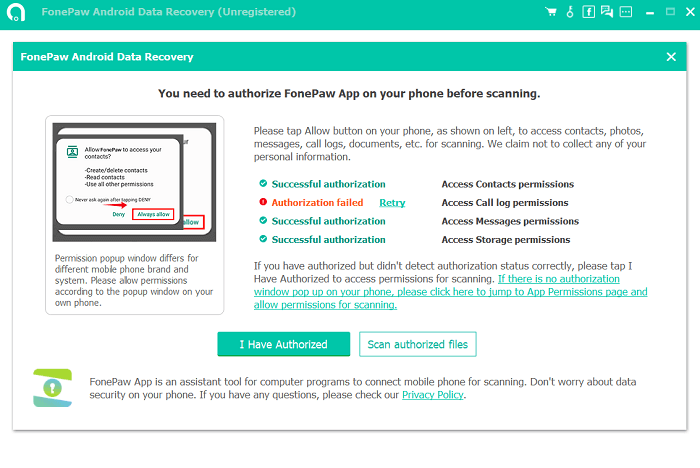 After that, the program will automatically scan data in your Samsung. When it is processing, don't disconnect the phone.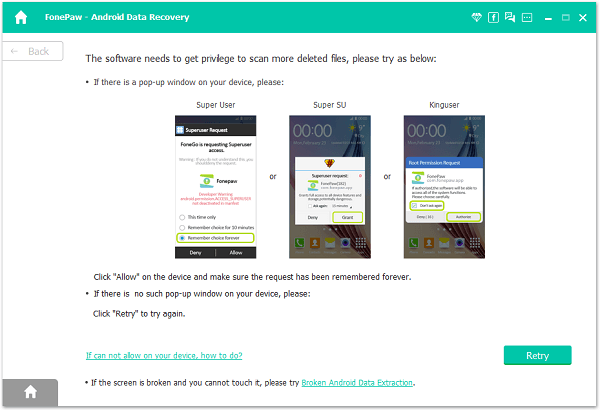 Step 4. Preview and Retrieve Deleted Text Messages on Samsung Galaxy
When the scanning is done, locate and expand "Text messages" on the left side. After that, you can preview them on the computer including contact, number, sent, and received time. Then mark the ones you are inclined to restore and click "Recover" to get back deleted text messages.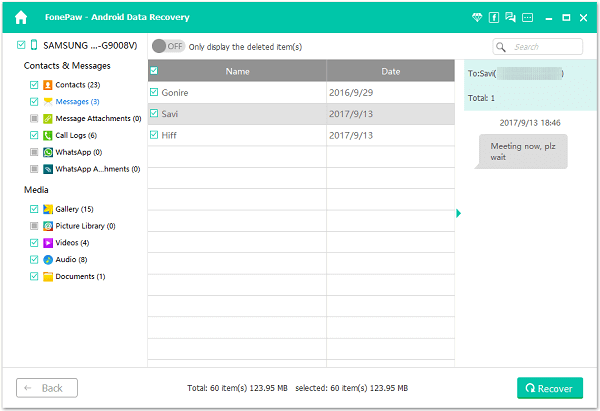 If you can't find the deleted messages that you need, try Deep Scan to find out more.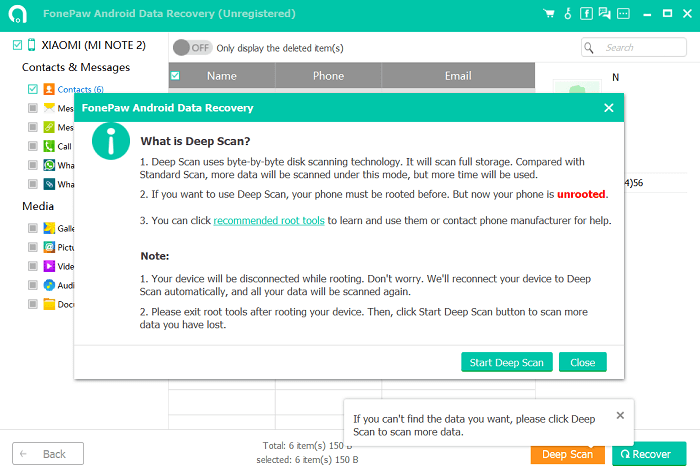 Isn't easy to recover Samsung messages? To avoid permanently losing the important data on your Samsung Galaxy, it is suggested that you should back up them beforehand. You can also back up with Samsung Kies. But Kies doesn't support newer Samsung models like Samsung S5/S6/S7/S8.
Kies 3 supported models: Samsung Galaxy devices running Android 4.3 or later versions.
Kies 2.6 supported models: Samsung devices launched before September 2013.
Free Download Buy with 20% off Free Download Buy with 20% off
Retrieve Deleted Text Messages on Samsung without Computer
Firstly, you should check if you have added a Samsung account and have enabled "Auto back up" on your device. Samsung allows you to back up messages, call logs, etc. to Samsung account. If you have backed up to the Samsung account, you may have backups that contain the deleted messages. If so, you can retrieve the messages without the computer. To restore a backup from Samsung account:
Go to Apps > Settings > Samsung account;
Choose Restore.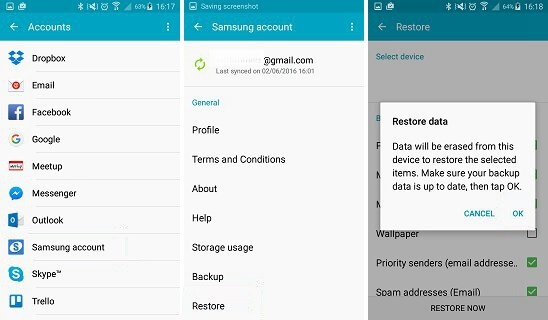 Note: All your messages that are sent or received after the backup will be erased after you restore the backup.
If you don't have the backup, there are apps that can be installed on your Android to recover messages without computer. But you should know that retrieving messages with a computer can guarantee a higher success rate. Besides, the Verizon deleted messages, T-Mobile deleted messages, etc. may be dealt with via these methods.