"iPhone 6 not saving photos to camera roll from Safari. What can I do to fix it?"
Nowadays, we human beings are tied to a hand-sized gadget - cell phone. One of the brands that leads the pack and stands out is Apple Inc. Due to its great reputation and the vogue design of its products, you can now see plenty of iPhones walking across the street.
Don't Miss Out:
If you're an iPhone owner, you would have been into trouble like the situation above. Usually, we would save a bunch of pictures from somewhere like Safari, Email, Facebook, WhatsApp etc. to iPhone. However, how to fix the issue if it fails to save photos to iPhone on iOS 9/10? To solve it, I've come up with six feasible methods for you.
Method 1. Check out the Privacy Settings on iPhone
Each time when you open a new app on iPhone, you will get prompted to allow the app to access things like location, photos, camera and so on. Yet, you might probably ignore this prompt or even directly choose "No" option so that the app cannot save a photo to camera roll. Therefore, please check out whether you've disabled its accessibility.
Step 1. Open "Settings" app on iPhone.
Step 2. Tap on "Privacy" and go to "Photos".
Step 3. Locate the app that cannot save photos and toggle on the bar behind it.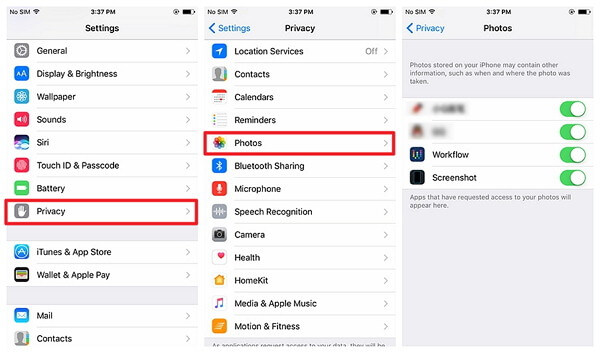 Method 2. Soft/Hard Restart Your iOS Device
Many report that this issue is caused by a system glitch, which can be addressed via a fresh restart. To reboot your iPhone, there are two ways you can give it a go, of which respectively are soft reboot and hard reboot. Please see how to do so.
Soft Reboot: Hold and press down "Power" button until it prompts you to "Slide to power off". Then, slide the bar as required.
Hard Reboot: Hold down the "Home" and "Power" button together until the screen shuts down. This will turn off all the apps running in the background.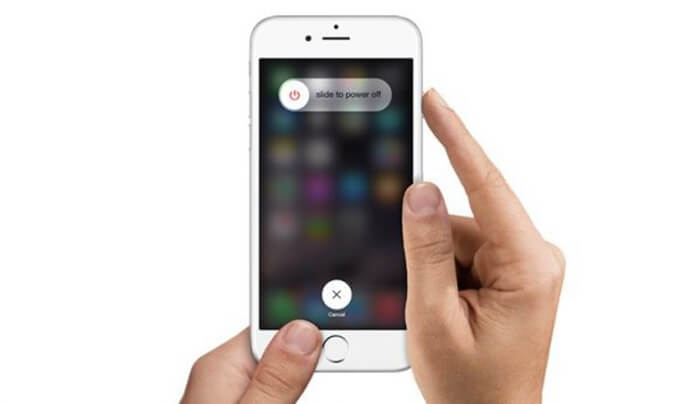 Method 3. Free up Memory on iDevice
Why iPhone cannot save photos? The proper culprit might be the insufficient storage. You can check out how much the rest is via navigating to "Settings" > "General" > "Storage & iCloud Usage". Now, you can see how much storage are still available.
If insufficient, please uninstall those apps you barely use or the insignificant messages/photos/videos. I'd like to recommend you to try "Manage Storage" on the "Storage & iCloud Usage" screen. Here you can view which ones take up the most storage. Also, you can tap on certain apps and delete them directly.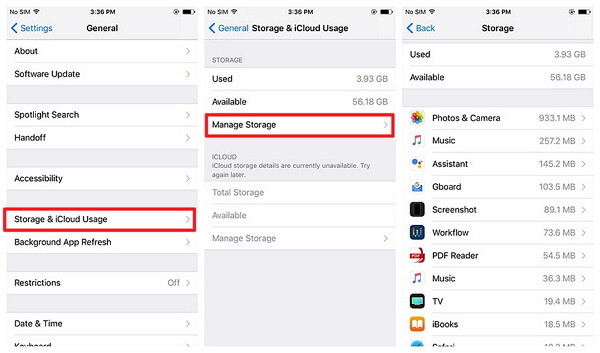 Method 4. Re-install the Application
If the workarounds above fail to get you out of trouble, you may then try to remove the app which is acting up and install it back again. It's a simple trick to solve this annoyance. So please hold the app for a while and click the "X" button to remove it, and then re-install it from App Store.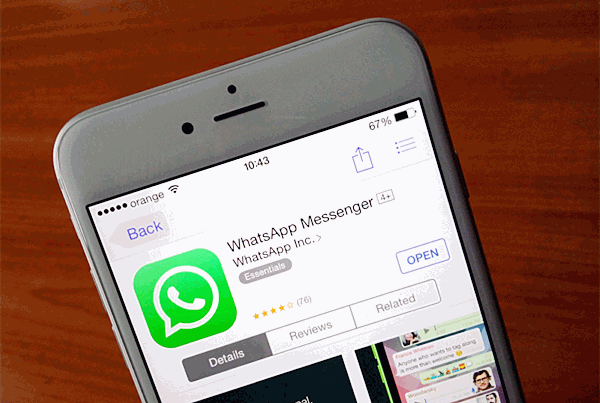 Method 5. Try Capturing Screenshots Instead
Another plausible resort is actually an alternative. That being said, it's worth capturing screenshots instead of saving photos, although you cannot save the photo as an original one in this way.
On iPhone, you can hold down "Home" and "Power" buttons at the same time for a while and release them. Then, the capturing is done. If the screenshot seems less desirable to you, for it includes the notification bar or redundant blank, please try it's "Edit" feature to optimize the photo on your own.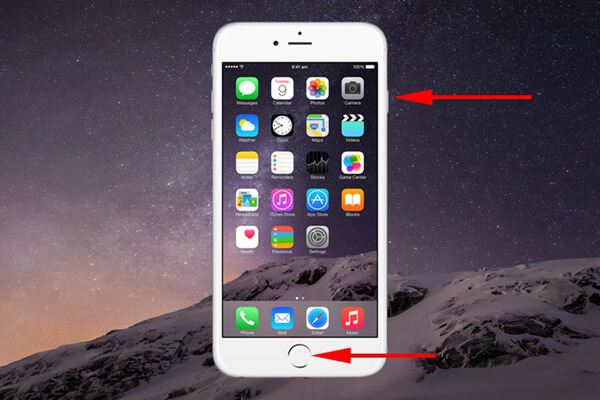 Method 6. Reset your iPhone
If you come to this final way, please think twice before you decide to reset your iPhone. As this method would erase all the data on device, you'd better have a full iPhone backup (opens new window) in advance. To proceed, take a look below.
Step 1. Launch "Settings" app on iPhone.
Step 2. Tap on "General" option.
Step 3. Scroll down to the bottom and select "Reset".
Step 4. Select "Erase All Content and Settings" and wait till it completes.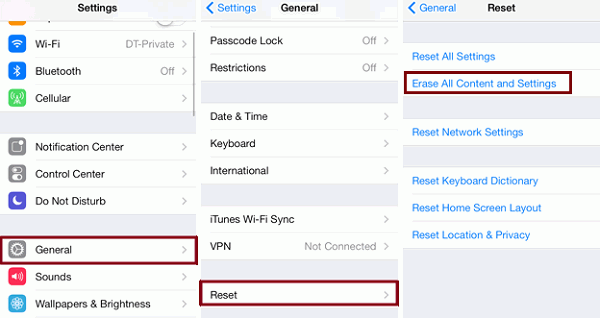 If you've saved a picture to camera roll but it's not there, please find your solutions from the methods above. If you've having any questions trying the ways, let me know and get it solved!