Pictures are what people use most often to record their life, which causes a large accumulation in their Android phones. When change changing phones, it's often a headache for people to move pictures from one phone to another. Here are four easy ways to help you transfer pictures from Android to Android.
---
People also read:
How to Transfer Photos from iPhone to Android (opens new window)
How to Transfer Photos from Android to Computer (opens new window)
---
1. Transfer Photos from Old Android to New Android via USB Connection
It's most convenient for you to use FonePaw DoTrans (opens new window) to transfer pictures from the old Android phone to a new one. DoTrans is a data transfer tool for iPhone, Android, and PC.
With DoTrans, you can view Android pictures by album or in chronological order so that you can quickly locate the photos to transfer. Also, you can preview the photos in thumbnail mode or in full size before transferring. With no Internet connection required, DoTrans supports transferring photos from Android phone to Android, iPhone, iPad or computer in fast transferring speed.
Free download FonePaw DoTrans.
Free Download Buy with 20% off
Video Tutorial: FonePaw DoTrans - Transfer Data Among Android, iPhone, Windows PC
Step 1: Connect Android Phone to Computer
Connect your Android phones to computer with USB cables.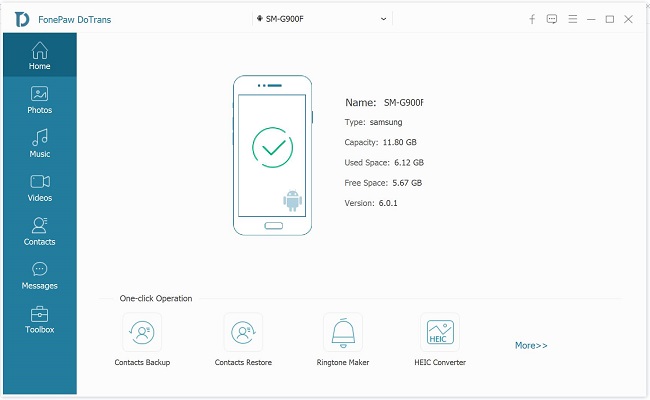 Step 2: Select Pictures
Click "Photos" on the left side. Choose photos one by one or choose all by ticking "Check all".
Step 3: Export to Another Android Phone
Click on the phone logo on the top of the interface. Then choose "Export to Android" and the photos transfer will get started. It's really fast and you'll be informed of the number of pictures transferred successfully to another phone.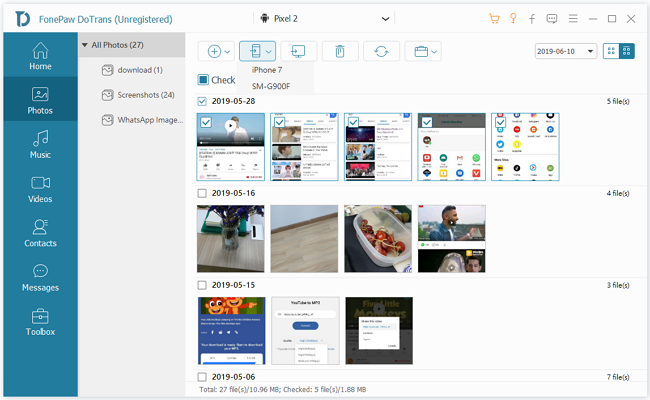 2. Transfer Photos from Android to Android via Bluetooth
Transferring photos via Bluetooth is very convenient and simple especially when your two Android phones are close at hand and you just need to transfer a few images from phone to phone.
Step 1: Pair Two Android Phones
Turn on "Bluetooth" on both Android phones. Then long-press the "Bluetooth" button to select the device's name to pair them.
Step 2: Select Pictures
Go to the "Gallery" on your old phone. Open your album and select the pictures. (Bluetooth file transfer tends to fail when you are transferring photos in large bulk via Bluetooth, use a computer (opens new window) if there are many photos to transfer).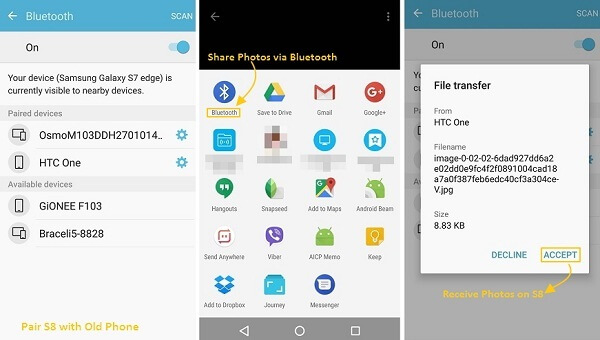 Step 3: Transfer Pictures via Bluetooth
Tap "Share Via" and choose "Bluetooth". Click "Accept" when the new phone receives pairing requests. Wait a bit and the new phone will inform you of the pictures that are transferred successfully or failed.
3. Transfer Photos from Android to Android Using Google Photos
Google Photos is a free app to store and share photos. You can backup and sync your photos from your Android phone to Google Photos and then download the photos to another Android phone. Google Photo is a great option to transfer photos.
Step 1: Download and install Google Photos on both Android phones.
Step 2: Open the app and log in to your Google account on your sending phone.
Step 3: Click on the three-line icon on the upper-left and tap "Settings". Choose "Backup & Sync" and turn it on.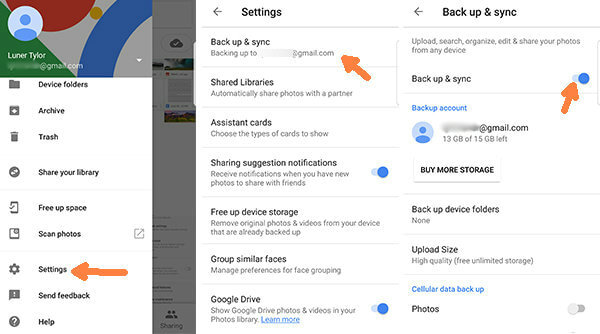 Step 4: Click "Backup Mode" and select the quality type you need here. Set the data limit by tapping "Mobile data usage". Then tap "Device folders" and choose other folders if you need to transfer photos beyond your camera gallery. After these settings, the photos can be uploaded.
Step 5: Open Google Photos on your receiving phone and sign in the same account.
Step 6: Go to "Settings" and choose the quality type of receiving photos. Turn "Back up & Sync" on. Then all the uploaded photos from the other Android phone will be presented but they are cloud-based files.
Step 7: If you want to download photos from another phone, go to "Menu", open "Settings", turn on "Auto Add" under "Google Photos" and tap "back" at the top.
Step 8: Now open Google Photos folder and tap Select All > Download to transfer all photos from another phone to the current phone.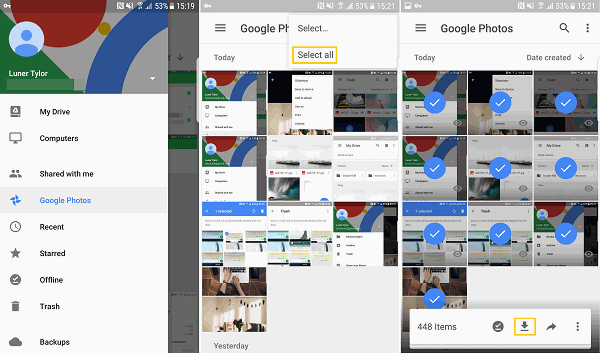 4.Transfer Photos from Android to Android Wirelessly without Computer
If your two Android devices support NFC, then you can transfer photos wirelessly and without third-party tools. By using NFC, you can transfer only one photo at a time.
Step 1: Turn on "NFC" and Android Beam on both Android phones.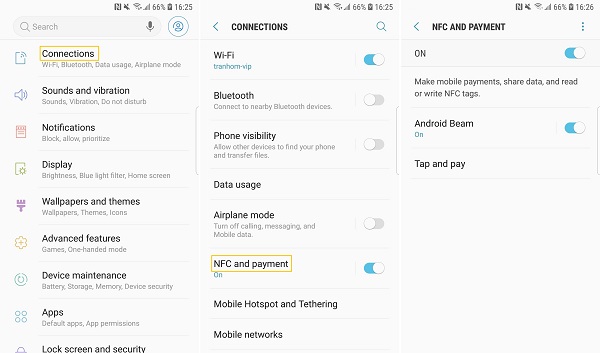 Step 2: Open "Gallery" on the sending phone and open a photo select the photos that you need to transfer.
Step 3: Put the two devices back to back. Move the phone up and down a little bit until the phone vibrates with the Tap to Beam notification. Tap the photo and it will be transferred to your receiving phone immediately.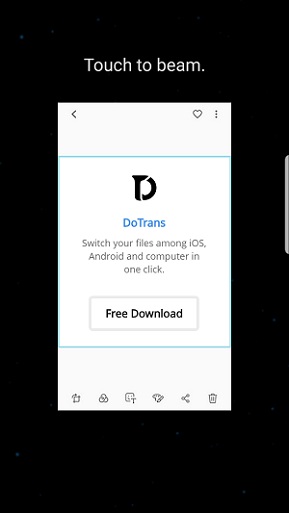 If the process fails, repeat Step 3 until it works.
This article has covered 4 ways to transfer pictures from Android to Android. Bluetooth and NFC are very helpful if you just need to move a couple of photos from one phone to another without computer, but if you need to transfer hundreds of photos, for example, moving all photos from an old Android phone to a new one, transferring photos on USB connection withFonePaw DoTrans (opens new window) is more reliable and speedy.