Summary: This post aims to help you transfer data from old Android or iPhone to a new Samsung Galaxy S9/S9+, the Samsung's new flagship launched in 2018 (which also works for S10 released in 2019). If you just bought a completely new Samsung Galaxy S9 and have no ideas what to do with the data transfer between phones, please scroll down and check the solutions below!
After a detailed comparison and a careful consideration, you may finally decide to buy a new Samsung Galaxy S10/S9. However, here comes the most important thing: how can I transfer contacts, photos, music and other data to Samsung Galaxy S10/S9 from my old phone? You can see different ways to fix it when you search the solution from Internet, which may also confuse you with the overwhelming info. But here, I am going to show you a way to transfer data between phones, which is tested to be the easiest trick.
People also read:
# Transfer Data to Samsung Galaxy S10/S9 from Old iPhone or Android (6K Users Tried)
FonePaw DoTrans (opens new window) app is a must to easily move the data from one phone to another. It supports both iOS and Android. You can see the following list for more details.

Now, please follow the steps below to transfer photos, contacts, videos, etc. to Samsung Galaxy S10/S9/S9+ from the old Android such as Galaxy S6/S7, or iPhone 8/7/6s.
Step 1. Download FonePaw DoTrans
Firstly, get the FonePaw DoTrans on your computer by clicking the download button and install it by following the instructions from the program. Then just launch it on your Windows.
Free Download Buy with 20% off
Step 2. Connect Android/iPhone to Computer
To transfer data from old Samsung or Android to Samsung Galaxy S10/S9, you are required to connect your old Android as well as the new S10/S9 to computer with USB cables.
To transfer data from old iPhone to Samsung Galaxy S10/S9, you should connect your old iPhone and new S10/S9 to computer via USB cables.
If your phones are well connected, you will see your phones will be detected and showed on the program.
Tips: You need to make sure your old phone is detected in the top pane (as a Source device), and your new S10/S9 is also detected in the top dropdown. If they are not, check whether you have enabled debugging on Android or tapped "Trust" on iPhone.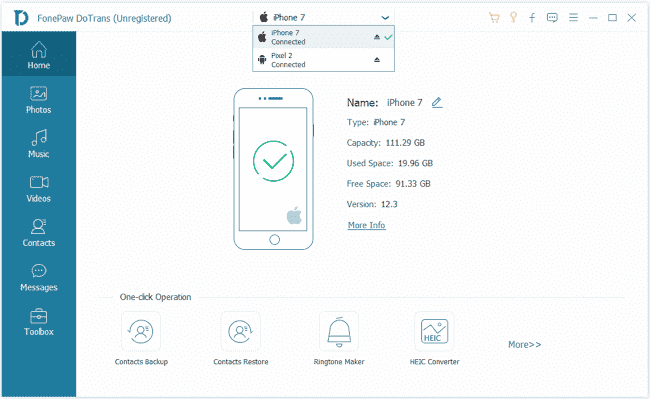 Step 3. Select Data to Move
Now, you are able to select the data types including photos, contacts and other media files in the left panel. Tick the box in front of the items that you want to copy and export them to the new device (Samsung S10/S9).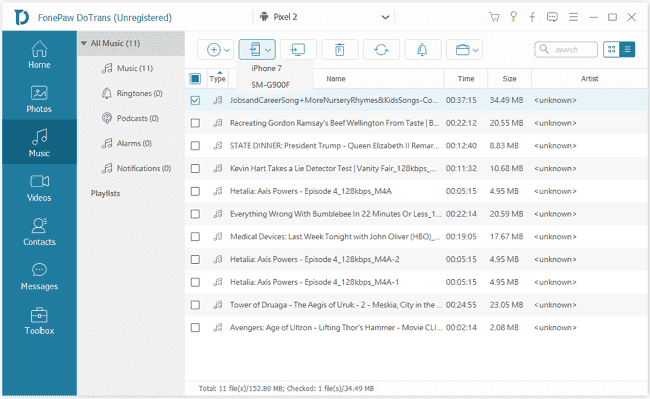 Step 4. Copy Data from Between Phones
After transferring, you can do more with DoTrans: export files to PC, add items from PC to devices, backup contacts, restore contacts, make ringtones, convert HEIC images.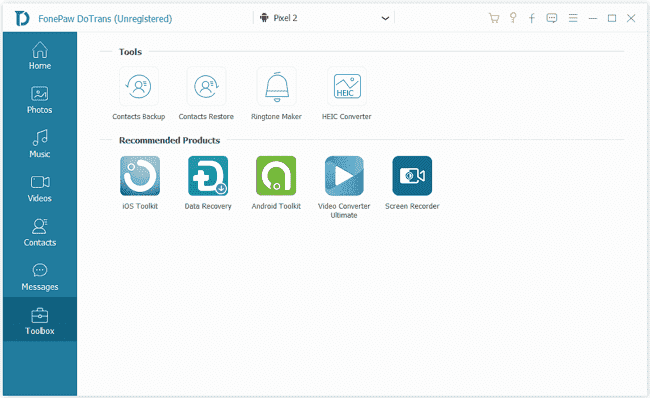 Step 5. Check the Transfer Result
Now, you are able to unplug your phones and go to check the result on your Samsung S10/S9/S9+. For example, if you selected contacts in step 3, you can go the Contacts App and see if the list of numbers on your old phone is transferred successfully.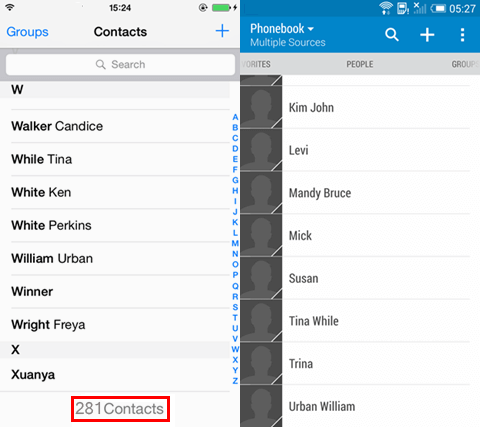 # Bottom Line
It's obvious that it won't take much of your time to transfer Samsung Data with the above five simply steps. So why not download the FonePaw app to give it a shot if you need to migrate data from Android/ iPhone to Samsung Galaxy S10/S9/S9+?
If you have any problem when trying to transfer data from iPhone to Samsung, or Android to Samsung (of course), please write a comment below to let us know!