One of the factors that distinguishes Samsung Galaxy from the competition is its excellent call quality and signal strength, which is different from some smartphones centering on the processor or gaming with a very limited amount focusing on the call quality. For users who typically use their phones for calls, they are more inclined to say goodbye to the old phone and enjoy the new model, for example, from old iPhone to Galaxy S10. Before enjoying the amazing trait of the new models, it is necessary to transfer contacts from iPhone to Android by selecting a simple but efficient way like FonePaw DoTrans.
FonePaw DoTrans (opens new window) lets you transfer phone numbers, first name and last name, webpage, email address, and so on from iPhone XR/XS/X/8/7 to Samsung Galaxy, HTC One, HUAWEI Mate, Sony Xperia, etc. seamlessly. No virus, add-ons, or any spams attached! Just feel save to download and use.
Free Download Buy with 20% off
System Requirements:
• iOS: Support Devices with iOS 6 and higher version
• Android: Support Devices with Android 2.3 and higher version
• Windows OS: Windows 10/8/7/Vista/XP (32 bit or 64 bit)
# Transfer iPhone Address Book to Android Phone
Step 1. Open FonePaw DoTrans
Plug both your old iPhone and Android to PC. iPhone should be set as source device and the Android as target device. If they are at the wrong places, click the right one in the dropdown. When they are detected and successfully connected, you will see the prompt "Connected".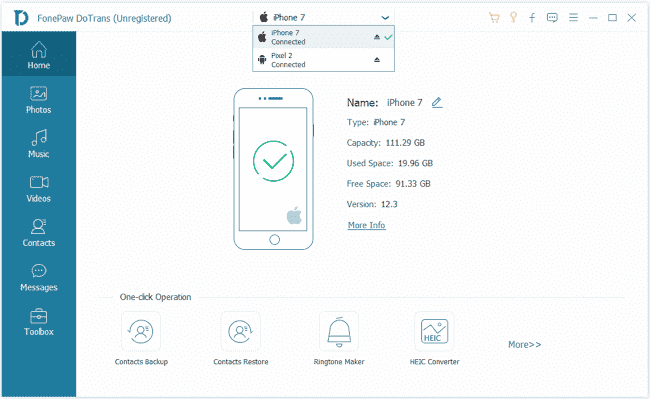 Step 2. Select to Clone Phone Book on iPhone
Map the field you want to copy. Here we will mark "Contacts", which contains lots of items and show the total number of the contacts. Then you can add new contacts, export to PC, export to device, delete unwanted ones, merge the duplicate contacts, etc.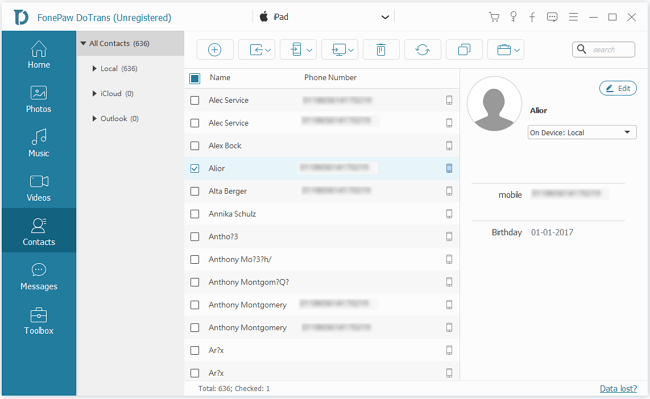 Step 3. Start to Copy Contacts
To transfer the contacts from iPhone to new Android phone, tick the boxes in front of certain names and hit Export to device icon to select destination device, like Samsung S10, Pixel, and more. The transferring process will go fast.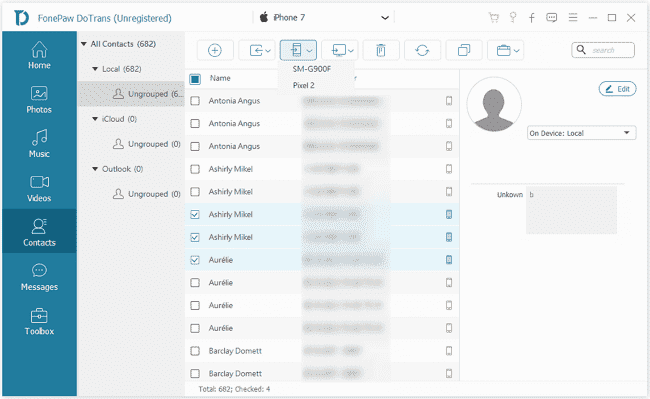 Done. Open the phone book on your Android phone. 281 duplicated contacts from the iPhone have been moved! You can make a phone call or send messages to the specific contact. Plus, it is available to add it to a new group like VIP, family, friends, coworkers, etc., share contact via Bluetooth, Email, WhatsApp, etc., or even add some notes of it.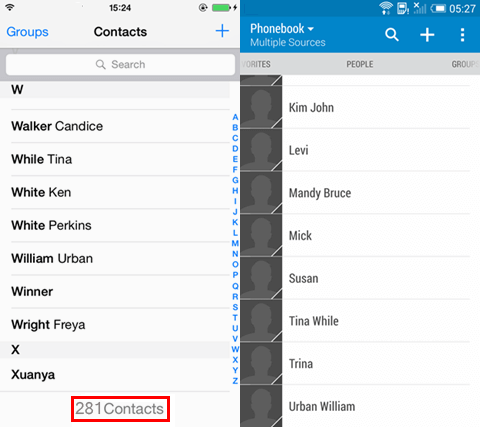 Hope this tutorial is what you need. If you like this FonePaw software or if you have any suggestions to help us improve the program, just leave your comments and let us know.
Free Download Buy with 20% off
See also:
How to Transfer Contacts from Android to iPhone (opens new window) How to Transfer Contacts from iPhone to iPhone (opens new window)