Certainly Wi-Fi is one of the most intelligent inventions in this era, which offers lots of conveniences when one's using cellphones or laptops. It nevertheless will be a disaster when it comes to disconnection of Wi-Fi, especially when your iPhone/iPad fails to connect to Wi-Fi and you're running out of mobile data. Furthermore, the Wi-Fi connectivity problems always attribute to the iPhone X/8/7/6s/6 won't download, install and update apps or gets stuck on waiting error. That would be such a hard time, so what to do when it happens? Or if you're experiencing issue of dropping connection intermittently, read on and solve these problems.
People also read:
How Can I Fix iPad/iPhone Wi-Fi Greyed Out (opens new window)
How to Fix an ″Unable to Join the Network″ Error in iOS (opens new window)
Why Won't My iPhone Connect to Wi-Fi?
Some people reported that they got wireless connectivity issues on iPhone or iPad. For instance:
"My iPad won't connect to internet. How to fix it?"
"iPhone connected to Wi-Fi but no internet. So how can I fix iPhone unable to join network error?"
"My iPhone can't find Wi-Fi at all…"
Actually, many factors can trigger the network connectivity problems on your iPhone or iPad. The prior issue you should troubleshoot would be your network equipment such as wireless router. In some cases, network outage should be blamed, causing the conflict to wireless connectivity functions on iPhone X/8/7/6 or iPad. Other possible factors including device settings, system errors, and hardware problems can also affect your network connection. Now, let's see how to fix Wi-Fi problems on your iPhone 8, for example.
How to Fix iPhone/iPad Won't Connect to Wi-Fi Problem?
As you can see above, there are many possible reasons that might cause the wireless connectivity errors on your devices. If you are short on time, you can have a quick scan on the subheads below to discover the solutions to fix iPhone or iPad unable to join network problem.
Check those out in the first place before you go further.
• Ensure that your wireless router is on.
• Ensure that your iPhone/iPad and router are within available range.
• Ensure that your Wi-Fi is on and discoverable on your iPhone/iPad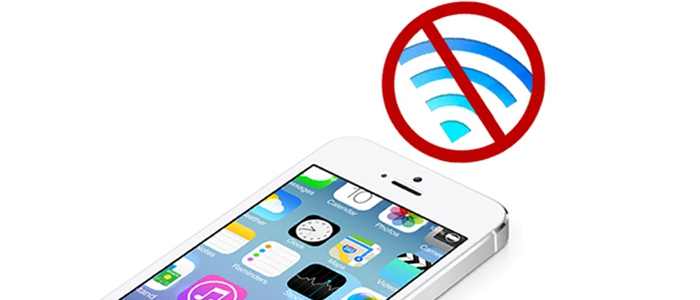 If your iPhone/iPad still fails to connect to Wi-Fi after checking out those above, please read on and drill your way down the solutions.
Solution 1. Reboot Wi-Fi Router
At the very first moment, you should try to restart your router. Have a try to unplug the cable or DSL modem and your router, and then plug them back in. Wait for a while and try to reconnect your iPhone/iPad to Wi-Fi again. If it doesn't work, you may consider replacing your router or try the following solutions.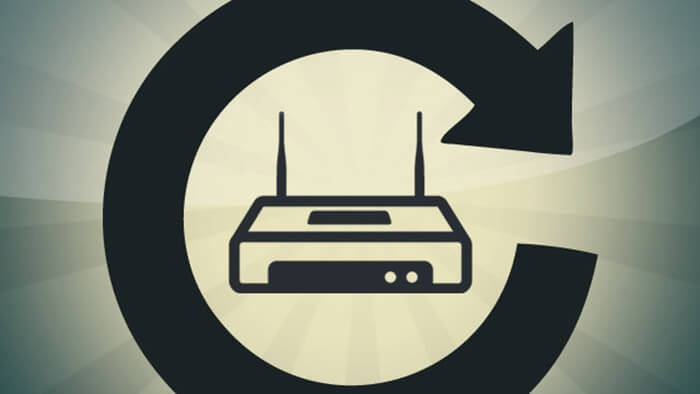 Solution 2. Restart iPhone/iPad
In some cases, if you can connect an iOS with the W-Fi but not the other, for example, iPad won't connect to Wi-Fi but iphone will, your wireless network should be find as it can be accessed. When disconnection to Wi-Fi takes place, have you tried to restart your iPhone/iPad? It is a simple but truly feasible trick. Press and hold the Power Button and Home Button, and then drag the slider to power off your iPhone/iPad. You can turn it on by holding down the Power Button for a while. See now whether it works or not.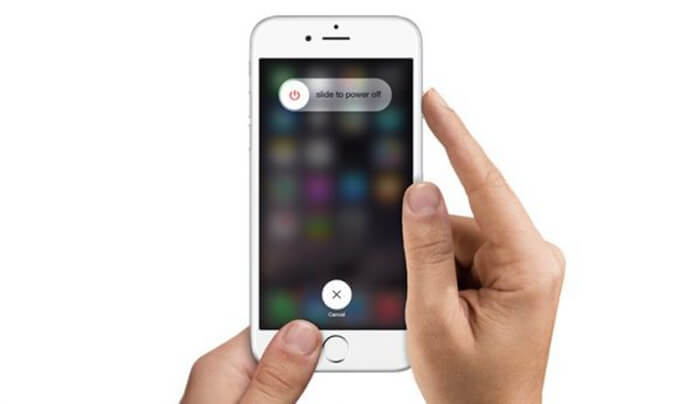 Solution 3. Upgrade to the Latest iOS
Some people complained that iPhone 6 can't find Wi-Fi at all. In this case, you are recommeded to update your iPhone to the latest version. Generally speaking, there are some new features and improvements in the new generation of iOS. Go to "Settings" > "General" > "Software Update" as to check out weather your iOS is up to date. If not, please upgrade and perhaps your problems will be solved in the latest operating system.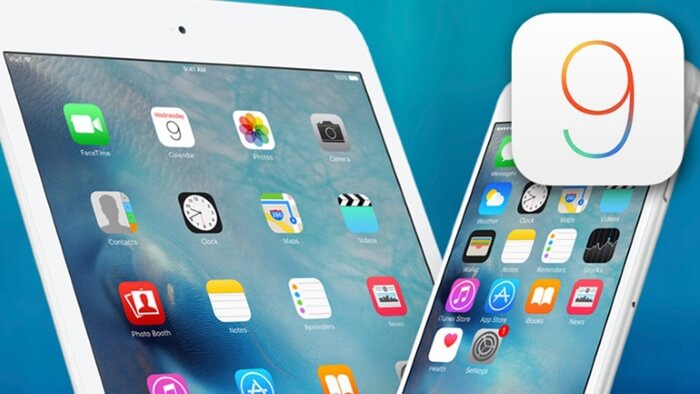 Solution 4. Forget Network
If it still doesn't work, try this. Navigate to "Settings" > "Wi-Fi", and select the network to which your device fail to connect. Tap the exclamatory mark and "Forget This Network". Re-choose the Wi-Fi and re-enter password so as to try whether it works now.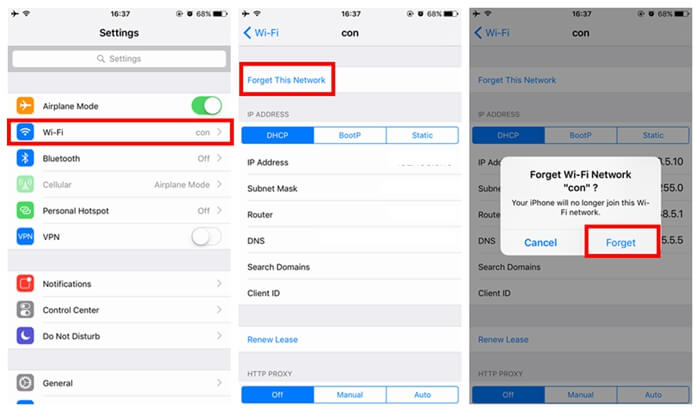 Solution 5. Reset Network Settings
If you still fail get your device connected after trying all of the above tips, you can reset network settings on iPad or iPhone to give it a shot. Just head to "Reset Network Settings" under "Settings" > "General" > "Reset" on your device. After doing so, all saved Wi-Fi passwords, Bluetooth pairing records, VPN and APN settings will be removed, so please bear in mind those important data.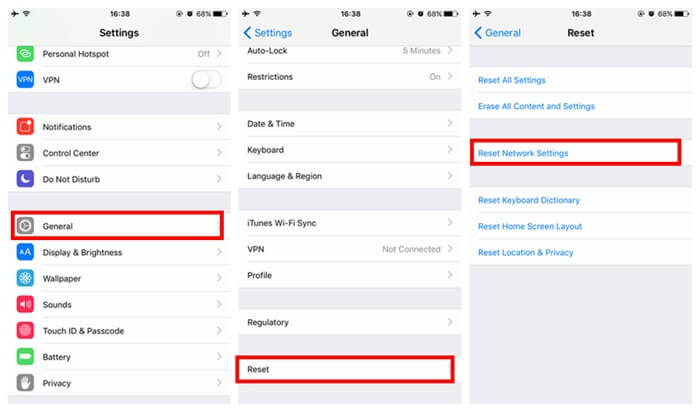 Solution 6. Reset all Settings
Now you may try this solution. Go to "Settings" > "General" > "Reset" > "Reset All Settings". Luckily, it will remove your app settings but not any apps on your device. However, to be on the safe side, back up important data in advance via iTunes or iCloud (opens new window).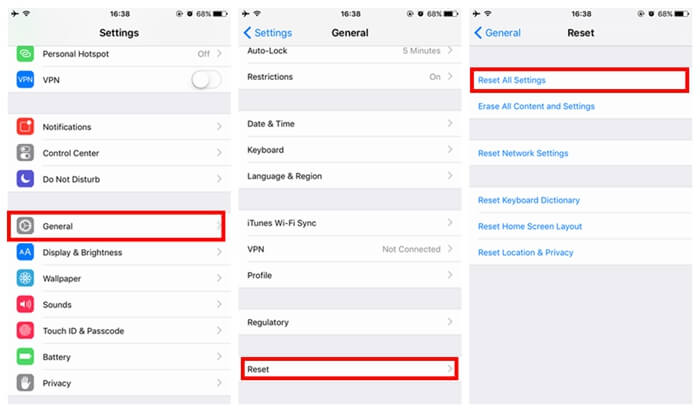 Solution 7. Turn off Wi-Fi Networking Services
Reputedly, some people have solved these issues by turning off Wi-Fi Networking in System Services. Just give it a try. Go to "Settings" > "Privacy" > "Location Services" > "System Services" and disable "Wi-Fi Networking". This won't entirely disable Wi-Fi but relates to your location being used for Wi-Fi networking.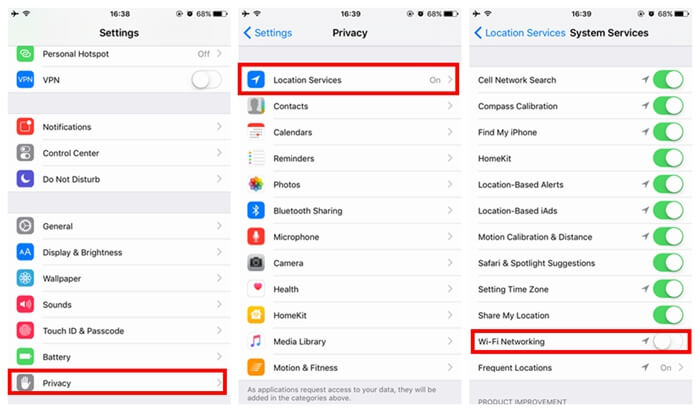 We sincerely hope that those solutions mentioned will be helpful to fix network connectivity problems on iPhone X/8/7/6 or ipad. However, if your iPhone/iPad still disconnect to Wi-Fi, you may contact and consult Apple Support Services (opens new window). If you have better solutions, let us know on the comment box below!