Since Snapchat messages are supposed to disappear automatically, it doesn't seem like a problem to delete chats on Snapchat. But actually, many people still have problems like how to permanently delete Snapchat messages, how to delete Snapchat messages the other person saved, how to delete a sent Snapchat before the other person see it, etc.
This guide is written to answer all frequently asked questions about deleting Snapchat messages. If you have other question that is not mentioned in the guide, leave your question in the comments.
Don't Miss:
Webcam Recorder: How to Record Video with Webcam (opens new window)
How to Save Snapchat Pictures/Videos on iPhone (opens new window)
Part 1: How to Delete Saved Snapchat Messages
Snapchat allows users to save messages: on the chat you want to save, long press the text, the text will become bold and highlighted in grey, which means that the message is saved, on both your device and the device of your sender/receiver. If you want to delete the saved Snapchat messages, you can:
Tap on the saved message and the message will be unhighlighted;
Exit the chat;
When you enter the chat again, the message is disappeared.
If the Snapchat message won't disappear, it could be that the other contact saves the message. And the message will stay in your Snapchat until the other contact unsave it.
Part 2: How to Clear Conversations on Snapchat
On Snapchat, there is Clear Conversations that enables you to quickly delete messages that you don't need.
Open Snapchat and tap the ghost icon in the top left corner.
Choose Settings > Clear Conversations.
Select the conversation you want to get rid of.
Note: Clearing conversations won't delete the saved Snapchat messages. The conversation threads will disappear from Chat, but you can still find the saved messages when you start chat with the contact.
Part 3: Snapchat Conversation Won't Disappear, How to Delete?
If a Snapchat message can't be deleted, it is either you or the other contact that has saved the message. So to delete Snapchat message that won't disappear, you need to:
Tap the message to unsave it on your side. If you also use the Snapchat account on other devices, make sure that you unsave the message on the device.
Ask the other person to unsave the message. If they refuse, there are Snapchat history erasers that claim to be able to delete messages that someone else saved. However, most of the apps don't actually work. And using a third-party app with Snapchat might lead to your Snapchat being locked.
Part 4: Frequently Asked Question about Deleting Snapchat Messages
1. If I clear a conversation on Snapchat, can the other person still see it?
Clearing a Snapchat conversation just delete the messages from your end, and the other contact still can see the messages if the messages have been sent.
If the other contact has saved the conversation, the messages will remain on their end until they unsave the messages. Clearing conversations won't delete sent messages or messages saved by you or others.
2. How to delete a sent Snapchat?
There is no way to unsend a Snapchat message. But based on the experiences shared by other users, there are several things you can try if the receiver hasn't seen the chat.
Delete your account
Deleting your account probably can delete the messages that the receiver hasn't seen yet. However, you'll lose your Snapchat account and can't get it back. So don't use the method unless you really need to unsend the messages.
Go to Snapchat support page in a browser.
Click My Account & Settings > Account Information > Delete My Account.
Sign in with your Snapchat account and password. Then follow the steps to delete your account.
Your account will be deactivated for 30 days and after 30 days, the account will be permanently deleted.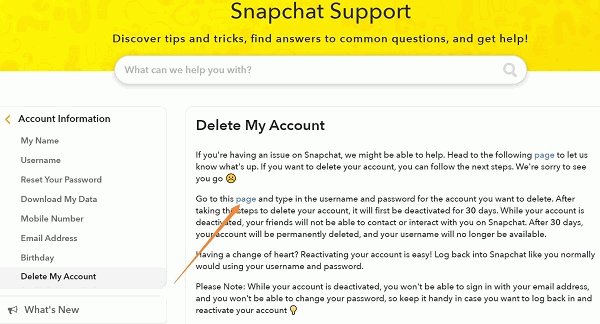 Disconnect Wi-Fi or cellular data
If you are quick enough, there is another trick to stop the wrong messages being sent to the receiver. Once you realize that you have sent something wrong, disconnect Wi-Fi or cellular data immediately, which will stop the messages being sent. And when you enable Wi-Fi or cellular data again, DO Not click retry.
3. What can a Snapchat history eraser do?
There are apps that claim to be able to delete messages some else saved. In fact, it is impossible to delete messages saved by other people unless they delete the messages themselves.
So what's the point of a Snap history eraser? Actually, when a message automatically disappears from Snapchat, it isn't deleted from phone memory but just renamed so that you can't see it. And a Snapchat history eraser can permanently delete the Snapchat messages on your phone memory. But in fact, clearing conversations and cache on Snapchat can also do the trick.
4. Can I delete Snapchat messages someone else saved?
No. As it is mentioned above, there is no way to delete Snapchat messages that other people save unless they unsave the messages. Also, if you want to send something that you don't want the receiver to save, it is better that you send them a picture instead of a chat.
5. If I block someone on Snapchat, can they still see the last message I sent them?
If the message has been sent, yes, the receiver can still see your message even if you block them or remove them as a friend after sending the message. And when the receiver opens and views your message, you will still get the empty gray chat box.