It must be very frustrating when you find an important PDF file is mistakenly deleted, or it just cannot be opened due to some unknown reason. Things would be even worse if you haven't prepared a backup copy. Today we would like to share with you some tricks on how to recover deleted PDF files and how to repair corrupted PDF files. Hopefully, next time when you encounter such situation, you are able to restore the file by yourself.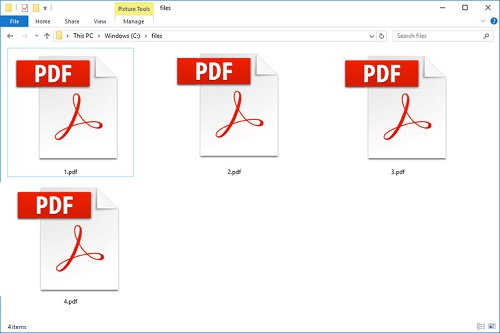 # How to Recover Deleted PDF Files?
With a professional data recovery, It is not impossible to recover the deleted PDF. In fact, all the deleted data are not totally removed from the computer at first, instead, they are just hidden somewhere on the computer hard drive. As long as these deleted data are not overwritten by other newly-input data, they have good chances to be recovered.
So, the moment when you realize that you have mistakenly deleted a PDF, you should first bear in mind the location where you have saved the deleted PDF; and secondly, stop inputting new data into this hard disk drive. To get your lost PDF back, you should further download a professional data recovery software to help you. FonePaw Data Recovery (opens new window) is well worth a try. It can effectively retrieve various files, including PDF, from the hard drive, memory card, USB flash drive (opens new window), etc. In just a few steps, you can have your lost PDF back.
Free Download Buy with 20% off Free Download Buy with 20% off
Step 1. Download and Install FonePaw Data Recovery
In case that your deleted PDF is overwritten by newly-input data, you should remember to download and install this software on the hard drive which didn't save your deleted PDF. For example, if you deleted the PDF from Disk (D:), then you should put the data recovery software on Disk (E:) or others.
Step 2. Select "Document" and Start Scanning
Launch FonePaw Data Recovery, you can see from the homepage that it lists different file types and hard disk drives for you to choose. Select Document, and the location where you have deleted the PDF, for example, Disk (C: ), then click Scan in the bottom right-hand corner. The software will quickly scan your device for the deleted, unsaved or lost documents in just a few seconds. If the PDF file you want to recover is on a removable drive, don't forget to connect it to a computer before scanning.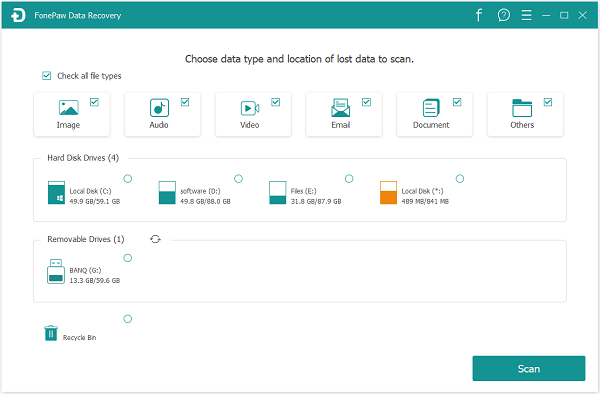 Step 3. Preview the Scanned Results
The Scanned results are delivered in two lists, as you can see on the left pane, one is Type List, and the other is Path List. In Type List, all the documents founded are well sorted according to their formats. Select PDF, then you will see all your lost PDF files there. Or if you remember exactly where the PDF you save is, you can try the Path List.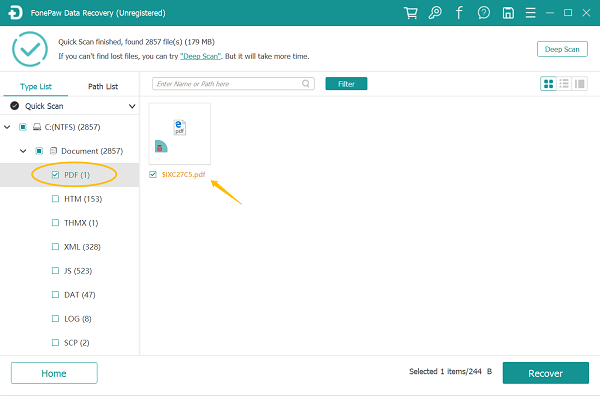 Another access to the file is to enter the name of the PDF file or its path on the search bar. The result will come to you instantly.
If you still cannot find the lost PDF, you can conduct a Deep Scan on the selected hard drive by clicking Deep Scan in the top right corner. This will help you retrieve your document with a higher success rate.
Step 4. Recover the Deleted PDF
When you find the lost PDF, select it and click Recover, then it will be safely put back to your device.
# How to Repair Deleted PDF Files?
It occurs frequently that we fail to open a PDF, for it is corrupted for some reason. Follow us to see how to fix your PDF, so next time when you encounter such a situation, you don't have to be upset anymore.
Solution 1: Update Adobe Acrobat Reader
More than often the problem lies not in the PDF itself, but in Adobe Acrobat Reader. You may fail to open a PDF simply because you haven't updated the PDF reader.
Open the app, go to Help > Check for Updates.
If there are updates, go ahead and install them. After installation, you may be able to open the PDF file successfully.
But if you still fail to open it, it might be because there is something wrong with the installation program. Go to Help> Repair Installation to get it fixed.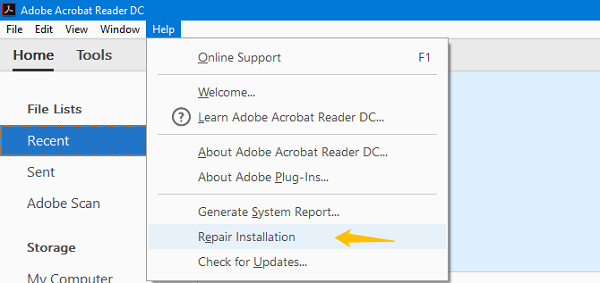 If that still doesn't work out the problem, then you should consider uninstalling Adobe Acrobat and heading to the Adobe website to download and install the latest version.
Solution 2: Switch to Another PDF Reader
Though Adobe Acrobat Reader is a widely used PDF reader, it is not necessarily the best option for viewing PDF files. If you are tired of dealing with Adobe Acrobat Reader, why not use other PDF readers? Actually, various PDF readers are out there on the market for you to have a try. We recommend Foxit Reader and Sumatra PDF. Both are easy-to-use and free software that can bring you excellent reading experience.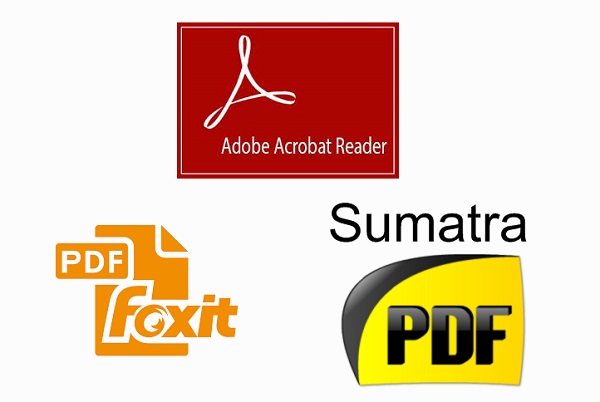 Solution 3: Restore PDF to a Previous File Version
If you are sure that there is no problem with your PDF reader, then it is time to focus on fixing your PDF file. The copy of your PDF file might be corrupted, but there may be a previous version of it on your drive that has been created through the system's backup. You could try to restore this old version. In fact, Windows 10 has a built-in backup facility that could help.
To access it, press Windows key + I, and navigate to Update & Security > Backup.
If you have enabled this feature before, then you are able to restore a previous version of your lost PDF. To do this, just right click the PDF and click Restore Previous Version.
If unluckily, you haven't enabled the Backup feature before, you cannot get back the previous version of the PDF. But we strongly recommend that you should enable this function now, it will do you great help some day.
Solution 4: Use Online PDF Repair
To repair a corrupted PDF, you can also use professional PDF repair applications. It is good news that some PDF repairers, such as PDFaid, Repair PDF, and PDF Tools Online, etc. can be run online without being downloaded or installed. Open one of them, upload the PDF you would like to repair from your local computer, click Repair button and wait for the task to complete.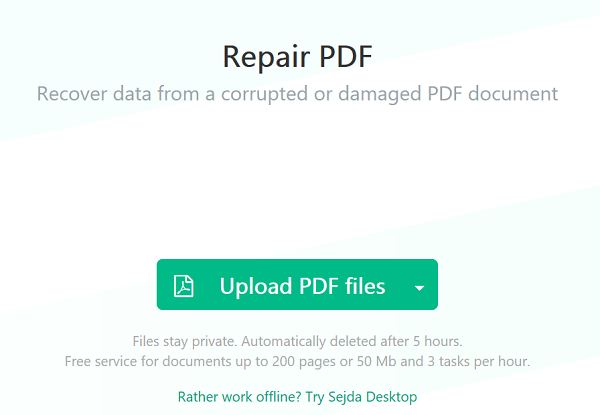 These are all the solutions we provide for you to deal with lost or corrupted PDF files. Hopefully one of these methods could help you retrieve your needed file. Still, we would like to remind you of the importance of making backups. A good habit will really save you a lot of trouble.