PST is the abbreviation of Personal Storage Table. A PST file is a data storage file in Microsoft Outlook which contains personal information, e-mail folders, contacts, addresses, and other data. Microsoft Outlook stores these items in a PST file that are located on the local computer. The PST files have a 2GB limit for storage space. If Outlook is close to its 2 GB limit, it will slow down the app.
However, users sometimes may lose their important PST files, resulting in the failure to use Outlook properly. The reasons causing the data loss of PST files can be:
Computer virus attacks. Some third-party programs such as malware, spyware, adware, and so on may do harm to your PST files.
Sudden Outlook shutdowns. If the Outlook gets terminated or exited improperly, the PST files may be damaged or corrupted.
Power failure. For example, if your PC runs out of power and shuts down, you may find out that something goes wrong with your Outlook when you restart your computer and the application. This can account for the damage of the PST files.
Bad sectors. If there are bad sectors on hard drive where your PST files are stored, those files may get damaged or lost.
Human errors or other unknown reasons.
So if you want to recover PST files on Windows, you will find out how to do with the following tips and methods.
Part 1: Recover Deleted PST Files on Windows with Outlook Recovery Tool
FonePaw Data Recovery (opens new window) is a good choice to retrieve deleted or lost Outlook data. Without any complicated steps, you can easily retrieve the lost PST files on PC.
Step 1: Get FonePaw Data Recovery on Windows
Download and install FonePaw Data Recovery on your computer by clicking the button below.
Free Download Buy with 20% off Free Download Buy with 20% off
Step 2: Choose Email to Scan
Launch the PST recovery tool and you can choose the data type to scan. To recover PST files, you should choose "Email". Then also select the hard drive location. Click "Scan" button to continue.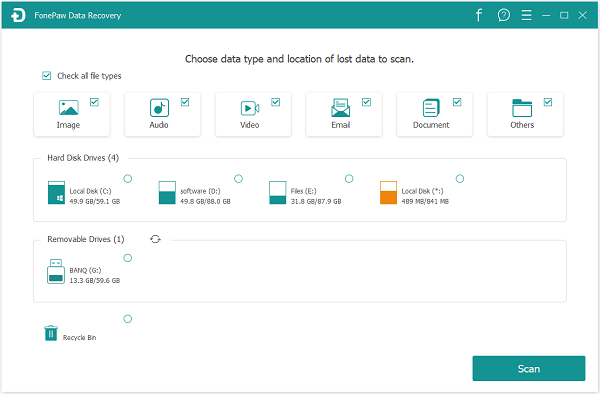 Step 3: Scan and Find Lost PST
The program will scan the selected hard drive, looking for all of the data stored on it. It will perform the quick scan by default. And then you can also perform a deep scan. This will take a while but it will find more files for you.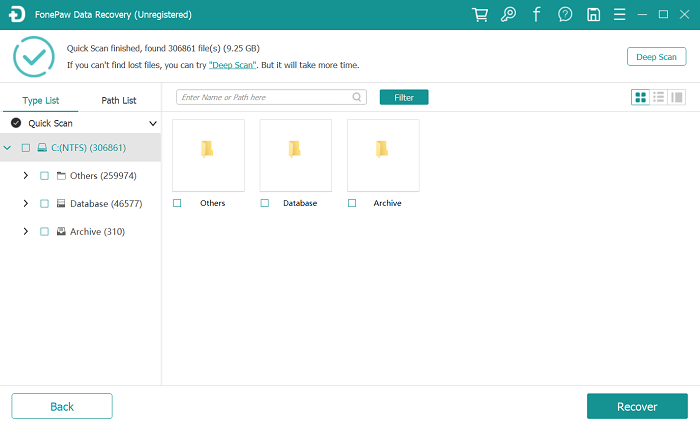 Step 4: Restore PST Files on PC
After the scanning process, you can find out the PST files easily with its Filter feature. And the deleted data would be shown in red. Select the files you want to restore. Then click on the "Recover" button to get them back on computer.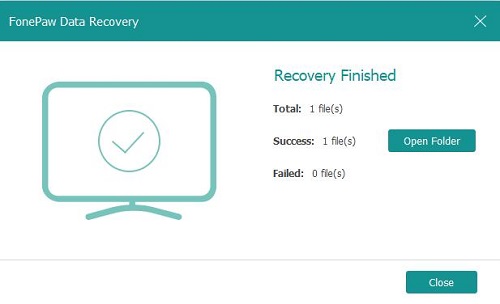 Part 2: How to Fix Outlook PST Files Using Outlook Inbox Repair Tool
Inbox Repair Tool or scanpst.exe is pre-installed in Microsoft Outlook, which can be used to repair your damaged archive.pst. Here, you can follow the guide below to fix the corrupted PST files:
Step 1: Make a backup of PST File.
Step 2: Close "Microsoft Outlook".
Step 3: Head to one of the following locations
For Outlook 2016: C:\Program Files (x86)\Microsoft Office\root\Office16
For Outlook 2013: C:\Program Files (x86)\Microsoft Office\Office15
For Outlook 2010: C:\Program Files (x86)\Microsoft Office\Office14
For Outlook 2007: C:\Program Files (x86)\Microsoft Office\Office1
Step 4: Now Click on "SCANPST".
Step 5: Click on "Browse" button to select the Outlook PST file you want to scan. Then click "Start" to move on.
Step 6: A new Windows would pop up. Now, you should check the "Make backup of scanned file before repairing" option. After that, click on "Repair" button to repair the corrupt PST file.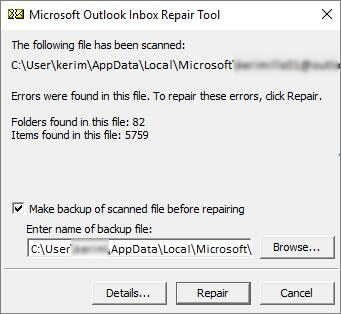 Step 7: When the repair is complete, you can relaunch Outlook and check the result.
If you have any problem when performing the PST recovery, please drop is a comment below!