"Hello, I accidentally closed photoshop file without saving on Photoshop CC 2018. How to recover unsaved photoshop files? The files are weeks of my work. Please help!"
As a Photoshop user, have you ever met this situation before? Like many users, you may accidentally close Photoshop without saving the PSD files that you are working on or the Photoshop CC/CS crashes suddenly so you cannot find the unsaved files.
In this case, how to get deleted PSD file back? In this post, we'll share four useful ways with how to recover unsaved Photoshop file.
People Also Read:
Pro Tips: Recover Deleted Videos from Windows
Introduction to PSD and Photoshop AutoSave
PSD, standing for Photoshop document, is the default format used in Adobe Photoshop for storing files data, allowing users to edit individual layers of an image.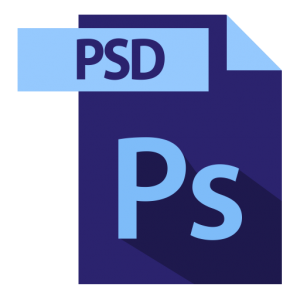 On Adobe Photoshop CS6 and above (Photoshop CC 2014/2015/2017/2018) , AutoSave feature is available, which allows Photoshop to save a backup copy of PSD files that we are working at regular intervals. So you can easily recover unsaved files after crash via AutoSave. However, the feature is not available on Adobe Photoshop CS5/CS4/CS3 or eariler.
Method 1. Recover Unsaved/Deleted Photoshop Files with Data Recovery Program
When no backup is available, a data recovery software can be the easiest way to recover deleted/unsaved Photoshop files. FonePaw Data Recovery, a desktop data recovery solution for Windows 10/8/7/Vista/XP, supports recovering deleted PSD files on Windows and Mac with ease. Additionally, this software is also capable of recovering retrieving lost PSD files from external hard drives like USB flash drive, Memory card, SD card and so forth.
Free Download Buy with 20% off Free Download Buy with 20% off
Fortunately, deleted Photoshop files are able to be recovered because they are just hidden by the file system after the deletion. As long as they are not covered by new data, it is possible to retrieve them. But you should try to use the computer as less as possible in case that the deleted photoshop files are overwitten by new data.
NOTE.
Download FonePaw Data Recovery on a drive that differs from the drive that saved PSD files. For example, if PSD file is deleted from D drive, download the data recovery software on different drive such as E drive to avoid unwanted data loss.
If lost PSD files are from external hard drive, please plug the external drive into the computer via USB port so that the software can detect it.
STEP 1. Launch FonePaw Data Recovery. Choose "Image" as the needed file type and select location where you deleted the Photoshop file. And then, click "Scan" to start quickly scanning the target drive.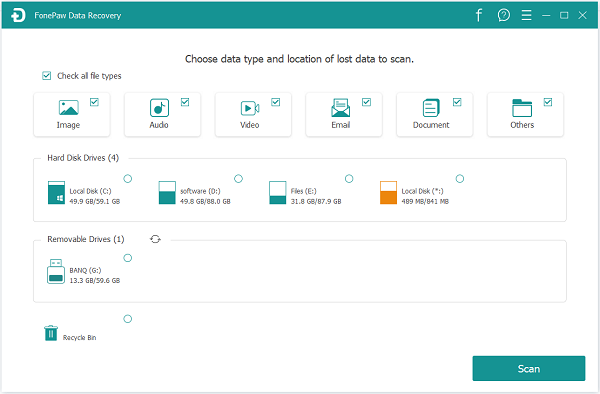 STEP 2. There are two modes provided for users, "Quick Scan" and "Deep Scan". When the drive is scanned out, you can preview the unsaved Photoshop files on Image folder. If you can't find the PSD file you need, you can keep on trying "Deep Scan" mode.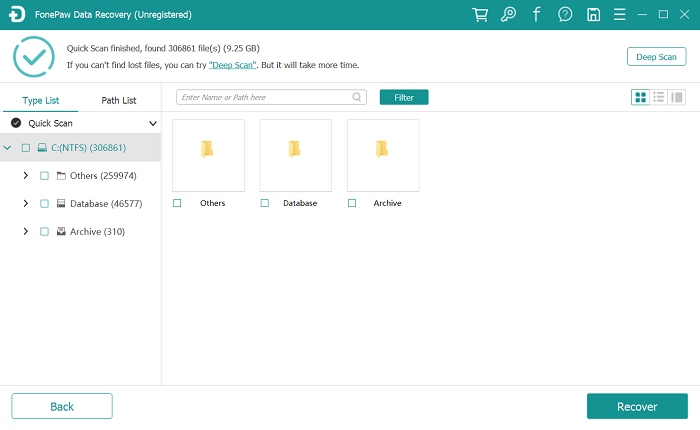 STEP 3. After the deeper scanning, locate the deleted or unsaved Photoshop file in Image > PSD and tick its checkbox on the File List. Then, click on the "Recover" button to finish the Photoshop recovery process.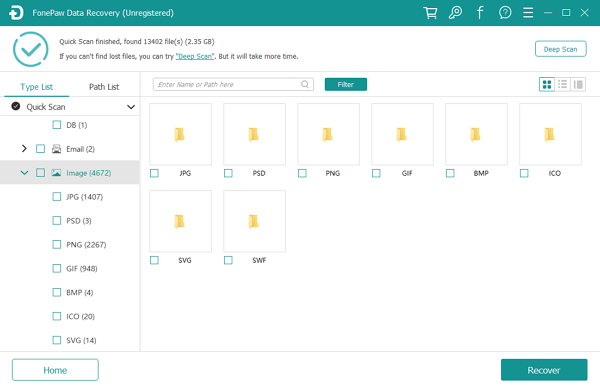 It's quite easy to recover accidentaly closed Photoshop file without saving or the deleted PSD file on PC with FonePaw Data Recovery, right? When accidental deletion happens, why not download the free trial version and have a try?
Method 2. Use Adobe Photoshop AutoSave
AutoSave is enabled on Photoshop by default. When Photoshop crashes suddenly, don't worry. Just re-launch Photoshop and the autosave version of your unsaved work should appear automatically. If you couldn't see the unsaved Photoshop files, first you should make sure that AutoSave is enabled on your Photoshop CS6 or CC.
Go to File>Preferences>File Handling > File Saving Options and make sure "Automatically Save Recovery Information Every" is enabled.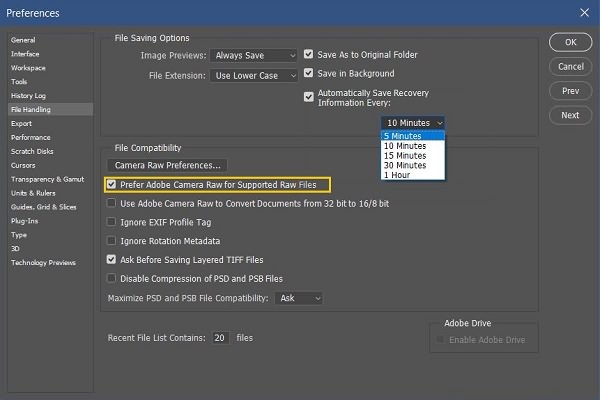 If AutoSave option is enabled but you cannot see the autosaved PSD files, you may search the unsaved PSD files on AutoRecover.
Photoshop AutoSave Location on PC: C:\Users\YourUserName\AppData\Roaming\Adobe\Adobe Photoshop CC 2017\AutoRecover (the specific path is slightly on different versions of Photoshop)
Photoshop AutoSave Location on Mac: ~/Library/Application Support/Adobe/Adobe Photoshop CC 2017/AutoRecover (the specific path is slightly on different versions of Photoshop)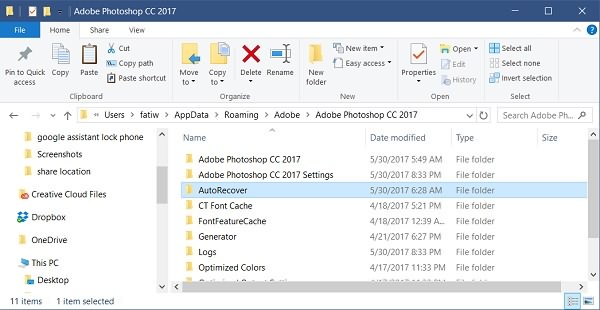 Method 3. Recover PSD File from .temp Files
If photoshop closed without saving or corrupted due to uncertain reasons, how to find previous photoshop files? It is suggested to restore from temp files.
Open "My Computer" and move to your hard drive.
Choose "Documents and Settings".
Locate the folder labelled with your username for "Local Settings > Temp".
Find the files beginning with "Photoshop" name and open them in Photoshop app.
Once you get what you want, save it with .psd format.
Or you can try to input the path: C:\Users(your user name)\AppData\Local\Temp to locate the temp files directly.

Thus, you can now use the .psd files to continue your perfect design.
You can use these three ways to recover Photoshop files that accidentally closed or deleted. First of all, you should check AutoSave for Adobe Photoshop CS4/CS5/CS6, CC 2015/2017/2018. If you couldn't recover the unsaved files via AutoSave or the PSD files are deleted, FonePaw Data Recovery is also a Photoshop file recovery software help you to recover unsaved Photoshop files after crash as well as retrieve deleted PSD file. Have a try!
Free Download Buy with 20% off Free Download Buy with 20% off