"Help! My messages history on Kik is gone after I logged out of the app on my iPhone. Can I recover the Kik messages?"
Kik, or with its full name Kik Messenger, is an instant messaging mobile app. With increasing popularity, more and more users have the trouble of recovering Kik chat history from iPhone, for example, losing chat history after logging out of Kik like the user above.
People Also Read:
How to Recover Deleted Messages on Facebook Messenger for iPhone (opens new window)
How to Restore Line Chat History without Backup on iPhone (opens new window)
First, Kik is an instant messaging mobile app. And when we say INSTANT, we hope our privacy is protected. Therefore, all the Kik messages are stored locally on your iPhone instead of the server of Kik; and its developers set the rules that when one of the following happens, your Kik messages will be cleared from your iPhone, iPad.
You log out of your account on Kik(Read more: How to back up Kik messages before logging out

(opens new window)

);
You log in to your Kik account on a different device so all Kik messages are cleared from the original iPhone;
You uninstall the Kik app from your iPhone;
You deactivate your account of Kik;
Your messages received are beyond the limits.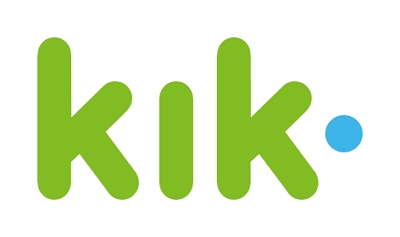 Limit on Kik messages that can be saved on your phone:
On your iOS device: 1000 messages for recent chats you've had in the last 48 hours.500 messages for older chats.
On your Android device: 600 messages for recent chats you've had in the last 48 hours.200 messages for older chats.
If you still have your iPhone in your hands but just have done one of the lists, you can always recover the deleted or old Kik messages from iPhone with a data recovery tool.
FonePaw iPhone Data Recovery (opens new window), a tool that can discover deleted but not overwritten data on the storage space of iPhone, will help you recover Kik messages that are cleared after you logged out, received too many messages, uninstalled the app, or simply mistakenly deleted the wrong messages. Basically, it can recover Kik messages that are deleted in all situations from iPhone and enable you to view the deleted or old messages on Kik.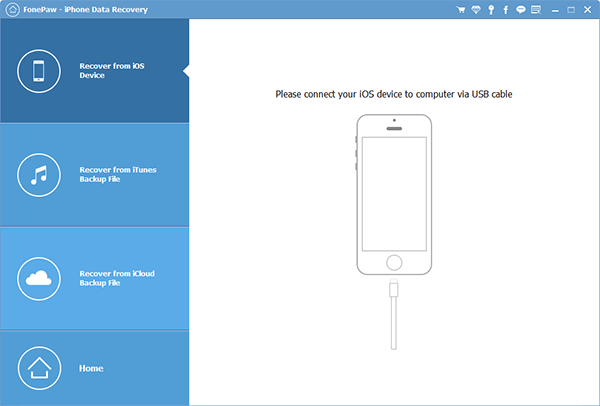 Download it now and have a free trial. It provides 3 ways to retrieve Kik messages from iPhone.
Free Download Buy with 20% off Free Download Buy with 20% off
Recover Kik Messages from iPhone Storage
When you delete a message from the Kik app, it doesn't disappear from your iPhone storage immediately. If you can turn off internet access on your iPhone to preserve the deleted Kik messages from being covered by new messages and use FonePaw iPhone Data Recovery as soon as possible, there is a great chance that the Kik messages can be recovered.
1. Connect iPhone to computer
First, download and launch FonePaw iPhone Data Recovery on your computer. Then connect your iPhone to computer via USB cable. Click Start Scan.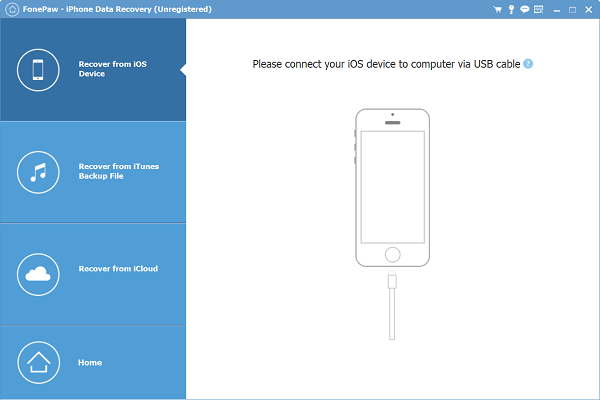 Tips: if your iPhone isn't well detected, you can try the follows:
Update your Apple Mobile Device USB Driver.
Reboot your phone as well as your computer.
Try another USB cable or another computer if you have one.
2. Scan the missing messages
Do not disconnect your iPhone while the tool is analyzing the device. After analyzing, all your iPhone data will be scanned out.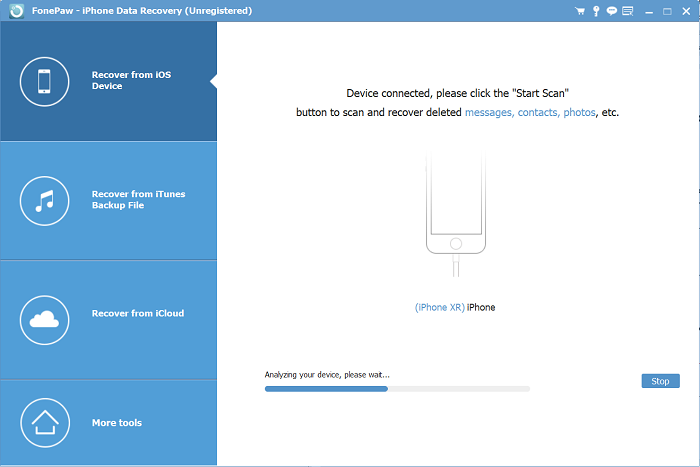 3. View deleted or old Kik Messages
Click Kik on the left column, and all the existing and deleted Kik messages found on your device will be listed. The Kik messages will be listed by chats.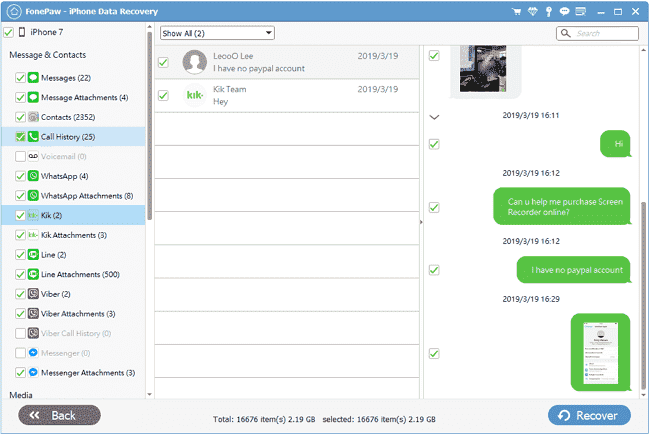 4. Recover Kik messages
Select all the Kik messages you want to get back and click Recover to get all the messages back! It may take some time to recover, but you can finally get them back with 100% safety.
Restore Deleted and Old Kik Messages from iTunes Backup
If you have an iTunes backup of your iPhone, FonePaw iPhone Data Recovery can also try to restore Kik message from the backup.
1. Extract your iTunes backup file
Just select Recover from iTunes Backup File in the home page. All the backups will be listed.
Choose the one made before you lost your Kik message history, and click Start Scan to begin extracting iTunes backup files.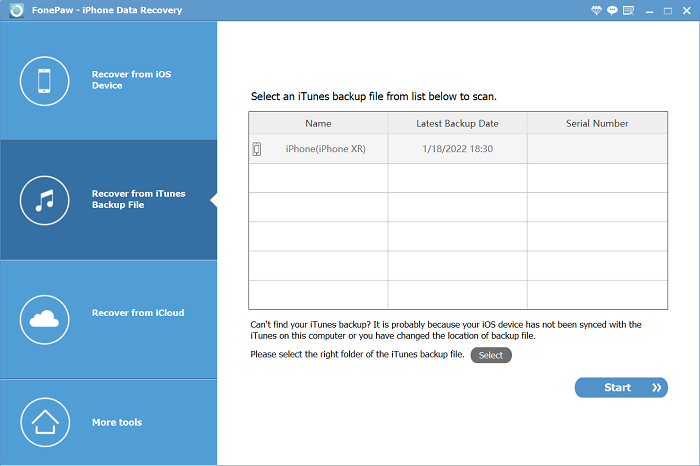 2. Retrieve Kik messages
Same, you choose Kik or Kik attachment in the left, view the message content and its attachments, and recover all the messages that you choose.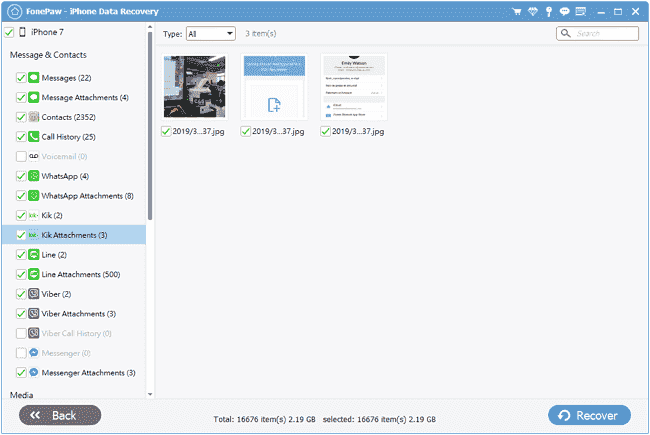 Tip: This time, you don't have to connect your iPhone to a computer during the whole process.
Retrieve Deleted and Old Kik Messages from iCloud Backup
If you have an iCloud backup, you can try to retrieve the old or deleted Kik messages from the backup.
1. Download your iCloud backup
Click Recover from iCloud Backup File from the left column and then login in your iCloud account with your Apple ID and password.
Then all your backup files in the iCloud are listed. Choose the one you need and download it. When the downloading is done, start Scan Downloaded.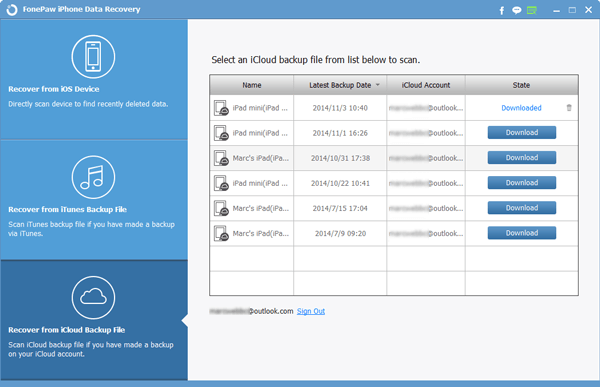 2. Preview and Retrieve Kik messages
You can view all contents in the iCloud backup and find the Kik messages or attachment you want to get back.
We have introduced 3 way to recover Kik messages after logging out or being mistakenly deleted. FonePaw iPhone Data Recovery (opens new window) is really a helper in recovering messages(SMS, WhatsApp, Line, Kik, etc.) from iPhone, iPad or iPod Touch. Anyway, we hope that you can get your precious memories back.