It is very common that when we purchase a new phone, let's say, a 32 GB Samsung Galaxy S7, we probably get only 24GB of usable storage. And when we have plenty of space left in the internal storage, we still get the insufficient storage notification. For too long, we have been confused by Android phone's various memory storage options. Today, we are going to get things straight and clarify the difference among internal, phone, external storage.
Internal/Phone/External Storage: How Are They Different?
Internal storage of an Android phone is partitioned into two parts: Internal Storage and Phone Storage. And external storage often refers to the SD card or USB driver that are inserted/plugged into the phone.
Internal Storage
Internal Storage, also being called System Memory, is used to store the operation system, system apps, and other app data (messages, contacts, email settings, and other personal information). This part of storage is unaccessible to users. To better understand the internal storage, let's connect a 32GB Samsung S7 Edge to the computer, we can see there are only 23.9 GB of storage accessible. The remaining 8.1 GB belong to Internal Storage for operating system and sensitive data.

Open the in built storage viewer in Samsung S7 Edge, we can see that System Memory are 7.98 GB used.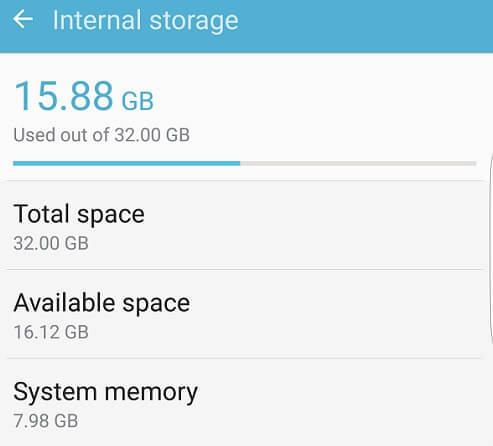 When most of the Internal Storage are used, a system file on Internal Storage will trigger a low storage message, reminding us to delete files, even there are much space left in phone storage. That's why we find it strange to get the insufficient storage notification with enough space left.
Phone Storage
Phone Storage is the space that can actually accessed and used by the users. When we navigate to "Settings" > "Storage" and open "Used space", we can see the files that are stored on Phone Storage, including downloaded apps, pictures, videos, audio, etc. In fact, Phone Storage is the default location for installed apps, games, camera photos, downloaded music and media files. When the phone is connected to PC, this part of storage area behaves much like a SD card, on which you can add or delete files.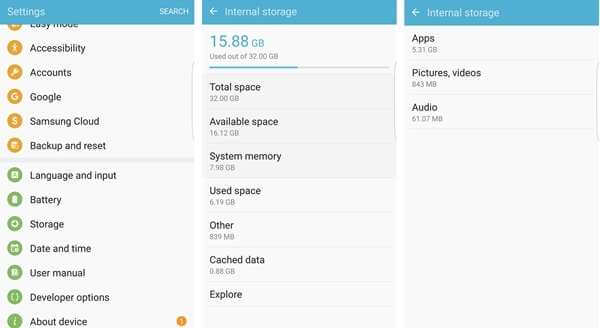 External Storage
External storage generally means removable microSD card that is inserted into the phone to add extra space to the phone. But not all Android models come with SD card slot, for example, most of the Nexus models don't support external storage. That's simply because cheap SD card usually affects the device's performance and make it sluggish. External storage can be used to save media files such as pictures, music, videos while most applications can not be installed on external storage.
If your mobile phone is OTG supported, you can also use USB driver for external storage.
Tip: If you accidentally delete media files on SD card, you can restore the lost files from SD card (opens new window)with Android Data Recovery
Apps Management on Internal/Phone/External Storage: FAQ
Q: Should I Move Apps to SD Card?
When the internal storage is running out or the phone becomes slow, many users consider moving some apps to SD card. It does help to free up the phone's storage, however, you should notice that there are many limitations:
NOT all device is equipped with "Move to SD card" option. Moto X pure, some Samsung models running on Android 4.0 - 4.2 are unable to move apps to SD card.
NOT all apps can be moved to external storage. Pre-installed app like Google Chrome, YouTube, Messages can not be moved to SD card. Moreover, some third-party apps, for example WhatsApp, do not allow users to move their applications to SD card for security and performance reasons.
NOT all the app data will be transferred to SD card. For example, if you move 25 MB app to SD card, there might be 8 to 10 GB space erased on your internal storage. Parts of the app data still remain on internal storage.
Q: How to Move Apps to SD card?
There are multiple ways that you can move apps to SD card: from App Info page, adopting SD card as internal storage (Android 6.0) and using third-party apps.
To move apps to external storage from Android's App Info page,
Insert a SD card to your phone.
Navigate to "Settings" > "Application Manager"/ "App"(the name varies from different device).
Tap an app and choose "Move to SD card". If the option grays out, it means that the applications is unmovable.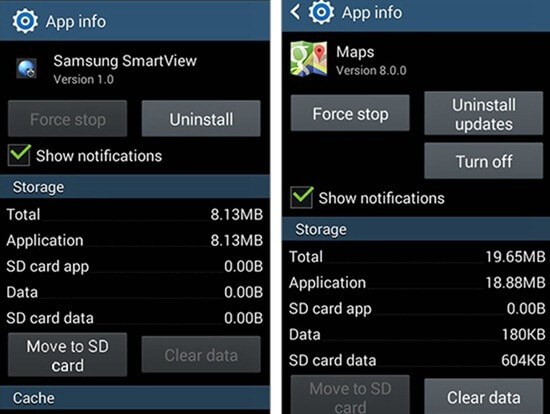 Since Android 6.0 introduces a new feature "adoptable storage", which allows you to intergrate microSD card storage with internal storage, you can format the SD card (opens new window)and use it as a part of the internal storage to install apps and save apps data.
Also there are third-party apps that can help you with the apps transferring. Comparing with using "Move to SD card" feature, these apps can list apps which are transferrable to SD card and inform you whenever a newly downloaded app can be moved to external memory. They simplify the apps moving process but most of them are offered with in-app purchases.