Smartphone storage is a funny thing. No matter whether it is 16 GB, 32 GB or 64 GB, sooner or later, we get the alert: storage space running out. If the device has a MicroSD card slot, we might expand the space with external memory. However, is 32 GB of internal memory plus 32 GB microSD card equal to 64 GB of internal storage? Which is better, internal memory or external memory? How to set up SD card for extra storage? It is important to figure out these question in order to better manage our phone memory.
Internal Storage vs External memory: What's the Difference?
Internal storage is the build-in storage space to install operating system, pre-installed apps, other apps and app data, while external storage generally refers to removable SD card. They are different in these aspects:
Data types to store
Internal storage can hold all types of data but you can hardly install or transfer apps and app data to external storage because internal memory is the default location for these data types. What you can move to external storage are media files such as music, photos, videos. That's why you still get the insufficient storage prompt even you have microSD card on your Android phone.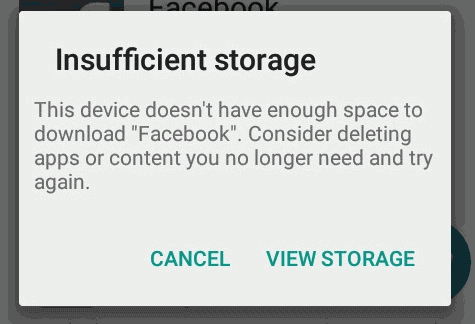 The good news is that Android 6.0 Marshmallow is added with a feature calledadoptable storage, which allows users to format removable SD card as internal storage, in which way you can have apps installed in or transferred to microSD card. However, once the SD card is formatted, it can't be removed or used in other devices.
Read/write speed
Although the SD card is adopted as internal memory, it doesn't mean that the SD card performs exactly like the internal memory. Normally, it is slower for a mobile phone to read or write data from external storage, comparing to that from internal memory. Even the SD card is run as internal memory, the information read and write speed will still be affected, especially when the card is slower than the original internal memory. On smartphones such as Samsung Galaxy S7, which runs on Android 6.0 but ditches the adoptable storage feature, using external memory usually will slow down your apps and phone.
Now we can come to the conclusion that internal storage is better than external momory in terms of supported data types and read/write speed. However, when you need to expand phone memory, there are not much you do other than applying external memory, especially when adoptable storage featurevis available on your phone.
Tip: Mobile device such as LG and Samsung do not suppport adoptable storage feature.
How to set up microSD card as portable/internal storage
When you decide to add SD card to your smartphone, you may want to follow these instruction to set up the card as portable or internal storage.
Set up microSD card
To use microSD card as external storage,
Insert the SD card into the card slot on your handset;
When you see a pop-up informing you that the SD card was detected. Tap on "Set Up" to continue;
Choose "Use as portable storage".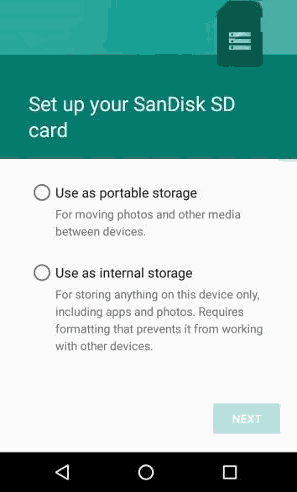 Then the SD card will be used as external storage, which can be removed from the phone and store only media files.
To use microSD card as internal storage,
Purchase a speedy SD card. It may cost more money but it is worthy. If the SD card is too slow, when adopting an SD card, there will be warning that the card is too slow and will negatively impact the performance of the phone.
Insert the SD card and tap on "Set Up" > "Use as internal storage."
Note: When the SD card is formatted as internal storage, all data on the card will be deleted. So make a backup of the contents of the card previously. If data is mistakenly deleted on the SD card, you can try to restore lost files from SD card (opens new window) with FonePaw Android Data Recovery.
You can then choose to move photos, files, and some apps to the new SD card. Or you can migrate this data later by going to "Settings" > "Storage & USB".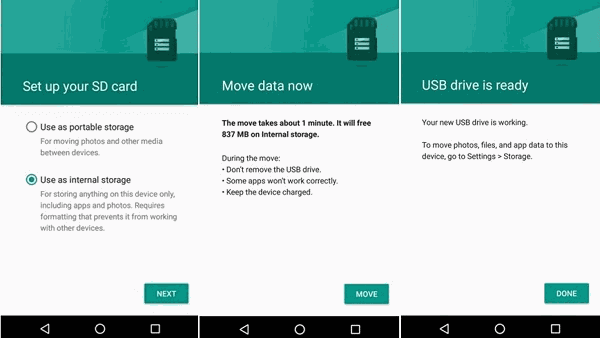 Format microSD card
You may use the SD card as portable storage for a while, then want to turn the external memory to internal memory. Toformat SD card as internal storage,
Head to "Settings" > "Storage & USB" and find the external storage device. Select the SD card and choose "Settings" > "Format as internal" option to format the drive as part of the internal storage.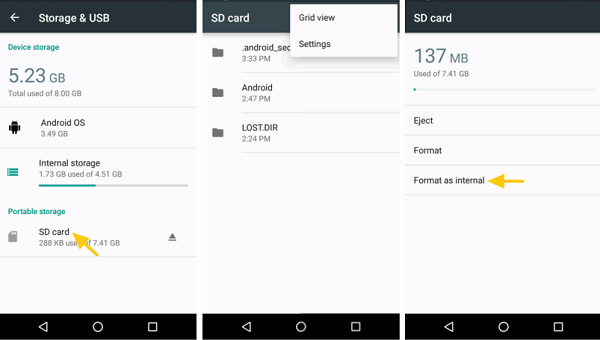 And also, there is chance that you want to turn the formatted SD card into portable device. Again, go to "Settings" > "Storage & USB", find the SD card's name, and select "Format as portable". Remeber, this will also erase the contents of the SD card, so create a backup on computer (opens new window) or move the contents to internal storages beforehand.
External memory is useful to extend your phone memory. However, for the better performance of your mobile device, it is better that you start off with device of larger internal storage.