How to recover permanently deleted photos from Google Photos? I deleted some photos from Google photos and now need to get them back. It has been more than 60 days and the photos have been removed from Trash. Is there a way to restore permanently deleted pictures from the Trash?
To recover deleted photos from Google Photos, the first thing you should try is to restore the photos from Trash. However, if you cannot see the photos in the Trash or you have deleted them from the Trash, there is still chance to recover the photos.
Method 1: Restore Deleted Photos from Trash
When a photo is deleted from Google Photos, the photo will be moved to Trash and saved on the Trash for 60 days. Therefore, open the Trash and see if you can restore the deleted Google photos.
Step 1 Open Google Photos app on your Android phone.
Step 2 Tap Menu icon (the three bars one). Choose Trash and search for the photos/videos that you want to undelete.
Step 3 Touch the deleted photos/videos and choose restore icon to undelete them.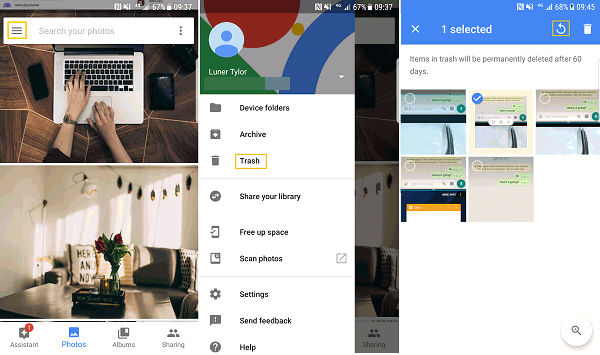 If you couldn't find the deleted photos on the Trash, there are two possibilities:
You have permanently deleted the photos or the photos have been moved to the Trash for 60 days. In this case, move on to Method 2.
If the photos are not in the Trash even though they are deleted less than 60 days, it is possible that the photos are not synced or backed up to Google Photos. Photos that are on the phone but not synced or backed up, will still appear in Google Photos with this icon in the corner. If this is the case, you should try to recover the deleted photos from your phone instead of Google Photos. Move on to Method 3

(opens new window)

.
Method 2: Contact Google Support to Recover Permanently Deleted Pictures
If you also use Google Drive service, you can contact Google Drive support team and see if they can help, especially when your photos are gone from Google photos for no reason. Some users on Google forum have managed to recover permanently deleted pictures with the help of Google Drive support. It is said that the support team can restore photos up to 21 days after permanent deletion.
Step 1 Go to Google Drive Help page. Choose Missing or deleted files.
Step 2 You can talk to a support specialist or submit a form for deleted Google photos recovery.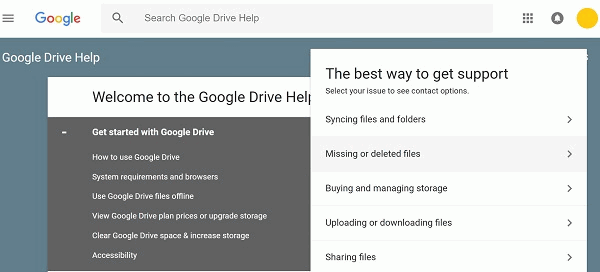 Method 3: Recover Permanently Deleted Google Photos from Android Phone
To view the photos offline, photos synced or backed up to Google Photos are also stored in your phone memory. But when the photos are deleted from Google Photos, they are also deleted from your phone memory. If you fail to retrieve the deleted photos from Google Photos, you can recover the deleted photos from your phone as a workaround.
FonePaw Android Data Recovery (opens new window) can retrieve permanently deleted photos from your Android phone. Deleted photos will stay in your phone memory as unreadable data for a period of time. And Android Data Recovery can detect the unreadable data and restore the deleted photos from the data.
However, you should be aware that the data of the deleted photos will be overwritten by new data in any minute. Therefore, stop using your phone after the deletion and use Android Data Recovery to get back the photos as soon as possible.
Note: If you want to recover deleted Google photos for iPhone, please check how to recover photos from iPhone (opens new window).
Step 1 Install FonePaw Android Data Recovery on your Mac/PC. Run it.
Free Download Buy with 20% off Free Download Buy with 20% off
Step 2 Connect your Android phone to the computer with USB cable.
Step 3 Follow the instruction of the program to enable USB debugging and authorize the device.
Step 4When you are asked to select the data type for recovery, choose Gallery, Picture Library. The program will scan your phone for deleted photos.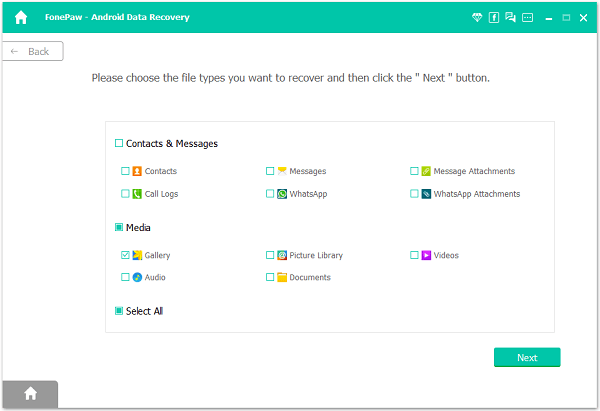 Step 5When the scan is done, choose Gallery/Picture Library to search the deleted photos that you need. Click Recover to get back the photos on the computer.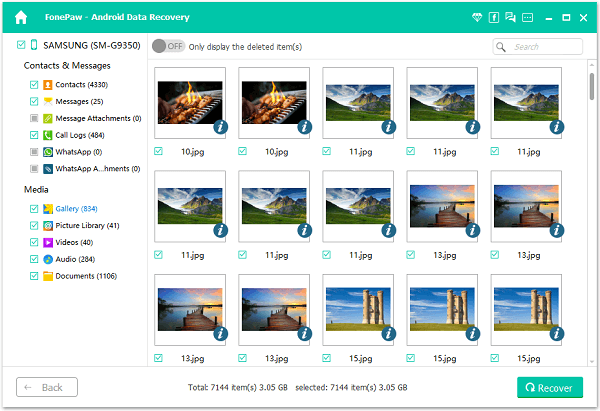 The FonePaw Android Data Recovery can also recover contacts, notes and more for Android phones.