You may need to email large PDF files but was told by your email service provider that the files have exceeded the attachment size limit. Here is a simple solution: just compress the files for email.
This post will first show you the attachment size limits for popular email service providers and then provides you 2 convenient ways to compress a PDF for emailing without losing quality.
People Also Read:
Easily Reduce PDF Size with the Best Quality (opens new window)
How to Resize Your PNG/JPG on Computer (opens new window)
Attachment Size Limits for Gmail, Hotmail, Outlook, Yahoo
When your PDF attachment exceeds the maximum allowable limit of an email service provider, you will be unable to send the email with errors like "Attachment size exceeds the allowable limit".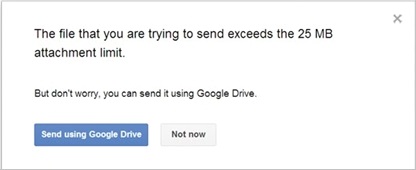 It's necessary for you to know the attachment limit of the service providers so that you can have a better idea of how small the PDF file should be.
Outlook: The maximum attachment size allowed by the Outlook desktop client is 20MB. For the Exchange account, the maximum attachment size limit is 10MB.
Gmail: The combined size of messages and attachment in an email should not be larger than 25 MB.
Hotmail: Hotmail allows sending files up to 10 MB.
Yahoo: Allows email attachments up to 25 MB.
Tip: The attachment size limit may change. If you have a question, contact your service provider and confirm.
How to Reduce PDF File Size for Email
Reduce PDF File Size for Email Online
One of the most convenient ways to make a PDF file smaller to email is by compressing the PDF file online.
Here is an online PDF compressor - FonePaw Free PDF Compressor (opens new window), which enables you to compress a PDF file for email for free without downloading additional programs. The compressor is easy to use: just choose a PDF file, upload it, then the PDF will be automatically compressed to a smaller size. It's safe to use, ensuring that your files are not leaked or saved privately. You can use it with confidence to reduce the PDF size.
To compress a PDF file for Email
Step 1: Go to FonePaw Free PDF Compressor (opens new window).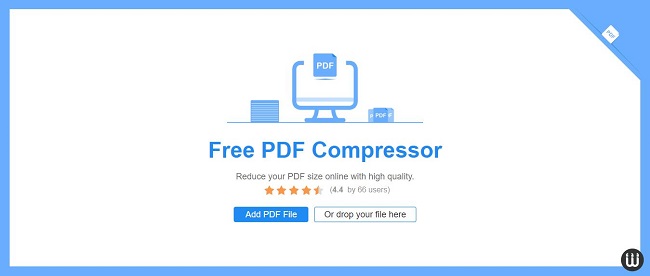 Step 2: Click the blue button to add a large PDF file you want to make it smaller. Or drag and drop the PDF file to on the compressor.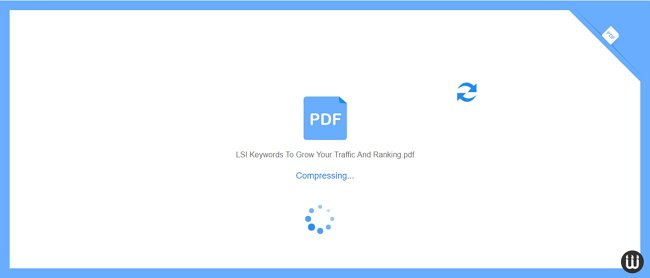 Step 3: The PDF file will be compressed automatically to fit almost all size limits.
Step 4: Click Download to save the PDF file in a smaller size.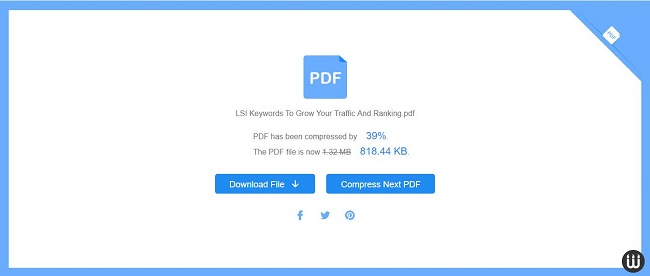 You can now send the large PDF by email in a smaller size.
Compress a PDF for Email with Adobe Acrobat
Adobe Acrobat is a classic PDF processor and editor that make PDF files smaller to email. As it is powerful and versatile, it might be a bit complicated to use if you simply want to compress a PDF file.
First, download Adobe Acrobat from its official website. To get access to the PDF compressing feature, you need to purchase Acrobat Pro DC at 14.99 /mo with an annual commitment.
Step 1: After you install Acrobat, launch it.
Step 2: Click the Tools tab, navigate to the Optimize PDF tool and click Add button to add the PDF file you want to compress.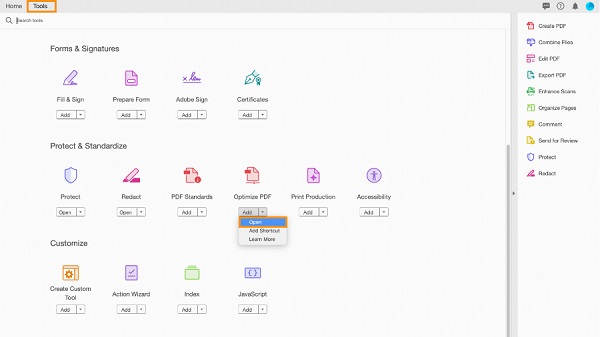 Step 3: Click Reduce File Size. In the dialog box that opens, Click OK.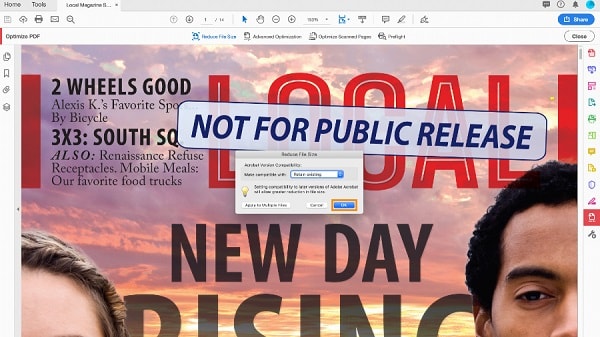 Step 4: The PDF file will be compressed. Click Save to save the file in a small size for emailing.
Tip:You can also open a PDF file and click File > Save As > Optimized PDF to access the compressing tool.
Wrap-up
Although Adobe Acrobat is a good choice, you will need to install the software before using it. More importantly, it is not free to use.
If you only need to compress PDF files, you can save a lot of time and money using FonePaw Online PDF Compressor to reduce the size of PDF files to email. It's simple, fast, and can be used on Windows, Mac, mobile devices including Android and iOS.