When your Android phone is unresponsive or frozen after flashing a ROM or rooting incorrectly, you are told that the phone is bricked. The most scary thing will not only be device losing, but also the data erasing. However, what does a bricked phone really mean, and more importantly, how to fix a bricked Android phone?
This guide is going to give you a full introduction of what a bricked phone is, why an Android phone gets bricked and how to unbrick Android phone without data loss.
Part 1. What Is a Bricked Phone: Soft Brick or Hard Brick?
When people say a phone is bricked, it can mean that the phone won't boot properly and turns into a totally useless brick, which is called a hard brick. Actually, there are two types of bricking: soft brick and hard brick.
# Soft Brick
Although the phone won't turn on properly, you can still see something after the phone boots up. In this way, your phone is soft-bricked and you can unbrick it in the correct way. The followings are the common symptoms of a soft-bricked Android phone:
# Hard Brick
If it is a hard brick, the phone won't turn on in any way or any form. You keep pressing the power button, but nothing happens. It seems like the phone is really dead. A hard brick rarely happens, but if unfortunately, it does, it leaves you no option but turns to repair service or go straight to your carrier's/manufacture's store.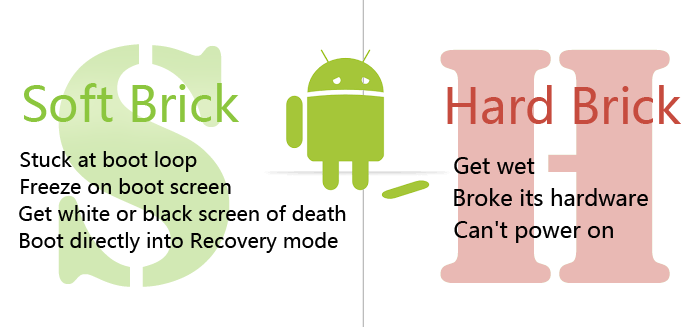 In nine cases out of ten, the bricked phone is experiencing a soft brick, which is fixable with software methods. This is exactly what we provide here that will be effective for soft-bricked Android devices.
Part 2. Why Is Your Android Phone Bricked?
There are various reasons why your Android phone gets bricked. And an unbricking tool can work for Android phones that get soft bricked in common situations:
Flashing Stock/Custom ROM. It could be that you have installed an incompatible ROM in the Android phone, the phone powers off in the process, or other misoperations that cause your phone to restart endlessly, get stuck at the startup screen.

Rooting your Android phone. You fail to root the device successfully.

Updating Android firmware. The phone will also get bricked if it is interrupted when updating the Android firmware.

Installing malicious apps. You installed applications that are malicious on your Android phone or the phone gets virus attacked.

Others
Part 3. How to Fix a Bricked Samsung Phone Without Data Loss?
To fix a bricked phone, we here introduce FonePaw Broken Android Data Extraction, a piece of professional software that is capable of bringing bricked Android phone back to normal and recovering data from a screen-broken cell phone.
Features Highlights
Powerful. The software can be used for fixing bricked, frozen, the system crashed Android phone and recovering data from a phone with broken/unresponsive screen.
Easy-to-use. The tool enables you to unbrick an Android phone in a few clicks. It saves you much time and effort if you get overwhelmed by complicated DIY methods.
Support various models, including Samsung Galaxy S, Samsung Galaxy Note, etc. More models of different brands will be supported.
Supported Android Devices
Currently, Broken Android Data Extraction can only be installed on Windows 11/10/8.1/8/7/XP and applied to some of the Samsung devices. More models and brands will be supported in the near future. The followings are the supported models. If you are using other models, please read part 4.
Samsung Galaxy Note: Note 3, Note 4, Note 5;
Samsung Galaxy S: S4, S5, S6;
Samsung Galaxy Tab: Tab Pro 10.1.
How to Unbrick Android Phone with Software
Step 1 Launch Broken Android Data Extraction on your Windows PC.
Step 2 To fix the bricked phone, connect the phone to your PC and click "Fix Device".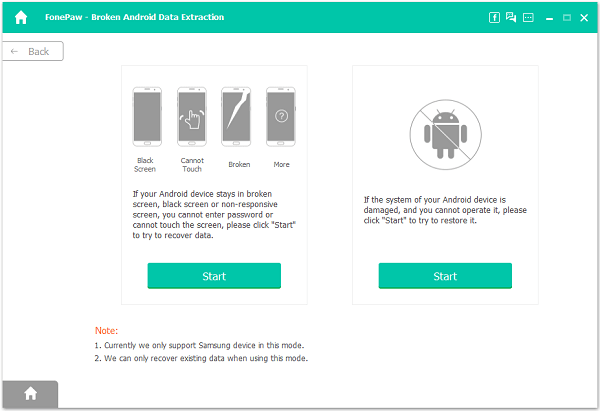 Step 3 You'll see options of five different situations: stuck in the startup screen, download mode, FonePaw interface, black screen, or others. Select the option that fits your situation and the program will provide solutions accordingly.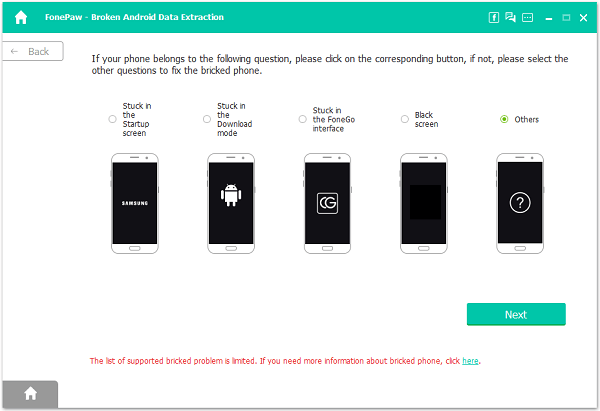 Step 4 Unbrick Android Phone in Two Cases
Case 1: If you have chosen "Stuck in the Startup screen"/"Black screen"/"Other", select the device name and model of your phone from the drop-down list. And click "Confirm".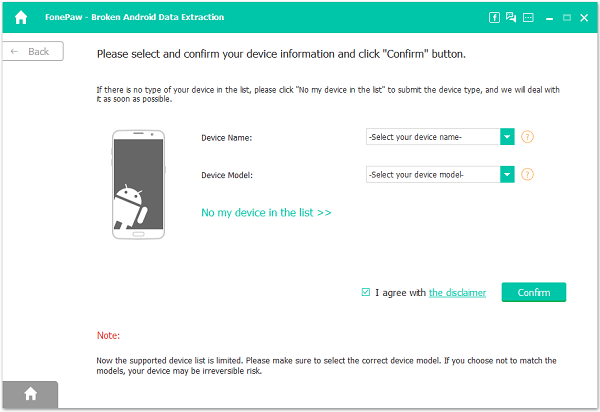 Then follow the instruction on the program to put your phone in Download mode. Then click "Start" to begin to unbrick the phone. The program will begin to download the proper recovery package and repair the phone. Your phone will restart automatically and be back to normal.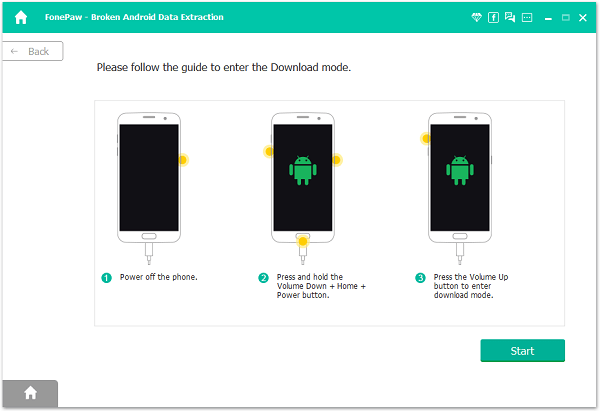 Case 2: If you choose "Stuck in Download mode"/ "Stuck in FonePaw interface", just click "Next", the program will automatically reboot your device and get it out of the frozen screen.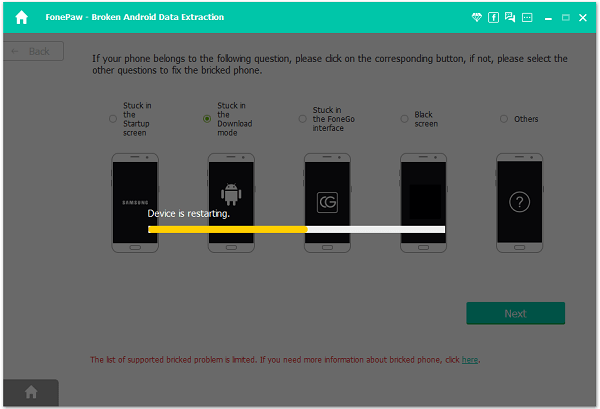 If your phone is not supported or the problem that you are facing is not covered by the program, please leave your message below or contact our support team at [email protected] via email. We really appreciate your help in improving the product and will keep working on the product to provide you with a more powerful solution to fix broken Android devices.
Part 4. How to Fix a Bricked Android Phone of All Models?
Now that you've learned how to fix an Android that is soft bricked with recovery software on Samsung phones, let's be aware of something you can do to fix a hard brick phone that won't turn on or Android phones of other models suffering soft brick.
Contact the Manufacturer (Hard Brick & Soft Brick)
Usually, the warranty period of a smartphone is 1 to 3 years. If your phone is not rooted and is still covered by that, check the warranty terms of your phone, and try contacting your manufacturer. This is the most direct way and they may be able to repair your phone or send you a free new one.
Turn to Professionals (Hard Brick & Soft Brick)
If your phone is not under warranty, you can find a trustworthy shop and get it repaired by professionals. Once they bring your bricked phone back to normal, don't blame them if the data on it are gone. They can be retrieved with excellent data recovery software.
Restore Android Device to Factory Settings (Soft Brick)
Above are two methods by which you can unbrick your android without a computer. There's another common way for all android phones. Try restoring your device to factory settings. You can search for the steps on this for your own phone model on the internet. Even though you will lose all your data including your media files and apps, but you can still get back the Android data after factory reset (opens new window) with a professional data recovery tool on a pc if the factory setting restoration works successfully.
Free Download Buy with 20% off Free Download Buy with 20% off
Final Words
Anyway, even though you can fix a bricked Android phone with FonePaw Broken Android Data Extraction on Samsung in some circumstances, treating a phone properly is way easier than fixing it. And to avoid losing important data on your phone, don't forget to back them up from time to time.