What is dm on Instagram? Direct Message (DM) on Instagram is an option allowing you to send private messages to one or multiple users. You can use Instagram DM to send:
Photos & videos;
Posts, profiles, hashtag, locations;
Snap-like disappearing messages, links.
If you have neglected Instagram Direct Message in the past, maybe now is the time for you to start over with the Instagram's messaging feature. In this piece, you'll learn how to direct messages on Instagram from mobile phone and PC as well as how to check/view direct messages on Instagram.
People Also Read:
How to Post YouTube Videos on Instagram (opens new window)
YouTube Recorder: How to Record YouTube Videos on PC (opens new window)
Three Ways to Direct Messages on Instagram from Phone
Direct Messages to One/Multiple Users (How to DM on Instagram)
Generally, we can send private Instagram messages to by clicking

icon.
Step 1 Click

icon and choose + icon to add one or multiple receivers. The receivers should be no more than 15 people. You can direct messages to your followers as well as anyone that is not following you.
Step 2 Enter your message. You can add photos, videos, links, texts. Click Send.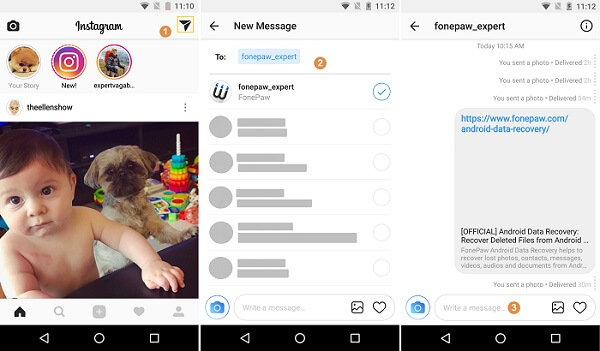 You can also send private message from a person's profile page. Tap three dot icon on his/her profile page and choose "Send Message" to begin directing message.
Send Disappearing Photos/Videos
After updating your Instagram to the latest version, you can send disappearing photos and videos to others. The photos and videos will disappear after hours or days. To send disappearing photos or video:&
Step 1 Go to Direct Message and choose the receivers.
Step 2 Click the blue camera icon to take a photo or live video. You can add texts to the photo/video.
Step 3 Click Send. You'll be notified that you sent a photo but the photo or video won't show on your inbox.
Step 4 The disappearing messages will be highlighted blue in the receiver's inbox. The photo and live video can be replayed only once before it disappears from the receiver's inbox. And the sender will get notification if the receivers watch, replay or take a screenshot of the photo or video.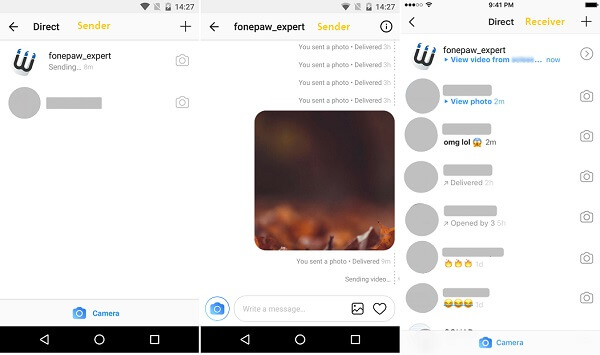 Share a Post via Direct Message
When you see a really interesting post, you can share it to your friends via Instagram Direct Message.
Step 1 Navigate to the post that you want to share.
Step 2 Click

.
Step 3 Choose the one that you want to share the post with. And type texts if you like.
Step 4 Click Send.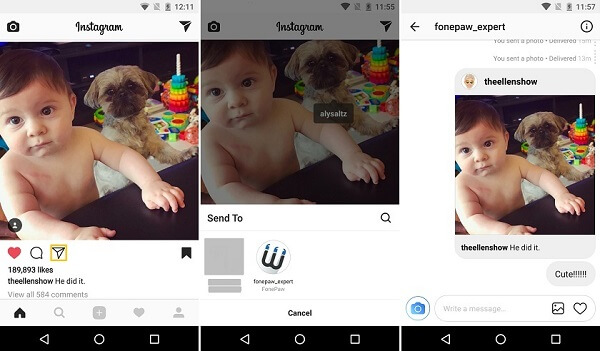 How to Send Instagram Direct Message on PC
Sometimes, we want to use Instagram DM on PC. However, currently Instagram doesn't allow us to upload post or direct messages online through Instagram website. To use Instagram Direct Message on PC, you can try the following methods.
1. Instagram for Windows 10
Instagram now allows you to send photos, videos as direct messages from desktop. If you are using a computer running on Windows 10, you can download Instagram for Windows to direct message on computer..
Step 1 Get the Instagram application from Windows Store app.
Step 2 Install Instagram on your Windows PC or tablet.
Step 3 Launch the application and click Direct Message icon to send message.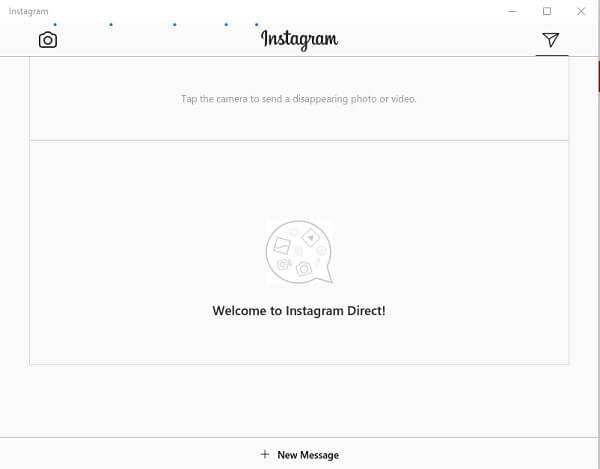 Note: If your Windows computer has no touch screen monitor and rear-facing camera, you are unable to capture and upload photos and videos to Instagram from PC.
2. Bluestacks
Bluestacks is a free Android emulator for PC, which can acts like Android devices on PC. After installing Bluestacks on your computer, you can sign in with Google account and install Instagram on your virtual Android device. After signing in, you can then direct messages in Instagram on PC.
Note: Some users reported that Bluestacks has bugs: can't sign in, can't install Instagram, slow down computer. If you have noticed any problems with the program. Uninstall it and use other methods instead.
3. Third-party Applications for Instagram DM
You can also use third-party apps, like Instagram DMs on Desktop, which enables users to send and receive Instagram direct messages from PC and Mac.
How to Check Messages on Instagram
Normally, you can check and view direct messages on Instagram app.
Click and go to the conversation to view Instagram messages.
And there is also a secret inbox which you can view hidden direct messages on Instagram.
Launch Instagram app, choose and go to the inbox.
If you have any hidden messages, there will be a blue bar saying "message requests." Click to view all messages sent by people you don't follow.
Common Questions about Using Instagram Direct
1. Direct Message Doesn't Show Some Messages
Some users found that Instagram Direct doesn't display messages sent from certain users. If you are also troubled by the same problem, you can try to:
Log out of your Instagram account and log in again;
Delete the conversation and start a new one;
Uninstalled Instagram and reinstall the app again;
Wipe caches partitions in recovery mode.
2. Is There A Way to See Deleted Direct Messages on Instagram?
Quite a few users have this question. In fact, when you delete or hide a direct message on Instagram, there is no way to recover the message on your end. If you really need to see the message again, you can try to find it in the sender/receiver's phone. Currently, there is no workable method to recover direct messages on Instagram.