So, you followed the tutorial step by step and tried to recover deleted data from your Android device (opens new window) with FonePaw Android Data Recovery (opens new window). However you encountered some unexpected problems. These can be caused by some bugs of the software or led by your device. We first advise you to visit our FAQ page. You should find answers to your question there. If not, just give your feedback to use. More important, submit FonePaw Android Data Recovery log files to use. This will help our designers to fix bugs of the program and in the next generation can brings you better experience.
# How to Submit Log Files of FonePaw Android Data Recovery
Step 1. Select Feedback Icon
Open FonePaw Android Data Recovery on your computer and connect it to Internet. Click the Feedback icon at the upper-right corner.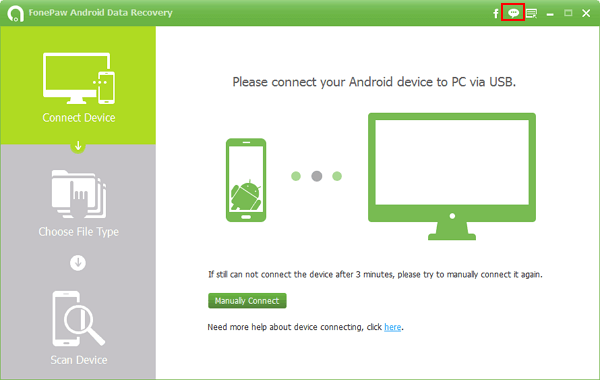 Step 2. Submit FonePaw Android Data Recovery Log Files
Please enter your valid email address in the blank.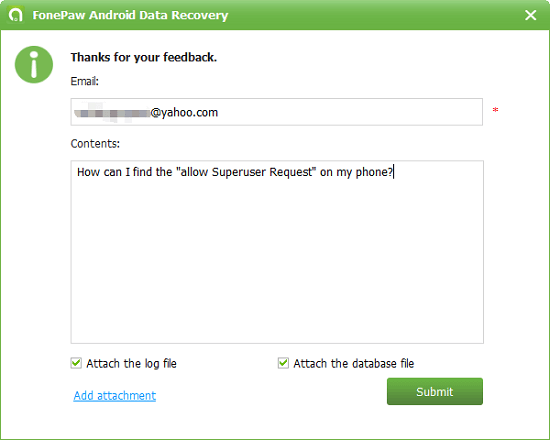 If you have any comment, suggestion or encounter any error when using the product, please leave it in the content section, for example, "How can I find the 'allow Superuser Request' on my phone". The more information you provide, the sooner we will help you solve the problem.
If you select "Attach the log file", the program will generate a log file and then submit to us. Plus, you can select "Add attachment" to attach a screenshot of the program.
Note: We have solutions at FAQS. Some questions and answers can be found there.
https://www.fonepaw.com/support/ (opens new window)
Done! Truly thanks for log files you submit. We will solve the problem and fix the program with the help of the log files.