Text messages have always been a crucial part of our mobile life, particularly for popular Samsung Galaxy users. If you are one of them, you might have saved a lot of vital SMS on your phone. You may want to print text messages from Samsung Galaxy because copying them on the paper seems much more convenient to read. Another reason for you to print text messages is that the capacity of your phone is too small to keep the increasing data. Under this condition, you can print them out and then delete them to save space for new files.
Plenty of workarounds exist to recover, export, and print text messages from Samsung phones. FonePaw Android Data Recovery (opens new window), for instance, leads Samsung users to print their SMS with only few steps. You don't need to rack your brains and painstakingly try to understand the complex steps. Just connect your phone, set to scan your files, and select what you need to recover. And then, done! You can get back your lost messages effortlessly. After that, to print Samsung text messages will be very easy. Install the trial version and have a try under the guide of this tutorial.
Free Download Buy with 20% off Free Download Buy with 20% off
Step 1. Link Samsung Galaxy to PC
Install and open FonePaw Android Data Recovery. Connect Samsung phone to the computer via USB cable.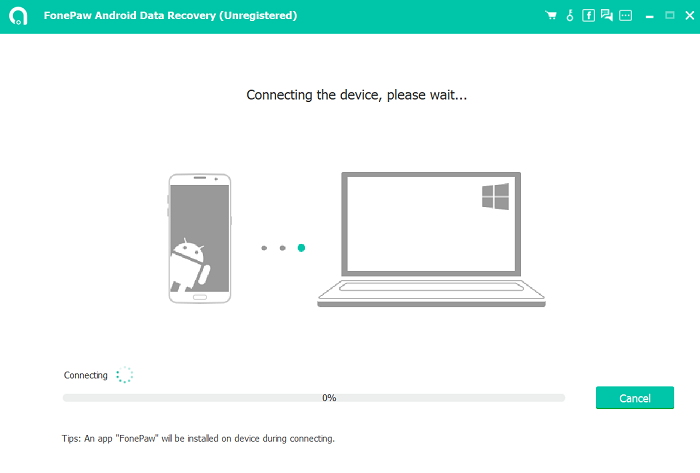 Step 2. Enable the Software to Scan SMS
Choose "Messages" and then click the "Next" button, the program will be set to read and scan text messages on your Samsung mobile.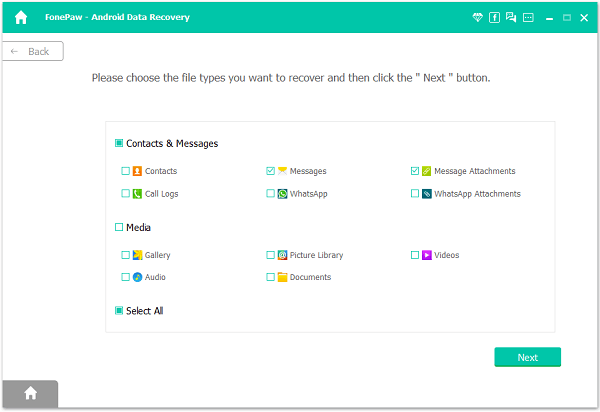 Step 3. Make the Phone Accessible
The program cannot access your phone if it gets no permissions. Go to your phone. See the pop up as below? If yes, tap the "Allow/Grant/Authorize" button. After that, the program can access and scan your phone.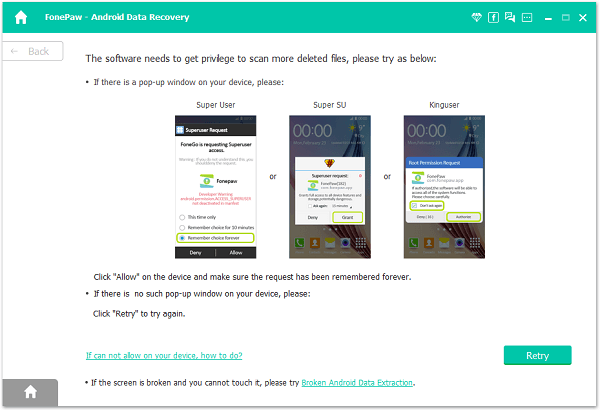 Step 4. Recover and Export Text Messages to PC
Select "Messages" at the left pane. You can preview them in details in the table. Both existing and deleted messages are displayed on the pane. Choose the ones you want to export and print. Then click "Recover".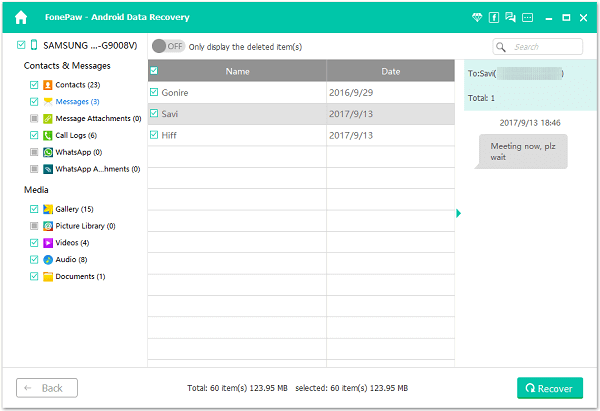 Step 5. Print Text Messages from Samsung
All the recovered SMS will be stored on the computer as CSV/HTML. Open the HTML file and then you can print it through the local Printer easily.
Write in the End:
Unexpectedly simple, isn't it? Actually, you can also use this program to print WhatsApp messages contacts and call logs from Samsung Galaxy with the similar steps! Don't hesitate to try FonePaw Android Data Recovery (opens new window), you'll see your wanted contacts, SMS and call logs can be extracted and printed out as easy as a cake.
Free Download Buy with 20% off Free Download Buy with 20% off