FaceTime is a built-in app for iPhone, iPad, and Mac, providing video or audio calls service among iOS device. People prefer using FaceTime to make calls to their family or friends or have a video conference with colleagues. However, it is reported recently that iPhone cannot make or receive FaceTime calls, and the issue can be dealt with in the following ways.
Reasons for iPhone Cannot Make or Receive FaceTime Calls
To begin with, let's do the troubleshooting. You should pay attention to these rules:
FaceTime is unavailable in some carriers, regions or countries, like Saudi Arabia, Pakistan. You'd better consult your carrier, or see if your friends in the same region that can use FaceTime.
FaceTime doesn't support Call Forwarding.
The latest version of FaceTime always has less problem.
If you have ruled out the above possibilities, then the problem may lie in:
Internet connection;
Abnormal in Apple server;
FaceTime is unavailable;
Wrong Apple ID or phone number;
Wrong date and time;
Move your friend to Block List by mistake;
When you switch a video call to an audio call, or to a phone call, there may be mistakes.
The remaining part of this article will help you fix iPhone, iPad or Mac that cannot make or receive FaceTime calls, based on the above reasons.
Solution 1: Check FaceTime Server
When FaceTime or other built-in apps of iOS have server issues, or they are about to have server issues, you can know it by visitinghttps://www.apple.com/uk/support/systemstatus/. You are advised to check the website before you are planning to make an important video call or video meeting with FaceTime, since you can do nothing to fix the issue if the problem is at Apple's end. Keep checking the website and you will be informed if the issue is solved.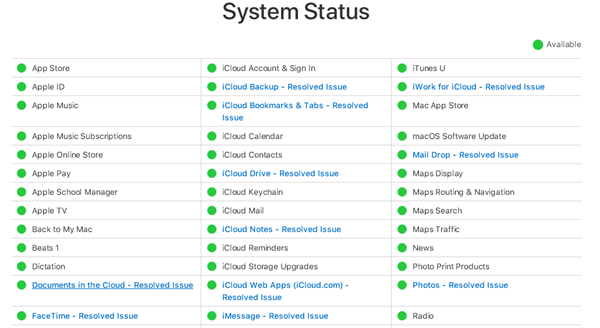 Solution 2: Turn on FaceTime
Don't forget you should permit FaceTime on your phone to make or receive FaceTime calls.
Open Settings > FaceTime;
Then slide the button to turn on it.
Suppose after FaceTime is turned on, you come across one of the following two situations:
"Waiting for Activation". Go to How to Fix FaceTime Waiting for Activation Error on iPhone.

(opens new window)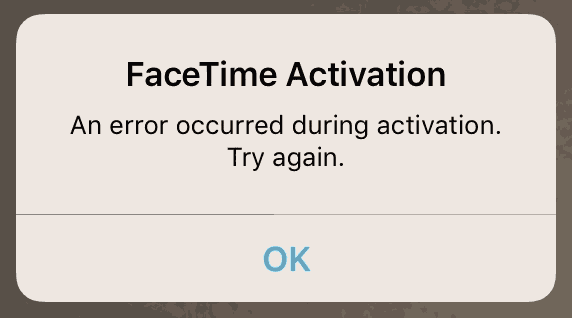 Cannot see FaceTime Settings. If you cannot even see FaceTime in Settings, or you cannot see FaceTime app on Home Page, you may restrict it. Go to Settings > General > Restrictions, and turn on FaceTime.
Solution 3: Ensure A Good Network Connection
FaceTime calls are available only when your device is under good network connection. iPhone users can go to Settings to see if you've turned on Wi-Fi, and Mac users should click System Preferences > Network. Also, it is wise to join other Wi-Fi hotspots.
Besides, if you want to make FaceTime calls with cellular data, make sure that you have enough data allowance, and that FaceTime is allowed to use under mobile data by reaching Settings > FaceTime > WLAN & Cellular Data.
Run FaceTime again and see if it works fine now.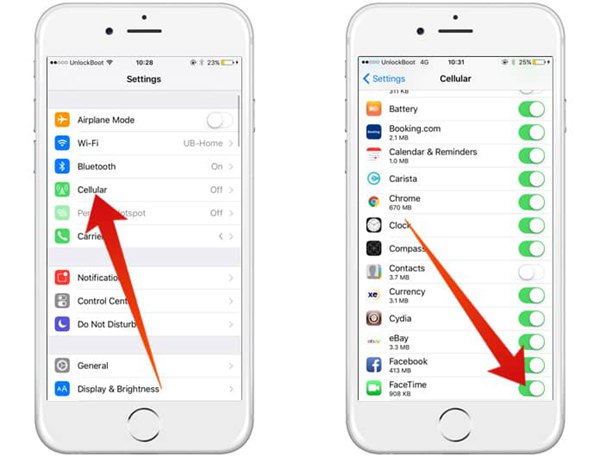 Solution 4: Check If Apple ID Is Entered Correctly
Apple ID is the link between you and your friends, since they may call you by entering your Apple ID. Suppose you log in Apple ID incorrectly, you may not receive FaceTime calls.
Open Settings > FaceTime.
If any of your devices have entered the wrong Apple ID, sign out and in with the correct Apple ID.
Solution 5: Check If Your Phone Number Is Correct
The phone number is another link that helps you contact your friends, as you can also use a phone number to make calls in FaceTime. Make sure you and your friends have the correct number of each other first.
Then check if you add your phone number in FaceTime correctly by reaching Settings > FaceTime, in which your correct number and Apple ID will be under**"You can be reached by FaceTime at"**.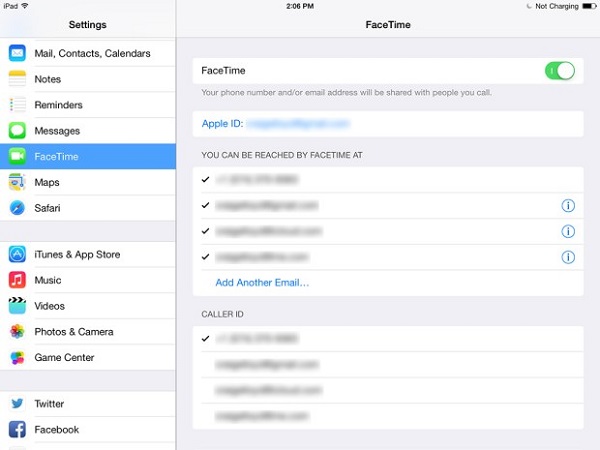 Solution 6: Check Blocked List
You cannot make a FaceTime call to your friend who is in the Blocked List by mistake, and similarly, you can't receive a call if your friend put you on the list.
Check Blocked List by tapping on Settings > FaceTime > Blocked;
Tap the red Remove icon beside the name that you want to unblock, and you can call him in FaceTime when you open the app again.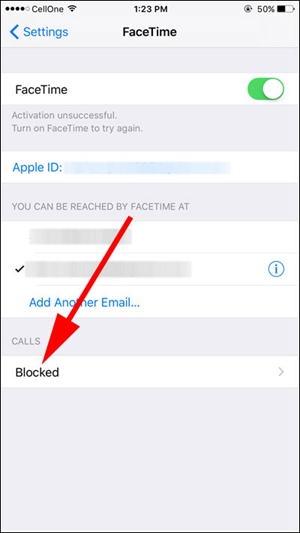 Solution 7: Check Date & Time
Incorrect time zone may be responsible for FaceTime call not making or receiving, and the best solution is to adjust timezone on your phone.
You can click on System Preferences > Date & Time on Mac;
Or tap on Settings > General > Date & Time on iPhone or iPad, and remember the Time Zone should be right.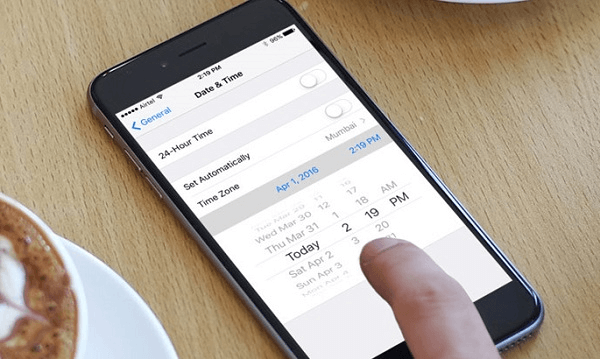 Solution 8: Restart FaceTime App or Your Device
There are two ways for you to restart FaceTime app:
Double click Home Button and get the multitasking tray. Slide up FaceTime to close it, and tap to launch it again on Home Page. This operation is to force stop the app, clean some cache in it and help to improve its performance.

Another way to restart FaceTime is: on Mac, run FaceTime app, click Preferences and turn off and on FaceTime; on other iOS devices, run Settings > FaceTime, and turn it off and on.
Restarting your device is also helpful to get FaceTime back to normal, as it cleans temporary files and data and frees up your device.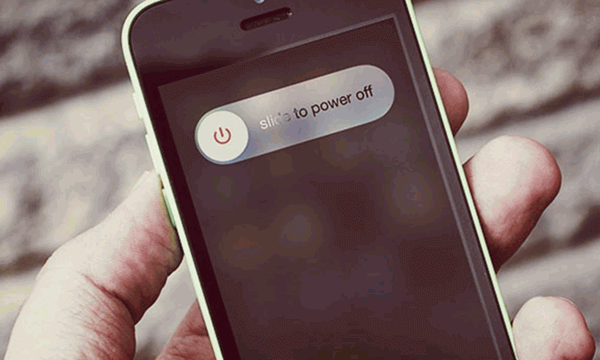 Thereafter press and hold the same button to turn it on.
Solution 9: Update iOS System
An updated system is always an optimized one for apps will have better performance and shortcomings will be overcome, and therefore FaceTime calls will be fixed in this way.
Open Settings > General;
When there is a circle with "1" next to Software Update, a new version of iOS system is available, and you can tap Software Update > Install Now to update the system.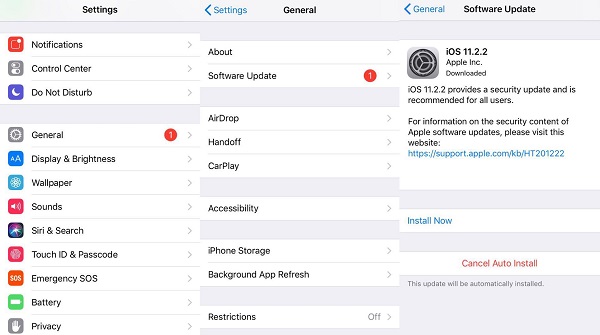 You'd better charge your device over 50% before you update it since the process will consume lots of power and once the power is under 20%, the update will be temporarily prohibited.
If you cannot go through the problem that FaceTime Calls cannot be made or received with the above solutions, turn to Apple Support for help.