AT&T Mobile Transfer uses a Wi-Fi connection to help transfer data between two mobile phones. However, many people have problems when using this app for transferring data, either the app is stuck on transferring or scanning data or stopping when launching. Here 6 troubleshooting tips will be given to help you solve AT&T Mobile Transfer issues. In case you may feel it is too troublesome to follow the troubleshooting tips, a more convenient alternative is provided – FonePaw DoTrans.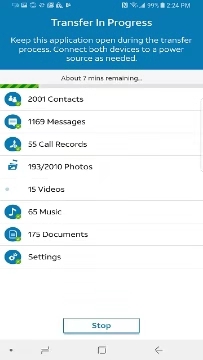 # Phone to Phone Transfer via Cables
FonePaw DoTrans (opens new window) deals with data transfer among iOS, Android and Windows PC. Transfer of a wide range of file types are supported by DoTrans, including contacts, photos, music, and videos, etc.
Some certain types of file which cannot be transferred via AT&T Mobile Transfer like ringtone can also be successfully transferred by DoTrans.
Compared with the AT&T app, which moves files between mobile phones wirelessly, DoTrans uses USB cables of 2 mobile devices for data transfer, which stabilizes and speeds up the transfer process.
Moreover, DoTrans enables data transfer between Android and iOS devices and allow you to choose the specific data you want to transfer.
Here is how to use DoTrans to transfer your data between Android or iOS phones:
Step 1: Download DoTrans and launch it.
Free Download Buy with 20% off
Step 2: Connect both of the two phones needed for transfer to your computer with USB cables, and DoTrans will detect them automatically. Select the device you want to transfer data from.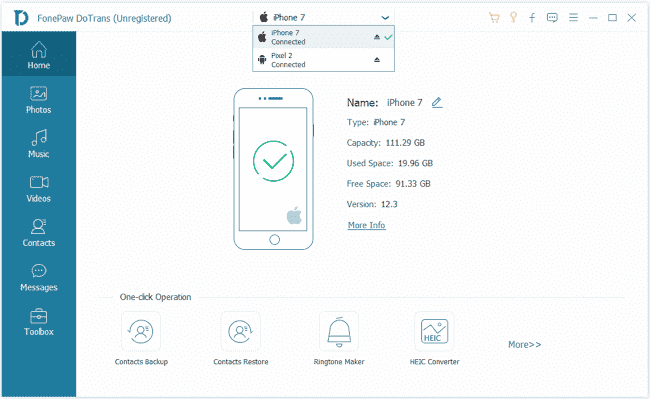 Step 3: Select file types on the left sidebar. Take Music as an example. Select the audio you want to transfer to another phone, right-click the selected audio and choose Export to Device > your device.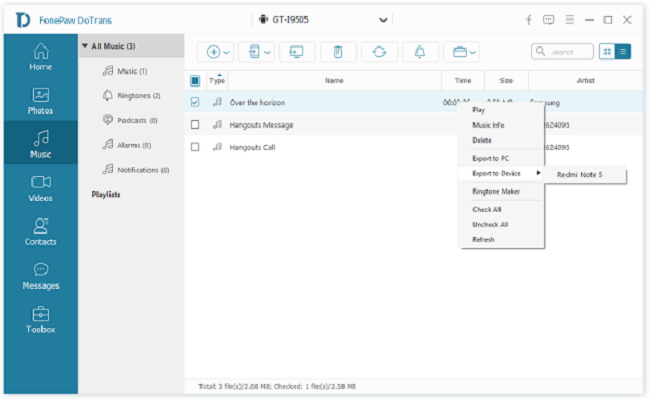 Tip: Or you can tick Check All to transfer all photos, songs, videos, etc. from your old phone to the new one in one click.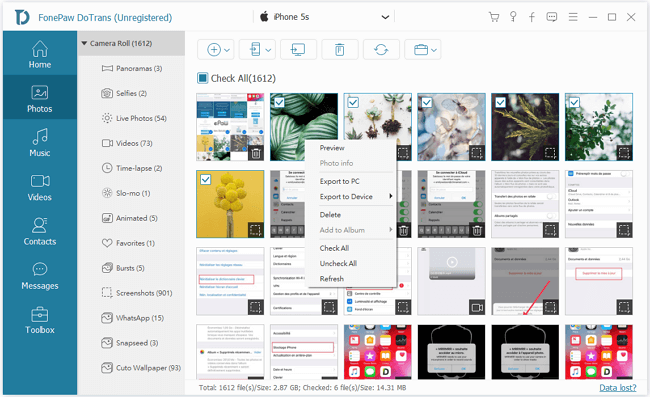 # AT&T Mobile Transfer Stuck, What to Do?
Many users report that the AT&T Mobile Transfer app is stuck when they are transferring data. Some of them get stuck on loading text messages, others keep seeing messages such as "testing connection", "retrieving content list" or " finding device" when the AT&T app is hanging.
Also, there are users who can't get QR code working on AT&T Mobile Transfer. The QR code won't generate or after scanning QR code from the old phone, nothing happens on the app.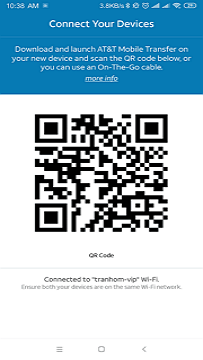 If you encounter these problems too, don't worry, 6 troubleshooting tips below will be helpful for you.
1. Check whether your phone system version is supported
For iOS devices, AT&T Mobile Transfer requires iOS 8.0 or later; for Android devices, AT&T Mobile Transfer requires Android 4.4 or later. Update your system version to meet the requirements.
2. Check your Wi-Fi connection
Make sure the Wi-Fi connection is working and the internet speed is fast enough. If Wi-Fi is not working well on your devices, AT&T Mobile Transfer can be stuck on transferring data or scanning your device. Try disconnecting and then reconnecting Wi-Fi.
3. Transfer files in smaller chunks
Do not transfer dozens of gigabytes of data at a time. If AT&T Mobile Transfer is stuck when transferring, a possible reason is that you transfer too many files at a time. You can try canceling the transfer and then re-transfer your data again, but this time, transfer files in small chunks, say, 3GB of files at a time.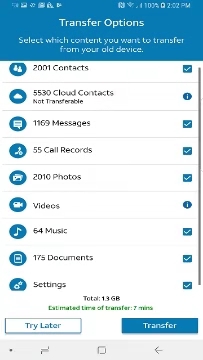 4. Reboot your devices
Try rebooting both of your two phones. Sometimes the problem will be solved when the phones are restarted.
5. Clear caches of AT&T Mobile Transfer(Android only)
Clearing caches and data of an app helps to fix small glitches of the app on Android phone. Go to Settings > Manage apps, find AT&T Mobile Transfer in the list of apps and tap it. Tap Clear data and select Clear cache.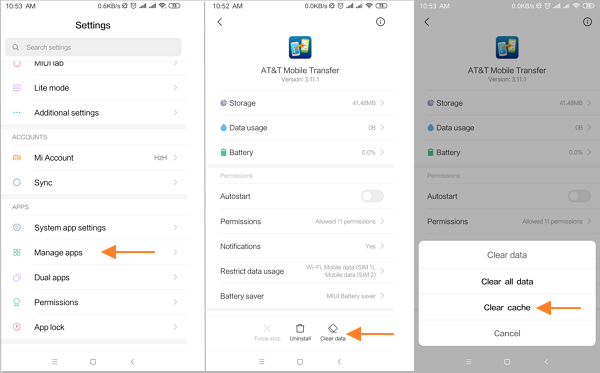 6. Reinstall AT&T Mobile Transfer
Generally, the problem should be solved after you have tried the above attempts. If AT&T Mobile Transfer is still not working, maybe it is caused by the app itself. In this case, reinstall the latest version of AT&T Mobile Transfer from Apple Store, Google Play or Microsoft Store. If AT&T Mobile Transfer is still stuck on transferring files between your phones, maybe it's time to quit the app and try other file transfer method for your Android or iOS phones (opens new window).
# AT&T Mobile Transfer Has Stopped, How to Fix?
Some users have reported that AT&T Mobile Transfer stops and keeps crashing on opening on Samsung S8/S7/S6/S5, Motorola 5G Plus, etc. To fix this problem, try some simple troubleshooting tips below.
Restart your devices: A simple reboot usually can solve many unexpected issues like AT&T Mobile Transfer's keeping crashing on opening.
Clear caches: On your Android device you can go to Settings to clear caches of AT&T Mobile Transfer, which is another possible workaround.
If the app still cannot be opened after you reboot your device and clear the caches, maybe the app you download has been corrupted, uninstall and then reinstall AT&T Mobile Transfer from official channels, such as Apple Store, Google Play and Microsoft Store.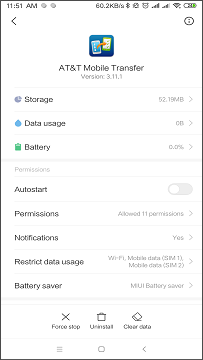 Extra Tip: How Long Does AT&T Mobile Transfer Take to Transfer Data?
The time AT&T Mobile Transfer takes to transfer your data depends on several factors. The connection speed, the data size, and your individual file sizes will all affect the transfer speed. Actually, when AT&T Mobile Transfer is transferring your data, it will show you the estimated completion time, and this estimated time updates during the transfer process.
If the transfer isn't finished after a long time and the estimated completion time does not update, cancel the transfer, reboot your devices and re-transfer your data. In this way, you should have no problem completing the mobile transfer.
Transferring data via Wi-Fi with AT&T Mobile Transfer usually takes a long time, especially when you are on a slow Wi-Fi network. Why not try to move contents with USB connection by DoTrans (opens new window)?