Nowadays, people all prefer to take photos with smartphones for their convenience. Samsung smartphones are often equipped with decent cameras for you to take great pictures easily. For example, the latest Galaxy S10 comes with a new 16-megapixel ultra-wide camera to offer better autofocus and exposure.
But how can we transfer these stunning pictures from our Samsung phones to PC?
Here are four effective ways for you to transfer photos from Samsung Galaxy S10/S9/S8/S7/S6/S5 and more to the computer, especially when you have loads of pictures to transfer.
Solution 1: Samsung Photos Transfer Program for PC
FonePaw DoTrans (opens new window) is a Samsung photos transfer program for PC with a neat surface. It allows you to move pictures from your Samsung smartphone to PC in one click.
Besides, you can not only transfer photos from Samsung to PC by DoTrans, but also music, videos, contacts, and messages.
Here comes the video guide of How to transfer photos from Samsung to PC.
Step 1 Connect your Samsung device with the computer by a USB cable. Turn on USB debugging as the instructions say.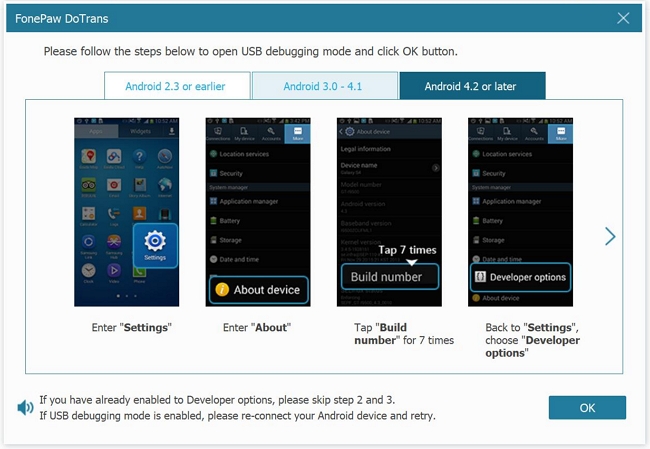 Step 2 When it is connected successfully, choose "Photos" on the left side and you can view all the photos on your Samsung phone.
Step 3 Select photos you need to transfer to PC by ticking the box or right-clicking the pictures and choose "Export to PC".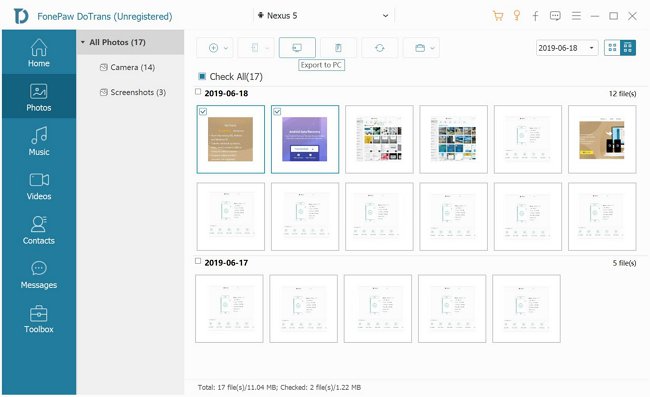 Step 4 Your Samsung pictures will be transferred to the PC quickly. You will be informed of the number of photos that have been exported successfully. Click the "Open folder" to check the pictures.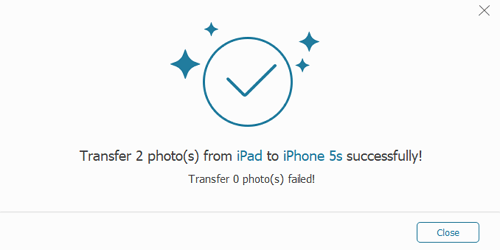 Tip:
To transfer all photos from Samsung to the computer, select "Check All".
Free download DoTrans right now.
Free Download Buy with 20% off
Solution 2: Transfer Photos from Galaxy S10/S9/S8/S7/S6/S5 to PC Using USB
Using a USB cable is also a good way to transfer photos from your Galaxy phone to PC. Here are the concise steps:
Step 1 Connect Samsung Galaxy S10/S9/S8/S7/S6/S5 to PC by your USB cable. Swipe down the top of the screen and you will notice the notification panel. Tap "USB for transfer".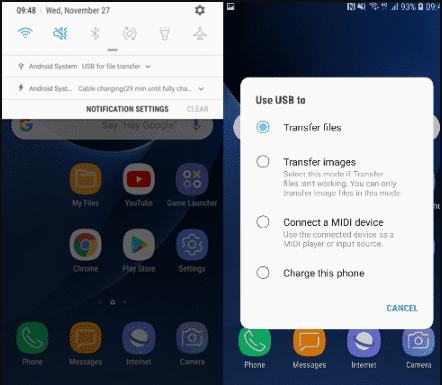 Step 2 Select "Transfer files" or "Transfer images". If your Samsung phone is asked to "Allow debugging" or "Allow access to device data", allow it.
Tip: You can only transfer photos when choosing transfer images".
Now, your Samsung device is connected to the computer successfully.
Step 3 Click "This PC". You can find your device on the left side of File Explorer or under the "Device and drives". Double click your device.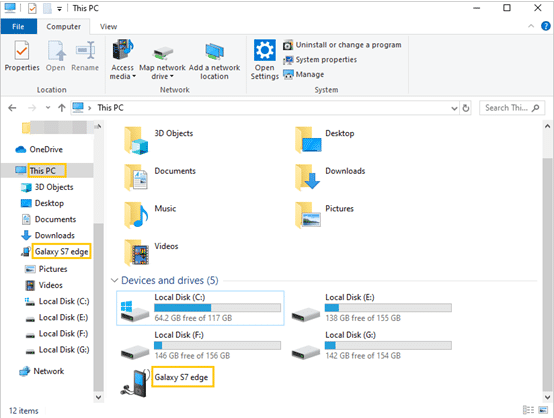 Step 4 Double click your device again and you will find all images in the "DCIM" folder.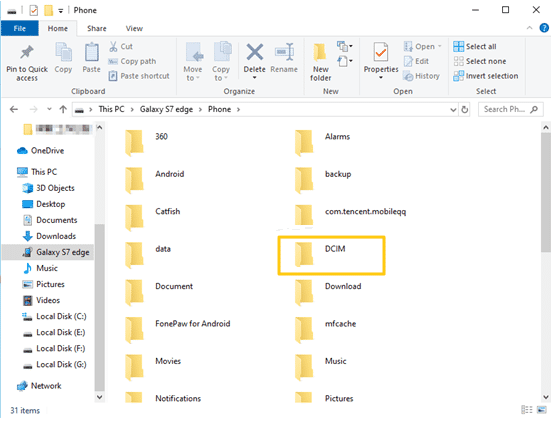 Step 5 Copy or drag the Samsung photos you need to transfer to a file folder in your PC.
It's easy to move photos from Samsung to a computer by simply connecting the Samsung device to PC as a storage device with a USB cable. However, you may need to search through folders for your needed photos on File Explorer. To quickly locate the Samsung photos to transfer, use DoTrans (opens new window), which organize your photos by dates and albums. Also, moving photos from Samsung to Samsung, from iPhone to Samsung are also supported by DoTrans.
Solution 3: Transfer Samsung Pictures with Smart Switch
Samsung Smart Switch is mostly used for data backup and restore. But you can also use it to transfer pictures from your phone Samsung Galaxy to PC.
Step 1 Download and install Samsung Smart Switch to your Windows PC.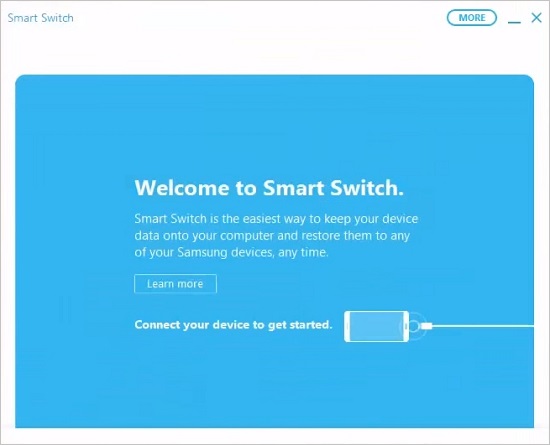 Step 2 Connect your Samsung phone and PC by a USB cable.
Step 3 Swipe down from the top of your phone screen, tap "USB for file transfer"
Step 4 Switch back to your computer, select "Backup" when you see the following screen.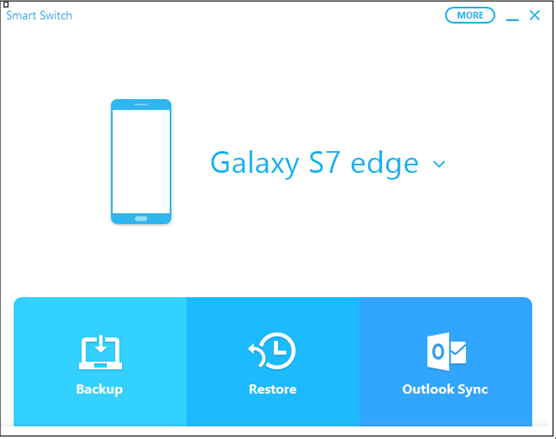 Step 5 After the images have been backed up, select "Restore" → "Select your backup data"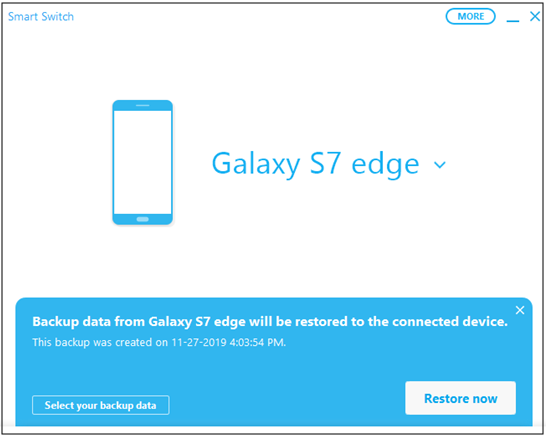 Step 6 Click the file icon on the right side to open your Samsung backup. Navigate to Backup > Photos to find the photos you need to import to your computer. Drag or copy the Samsung photos to a specific folder on your PC directly.
Solution 4:Transfer Photos from Samsung to Computer Wirelessly
The methods above all need a USB cable; however, sometimes you may get stuck when you want to import Samsung photos to PC but cannot find your USB cable. In this situation, Bluetooth is your best choice. This method involves 5 steps.
Step 1 On your Samsung device, swipe down from the top of the screen and enable Bluetooth. To make sure your PC can find and connect your Samsung phone, go to "Settings"> "Connections"> switch on "Phone visibility".
Step 2 On your PC, go into "Start"> "Settings" > "Devices" >Switch on "Bluetooth"> "Add Bluetooth and other device". Match your PC and Samsung phone.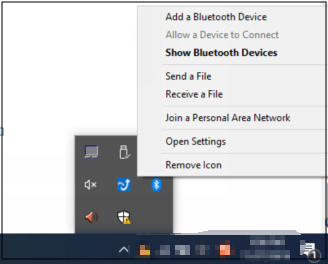 Step 3 Select "Receive a File".
Step 4 When you see Bluetooth File Transfer window on PC, open your Samsung phone and choose the images you want to transfer and share it via Bluetooth. When your PC finishes receiving, you can check the Samsung photos in the location you choose.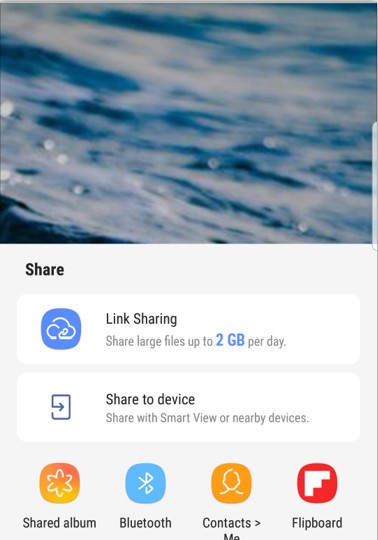 Among the 4 methods, DoTrans (opens new window) is the most convenient one as it allows you to quickly find the photos to transfer and to transfer photos from Samsung to other smartphones directly. Using USB cable is also a simple way to do it.
while Samsung Smart Switch is the most a little bit complicated one when it comes to transferring photos to PC, but if it is helpful if you also need to have a full backup of your Samsung phone on PC.