iCloud Photos not only save your photos to cloud storage, but also sync the photos across Apple devices(iPhone, iPad, Mac) and Windows PC, except Android devices. To access iCloud photos on iPhone, iPad or Mac, you can just open the Photos app. The iCloud photos will show in the Photos app so long as you have turned on iCloud Photos on your device. Even you are using a Windows PC, you can easily view iCloud photos after setting up iCloud for Windows or logging in iCloud.com on the web.
However, things get tricky when it comes to access iCloud Photos on Android. For one thing, there is no iCloud for Android that enables users to set up iCloud on Android like that on Windows. For another, iCloud on the web is not accessible from an Android browser.
This post is going to help you solve this tricky problem. You'll learn how to access and view iCloud photos on Android and, furthermore, how to transfer or recover iCloud photos to Android.
View iCloud Photos on Android from the Web
You may have found that after entering https://www.icloud.com in a browser search bar from your Android phone or tablet, you'll get an error that says "your browser is not currently supported" or be redirected to Find My iPhone page. It just won't give you access to photos, contacts, calendar, etc.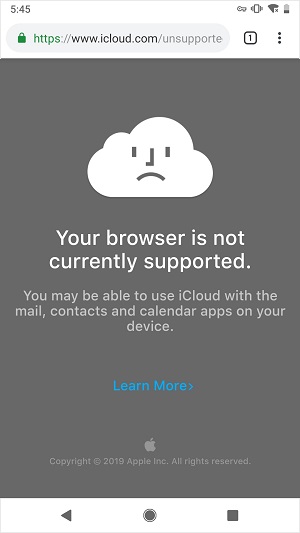 Here is a little trick that will make iCloud photos accessible from a browser on Android.
Step 1: Open a browser on your device. Here we are using Google Chrome to access photos on iCloud.
Step 2: Tap the three-dot icon to open the drop-out menu and tick Desktop site, which can show the desktop version a web site.
Tip: All browsers have a similar desktop view feature, but its name is slightly different from browser to browser. For example, in Firefox, you should tick "Request Desktop Site" to change to the desktop view.
Step 3: Once the Desktop site is enabled, go to https://www.icloud.com. This time, the desktop version of iCloud is loaded successfully. You can enter your Apple ID and password to log in.
Step 4: After logging in to iCloud, tap Photos to view iCloud photos. You can also select photos and tap the Download icon to download the iCloud photos to Android phone.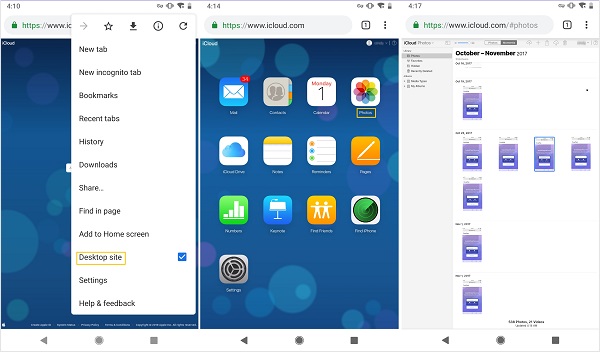 However, there are drawbacks in viewing iCloud photos on Android in this way.
You are unable to view the iCloud photos in full screen on Android. You can just zoom in the browser or put the phone in landscape mode to make the photos as big as possible on your Android device.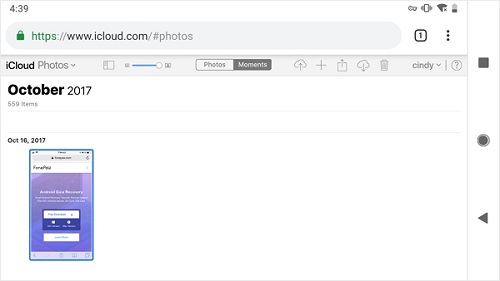 Only the photos in the library can be viewed, while the photos albums can't be open so that the photos inside your albums are inaccessible.
Transfer iCloud Photos to Android with an iPhone
If you have access to the iOS devices that the iCloud photos are synced with and would like to transfer the iCloud photos to your Android phone, you can hook up the iPhone and Android device to DoTrans and use the tool to directly transfer iCloud photos from iPhone to Android.
FonePaw DoTrans (opens new window) can transfer photos, videos, contacts and more from iPhone to Android via USB connection. Transferring iCloud photos from iPhone to Android is as simple as drag-and-drop by DoTrans.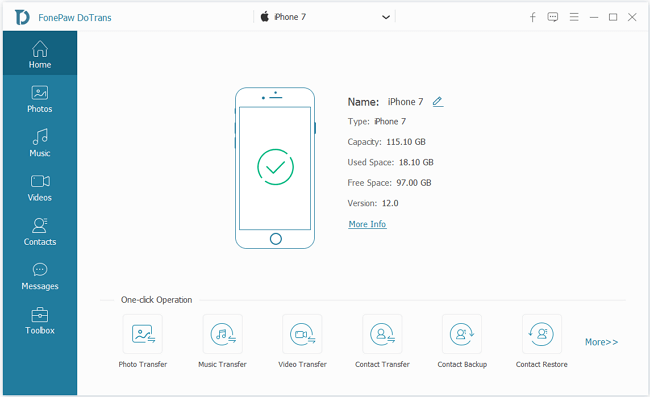 Step 1: Install DoTrans from FonePaw on a PC.
Free Download Buy with 20% off
Step 2: Hook up your iPhone/iPad and Android device to the PC. And DoTrans will quickly recognize the connected devices.
Step 3: Select your iPhone/iPad and click Photos to view all photos in the device.
Step 4: Tick all iCloud photos, click Export to Device and select your Android device to receive the iCloud photos.
Step 5: After the transfer is complete, view the iCloud photos on your Android device.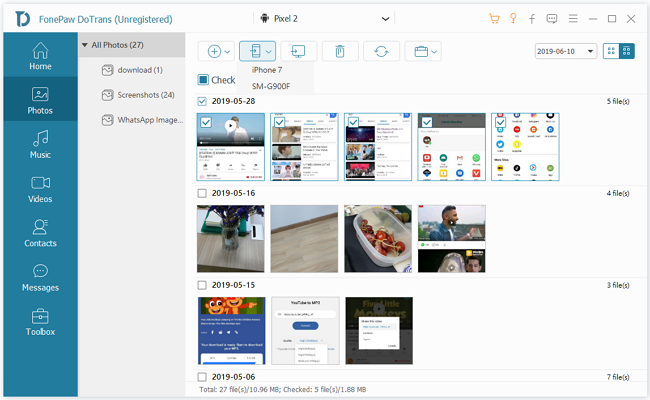 Moreover, DoTrans can transfer content from Android to iPhone (opens new window), iPhone to iPhone/iPad, iPhone/Android to PC (opens new window) and vice versa. It is an easy way to sync files among iPhone, Android, and PC.
Recover Photos from iCloud to Android from PC/Mac
If you don't have the iPhone/iPad that can access your iCloud photos, here is a workaround to get photos from iCloud to Android: download photos from iCloud.com on PC or Mac, and then plug in your Android to import all the iCloud photos.
Step 1: Open iCloud.com from any browser on PC/Mac.
Step 2: Select all iCloud photos and click Download to save them in one folder on your computer.
Step 3: Connect your Android device to the PC/Mac and move all iCloud photos from the computer to Android.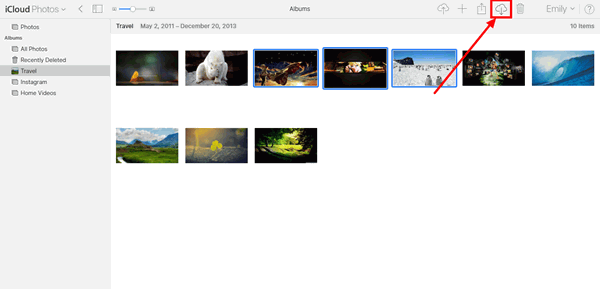 Learn more: 4 Ways to Download iCloud Photos to Computer (opens new window).
These are the 3 ways you can access iCloud photos on Android. Let us know if you have more question on using iCloud Photos.