As we rely more and more on WhatsApp for daily communication, we find it necessary to transfer messages on WhatsApp between devices when we have a new phone, including transfer between S8 and S7. Today, we will cover WhatsApp messages transfer from Android to Android by introducing two methods: transferring WhatsApp messages via local backup and via Google Drive backup.
Don't Miss:
WhatsApp Update on Android/Samsung Galaxy (opens new window)
Ways to Transfer Phone Numbers to Samsung S8 (opens new window)
Transferring WhatsApp Messages via Local Backup
Local backup is the automatic backup of your chat history to your phone's WhatsApp folder that occurs daily every 2 AM. The folder is located in your device's internal memory or external SD card. To use the local backup to transfer WhatsApp messages between Android devices, follow the steps below:
Launch WhatsApp on your old Android device, go to Menu Button > Settings > Chats > Chat backup > Back Up, and back up the WhatsApp messages.
Tip: if you need to back up WhatsApp messages locally, choose Back up to Google Drive to Never.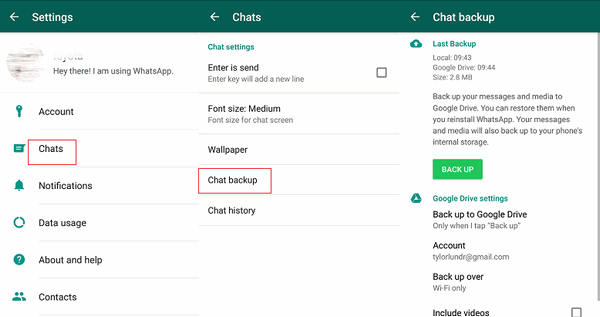 Install WhatsApp on your new phone.

Check your old phone's specifications to figure out what kind of SD card you have.
-To Android phone with an external SD card, take the SD card out of your old phone, and put it into your new one.
-To Android phones with internal memory or internal SD card (like most Samsung devices), you will need to transfer the /sdcard/WhatsApp/ folder from your old phone to the same folder on your new phone:connect both old and new device to the PC via USB> open old device on the computer, find the folder WhatsApp / Database, where WhatsApp backup files are stored >copy the file with the latest creation date onto your PC > copy the backup file from computer to the folder WhatsApp / Databases on your new device.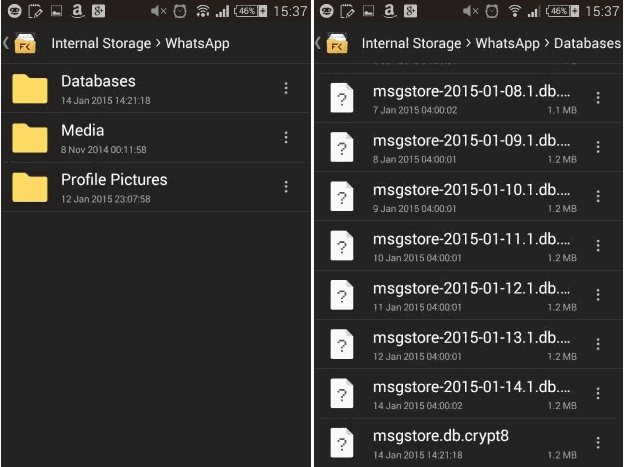 Run WhatsApp on the new device, verify the same phone number that you had when you backed up your chats.

When the notification that a message backup was found pops up. Click "Restore".
Transferring WhatsApp via Google Drive Backup
Google Drive backup is the saving of your messages and media to your personal Google Drive account. To use Google Drive, make sure the following is true:
-Your device must be synced with Google Drive.
-Google Play Services must be installed (only available for Android 2.3.4 and later).
-Your Google Drive account must have enough space for all of your WhatsApp data.
-Your phone must have enough free space to create the backup.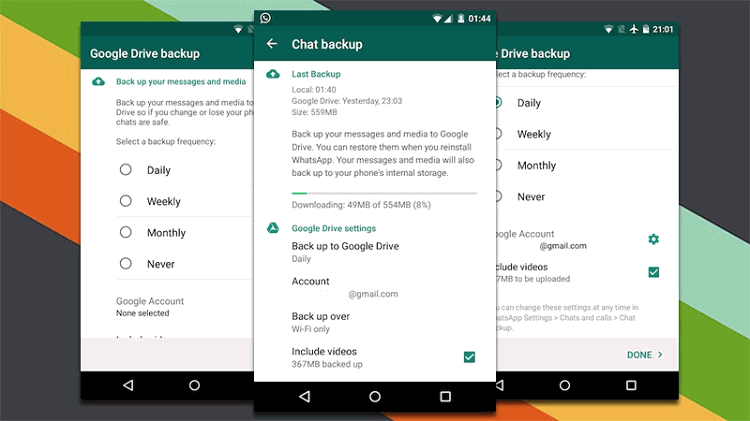 Backup WhatsApp messages on your old device to Google Drive, go to WhatsApp > Settings > Chats > Chat backup > Back Up.

Add the same Google account to the new phone that was used to perform the backup on your old phone. Also, make sure you are using the same phone number on the new phone.

Install WhatsApp on your new phone.

After verifying the same phone number used to perform the backup on the old phone, you will be prompted to restore your messages and media from Google Drive.

After the restoration process is complete, tap on "Next" and your chats will be displayed once initialization is complete.

After restoring your chats, WhatsApp will begin restoring your media files.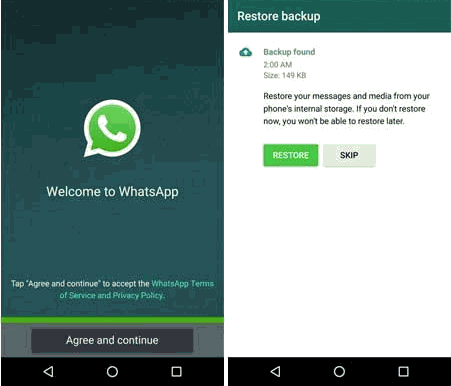 The two methods mentioned above are effective, but a little bit complicated, involving some technical terms. Android Data Recovery (opens new window)can provide you an easier solution to export files from Android device to computer so that you can transfer the files to other Android devices. Other than WhatsApp messages, the software also supports file types such as contacts, messages, photos, notes, etc.