"My HP Envy 15 laptop's MSATA SSD drive has failed. I ran HP diagnostics and the results indicategd that the SSD is failed. I've ordered a new SSD drive and now I just recover data from the old SSD hard drive? How can I do so?"
If you are a similar issue, needing to recover deleted data from SSD hard drive or rescue files from failed or dead SSD, this post has covered all you need to know about SSD Data Recovery for Samsung, Toshiba, WD (opens new window), Crucial, Transcend, SanDisk, ADATA and more (opens new window).
1. What Is Solid State Drive (SSD)
Solid State Drive (SSD) is a kind of storage device that uses solid-state electronic memory chip to read and wite data. Comparing with HDD which uses rotating disks with magnetic heads to store data, SSD is more reliable.
SSD drive provide faster read and write speed, thus laptops powered by SSD boot faster and run apps faster.
Since SSD doesn't have moving parts, it is less susceptible to mechanical failures such as shock, extreme temperature, physical vibration, and thus it is more durable than hard disk drive.
As SSD doesn't need to spin up a platter like HDD does, solid-state drive consume less battery.
SSD is also smaller in size.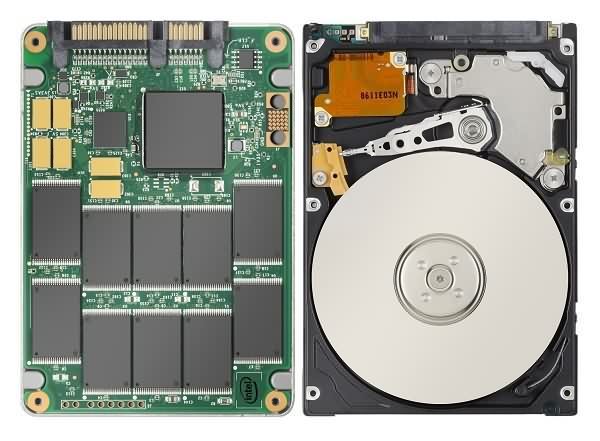 Featuring great reliability and faster speed, SSD is now a more preferable storage option for many users. Accordingly,the price of SSD is higher.
2. Data Loss on SSD
Despite that SSD is less prone to physical damage, SSD drive could also fail sometimes and cause data loss. Unlike a failing HDD which you can tell from grinding noise or new buzz, a failing SSD doesn't show any sign and just stops working suddenly.
Here are some situations you may lose data on a SSD hard drive.
SSD failed due to firmware corruption, components degrading from using, electrical damage, etc.;
Accidently delete data from SSD;
Format the SSD drive or lost or missing partition on a SSD hard drive;
Virus infection.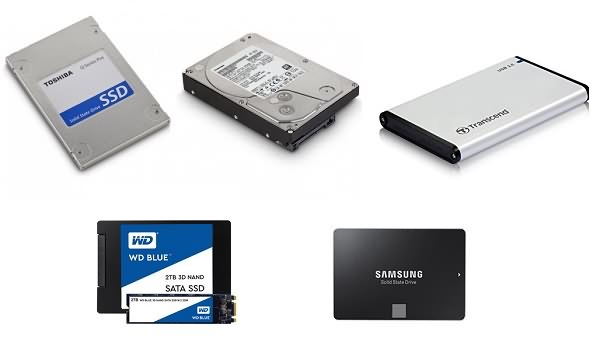 3. Is Possible to Recover Data from a Failed SSD?
It is possible to recover data from SSD with a suitable SSD recovery software, even if the SSD hard drive is failed.
But there is a thing you should notice if you need to recover deleted files from SSD hard drive. Recovering deleted data from SSD is more difficult than recovering files from tradtional hard disk drive because some SSD hard drive may have enabled a new technology called TRIM.
In a hard disk drive, when a file is deleted, only its index is removed while the file stilll exists on the drive. However, with TRIM enabled, Windows system automatically deletes unused or system deleted files. TRIM can help to extend the life span of a SSD drive, however, it makes it impossible to recover deleted data from SSD with TRIM enabled.
Therefore, to recover deleted data from SSD, you should make sure one of the followings is true.
TRIM is disabled on your Windows 10/8/7 computer. You can check it with command: fsutil behavior query disabledeletenotify. If the result shows: DisableDeleteNotify = 1, the feature is disabled.
You's using SSD hard drive on a Windows XP device, SSD data recovery won't be a problem since XP doesn't support TRIM.
Your SSD hard drive is old. Old SSD hard drive usually doesn't support TRIM.
Ttwo SSDs forms a RAID 0.
You are using the SSD as an external hard drive.
Since SSD data recovery is possible, you may follow the steps below to recover data from SSD hard drive.
4. Best SSD Data Recovery Software: FonePaw Data Recovery
FonePaw Data Recovery is the SSD recovery software that can undelete data from SSD drive and recover lost files from SSD caused by formatting, missing partition on SSD, raw SSD hard drive, SSD failures, system crashes. This SSD data recovery program is extremely easy-to-use and takes only several steps to recover files, photos, videos, audios from SSD.
It supports data recovery from SSD hard drive including Transcend, SanDisk, Samsung, Toshiba, WD, Crucial, ADATA, Intel, HP.
STEP 1 Download and install FonePaw Data Recovery on your computer.
Free Download Buy with 20% off Free Download Buy with 20% off
STEP 2 Open the SSD data recovery, select documents, photos or other types of data you want to recover.
STEP 3 Select the drive that have deleted or lost data. If you use the SSD drive as an external hard drive, connect the drive to computer via USB and select it in Removable Drive.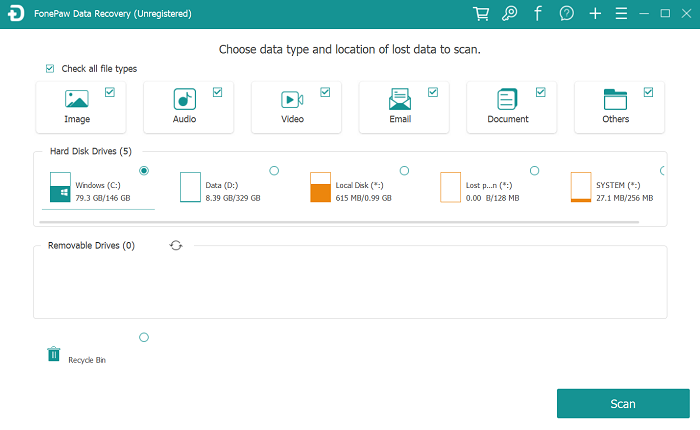 STEP 4 Click Scan. The program will first quick scan the SSD hard drive and display the files it have found. If you need to find more files, click Deep Scan and all files on the SSD drive will be displayed.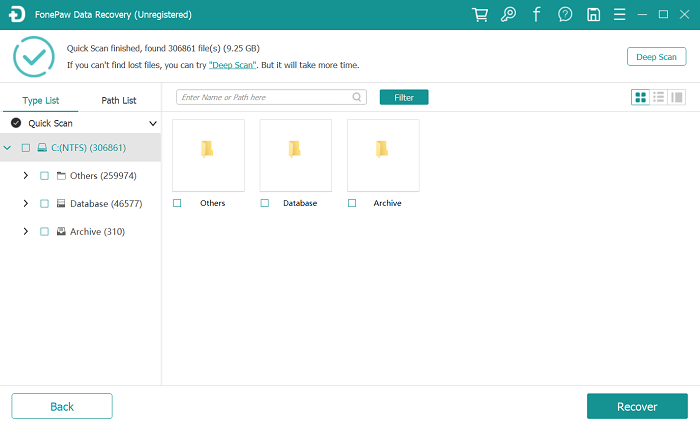 STEP 5 Select the lost or deleted files you need and click Recover to retrieve to the location you choose.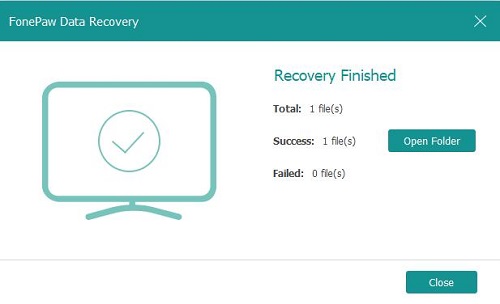 Even though data recovery from SSD drive is possible, you should note down these tips to avoid data loss on SSD drive in the future.
Backup important files on SSD to other storage device; Stop using the SSD drive once data loss happen.