Taking screenshots is easy on Android, iPhone, Windows PC, and Mac computer, while it is hard to recover them when the screenshots were accidentally deleted or disappeared out of no reason. This post will introduce 3 screenshot recovery methods, which can be used to recover deleted or disappear screenshots from Android, iPhone, Windows, Mac respectively. Hoping that it can help you recover the lost screenshots you are looking for.
Recover Deleted Screenshots on Android
Some users reported that some screenshots mysteriously disappeared from their Android phone. In some cases, the entire screenshot folder is disappeared from the phone. If this happened to you, you can:
Install a file manager app on your Android device and search for the screenshots in the /Pictures/Screenshots directory in your phone memory and SD card if you have one.
Plug your Android phone into a computer in MTP mode and look through the DCIM or Photos folder for the lost screenshots.
If the screenshots won't show up through either a file manager or a computer, the screenshots might be deleted and needed to be recovered with a screenshot recovery program. FonePaw Android Data Recovery (opens new window) is able to recover deleted screenshots from Samsung Galaxy, Pixel, Xiaomi, Sony and more by scanning out the deleted data from the hidden area of the phone memory space. It can also recover deleted messages, videos, music from an Android device.
Step 1 Install FonePaw Android Data Recovery on a computer.
Free Download Buy with 20% off Free Download Buy with 20% off
Step 2 Connect your Android device to the computer and run the screenshot recovery application. Once the Android device is detected, select "Gallery" and "Picture Library" on the application and click Next.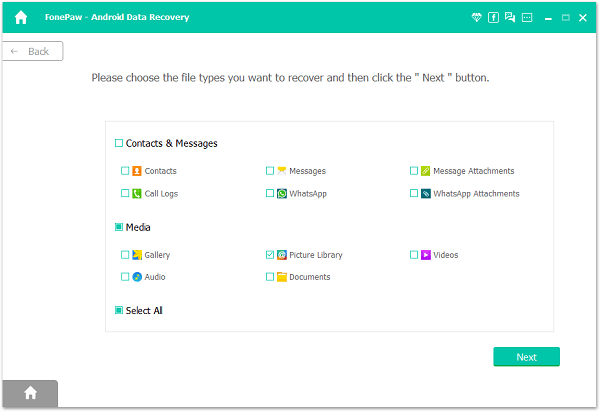 Step 3 To access deleted screenshots on an Android phone, the FonePaw application needs to get access permission. Tap Allow on your phone.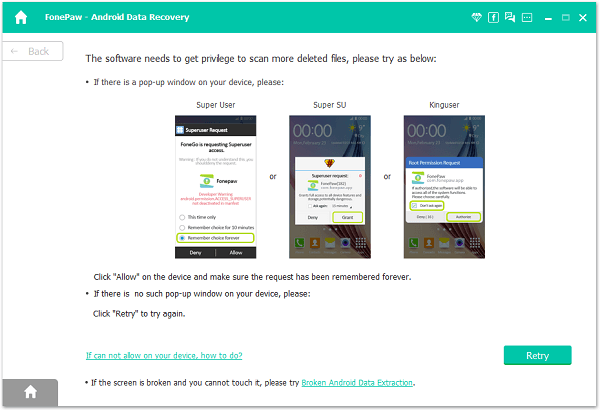 Step 4 The program will begin to find deleted screenshots from Android phone. When it is done, select the deleted screenshots and click Recover.
Learn more: Android Photo Recovery: How to Retrieve Deleted Photos on Android (opens new window)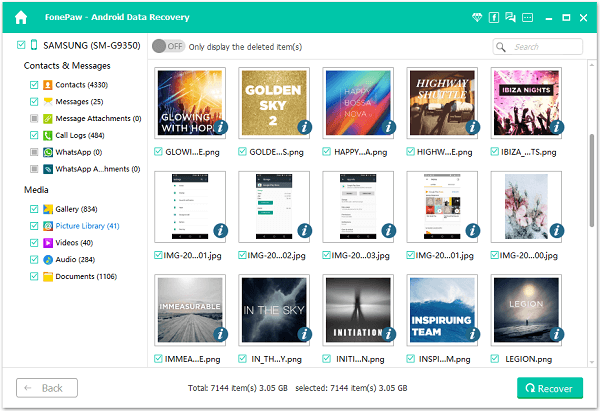 Recover Deleted Screenshots from iPhone
Deleted screenshots on iPhone can also be recovered. You need a different screenshot recovery tool - FonePaw iPhone Data Recovery (opens new window), which can recover deleted screenshots on iPhone from its phone memory, iTunes backups and iCloud backups. Just a heads up, you need to have backups that contain the deleted screenshots on your computer or iCloud account in order to recover the screenshots with iTunes/iCloud backups.
Step 1 Download FonePaw iPhone Data Recovery on your PC or Mac. Open it.
Windows Download (opens new window) Mac Download (opens new window)
Step 2 You can see there are three modes you can choose from: Recover from iOS Device, Recover from iTunes Backup File, Recover from iCloud Backup File.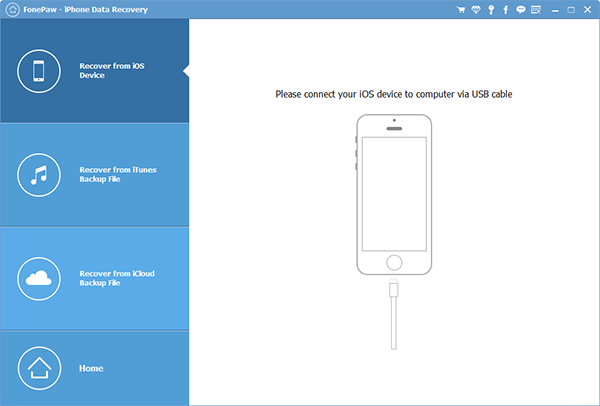 Recover screenshots from iOS device: connect your iPhone to the computer and let the program find out the deleted screenshots from your phone memory storage.
Recover screenshots from iTunes backup file: the screenshots recovery software will detect iTunes backups on your computer and extract the contents from the backups.
Recover screenshots from iCloud backup file: you need to sign in with your iCloud account. Then you can view the contents in your iCloud and recover the deleted screenshots from iCloud.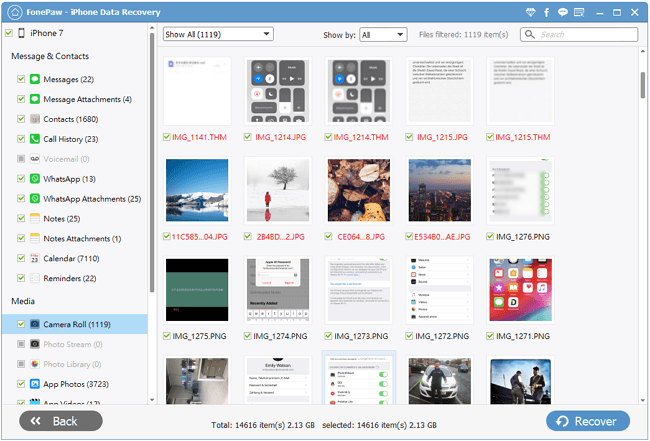 Recover Deleted/Disappeared Screenshots from Windows & Mac
If unfortunately, you have mistakenly deleted screenshots or screenshot folder from your Windows or Mac computer, you can use FonePaw Data Recovery (opens new window), a data recovery software for the computer to recover the deleted screenshots from hard drive storage, USB drive, SD card and more.
Tip: On Windows PC, users who use Windows + PrtSc key to take screenshots may be unable to find their screenshots anywhere. Also, there are users who find that the screenshots folder disappeared suddenly and don't know where the screenshots go. Some Mac users are also experiencing a similar problem. If so, check this post out: Where Where Are Screenshots Saved on PC and Mac?
To recover deleted screenshots on Windows and Mac:
Step 1 Download and install FonePaw Data Recovery.
Free Download Buy with 20% off Free Download Buy with 20% off
Step 2 Select Image for screenshot recovery. Tick the disk that used to store the deleted screenshots. Click Scan.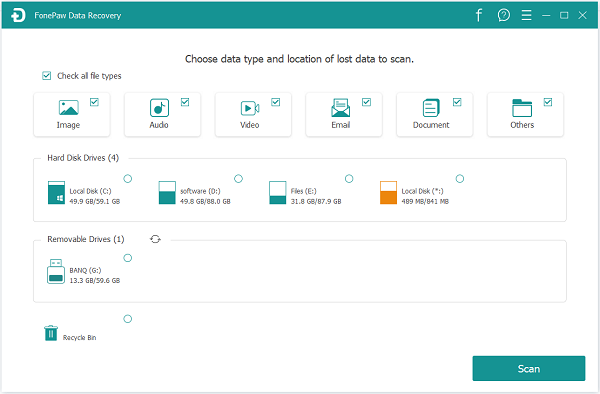 Step 3 FonePaw Data Recovery will start a quick scan first. After the quick scanning, select PNG, JPG, TIFF or GIF folder to find the deleted screenshots. If the photos can't be found, click Deep Scan.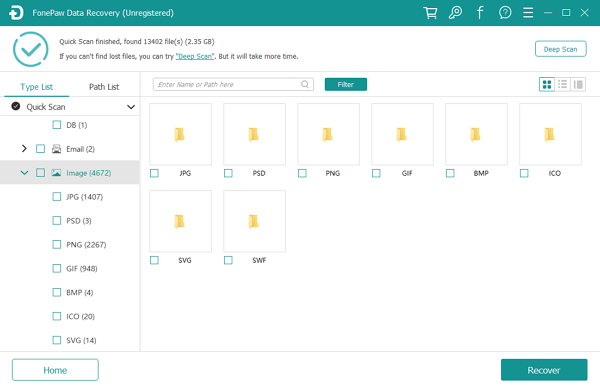 Step 4 Once the screenshots are scanned out, click Recover and select a location to save the recovered screenshots.
These are all you need to recover deleted or missing screenshots on Android, iPhone or computer. If you have any question, drop the question in the comments.