We always suggest you try the program before purchasing. When you want to get the full version of FonePaw Data Recovery, it is simple to be the real user.
To be note that, if you find some cracked versions on website or video channel, most of them cannot work and they are not safe. They are not from the official, so you cannot get the lifetime service of full update and changing the license for another computer.Besides, the cracks may bring virus to your PC. Therefore, it is not recommended to get so-called serials for FonePaw Data Recovery (opens new window) since they are fake.
# 3 Steps to Register FonePaw Data Recovery
Step 1. Free Try the Program
Free Download Buy with 20% off Free Download Buy with 20% off
You may install the data recovery utility before. Here suggest you try to scan out your lost files on hard drive. When it can show what you need, please move on to register.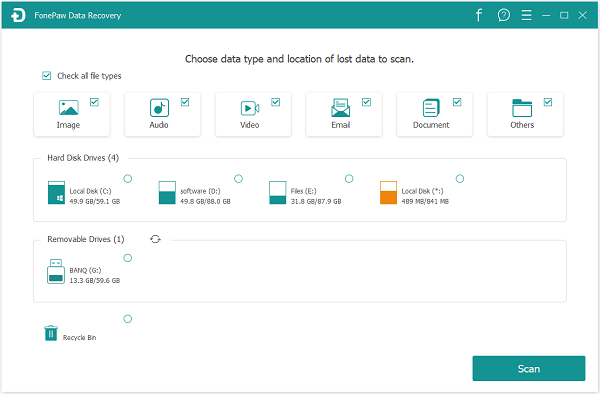 Step 2. Enter License Code
If you have purchased the software successfully, FonePaw support team will send a letter with the registration code to you. Click the icon next to the question mark and hit Register option.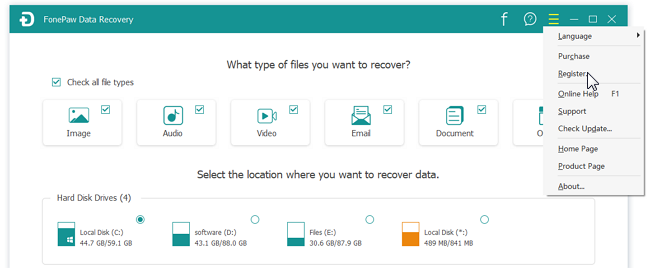 Step 3. Register Successfully
The pop-up will come to you and ask you to enter the registration code. Thus, copy the code and e-mail address to certain box. It is done when it shows: Congratulation! You have registered successfully! Have a good experience!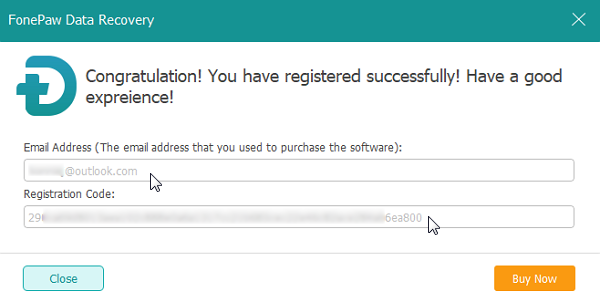 Only with 3 steps, you have become the real data recovery user. Without registering, the Recover button cannot work for you and you are allowed to preview the scanned data with FonePaw Data Recovery. Now, you can retrieve what you want back to Windows (opens new window).