How to Recover Deleted Photos from Computer
Photo is one of the important kinds of files on the computer and I believe every computer saves lots of precious pictures, especially for designers and photographers. As time goes by, your computer would run slow and own less and less space to save new files. You may clean up your Windows by deleting files, including photos. Since the names of pictures are usually similar and only one or two characters are different, mistakenly deleting often occurs. At that time, what you need urgently is to recover the deleted photos from the computer, but how to find out the missing data?
People Also Read:
First, make sure whether you lost the photos that you need and where they are saved.
Find the ideal photos on your laptop or desktop again to make sure whether the pictures are deleted. Then, remember which disk saved the deleted images before since this will help you go to the recovery process. If you're uncertain about the formats of missing photos, it is not a problem influencing the recovery because most formats of the image are supported:
PNG, JPG, TIFF, TIF, BMP, GIF, PSD, RAW, CRW, ARWCR2, NEF, ORF, RAF, SR2, MRW, DCR, DNG, ERF, AI, XCF, DWG, X3F, etc.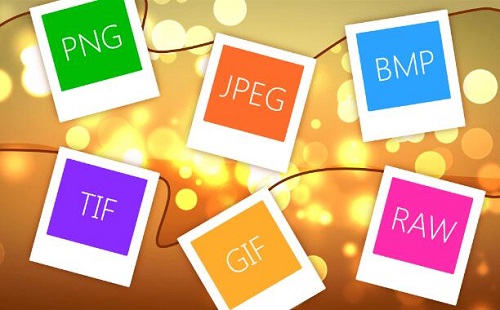 Second, stop using your Windows, especially downloading and installing apps, stream music, etc. on the hard disk drive in which the lost data was stored. We may not know too much about the rules of keeping data on Windows OS. The deleted data is not removed completely from the computer at first and they are just hidden in some place of the hard drive. Once you continue to use the device and input the new data, the space-saving the deleted data will be overwritten by those newly-input data, even installing an app, creating a document, etc.
Third, check and recover deleted photos from Recycle Bin. There is no doubt that Recycle Bin is the first way you would try to find the lost pictures. Just double-click the trash bin icon on the desktop and find what you want in it. If there are lots of things in your Recycle Bin, you can use the search box and type the name of the photo to locate it. When you get it luckily, right-click on the photo and restore it to the original place. Please note that the images won't be found on the Recycle Bin when they are removed from memory cards, USB flash drives, or smartphones.
Tips: As you deleted the image just now and you didn't do anything else, you can use Undo command - press "Ctrl+Z" to get the deleted files back to their original place.
Finally (Significantly), find a photo recovery software to undelete pictures. FonePaw Data Recovery plays an important role in managing the deleted pictures on Windows since it is compatible with recovery from hard drives, memory cards, USB flash drives, digital cameras, and more. Don't hesitate! Search Google and get FonePaw Data Recovery, one of the top data recovery wizards, on your computer. Windows 10, Windows 8, Windows 7, and Windows XP are supported.
Free Download Buy with 20% off Free Download Buy with 20% off
As we mentioned, installing software may influence the data being written so please download and install FonePaw Data Recovery on the hard drive which didn't save the deleted images before. For example, you deleted the valuable photos from Disk C:, so you should put the data recovery software on Disk D: or others.
Top 5 Best Photo Recovery Software
FonePaw Data Recovery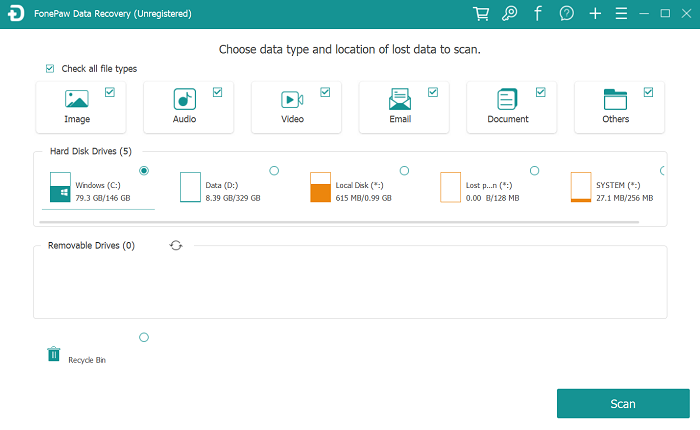 FonePaw Data Recovery provides the easiest data recovery solution. The program recovers deleted files on Windows/Mac from hard drive, memory card, USB flash drive, digital camera, and more. To recover your deleted photos from the computer with FonePaw Data Recovery, you just need to:
1.Download and Launch FonePaw Data Recovery on the Desktop.
Free Download Buy with 20% off Free Download Buy with 20% off
When you view the homepage of the program, it lists the file types and hard disk drives for you to select. If you tend to recover the files from the removable drives, like the SD Card, it is in need to connect it to the computer and choose it to scan.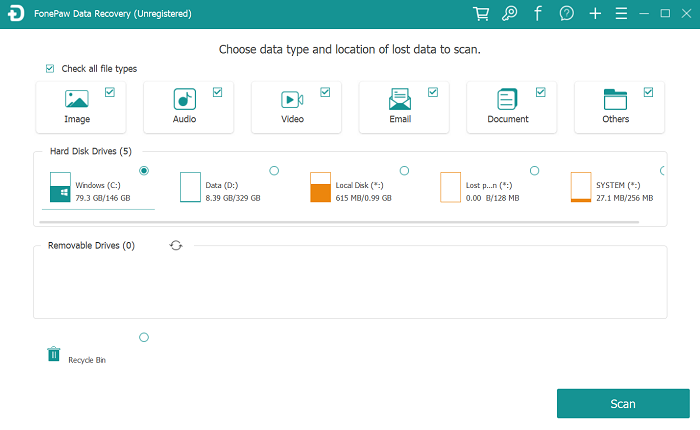 2. Select "Image" to Go on Scanning.
After you check the box of images and select the hard drive, the program will go into scanning. It will go with "Quick Scan" automatically and it runs so fast.
**NOTE: **Deep Scan allows you to move further a step to access the computer's data, which will take a little long time but it can find more files.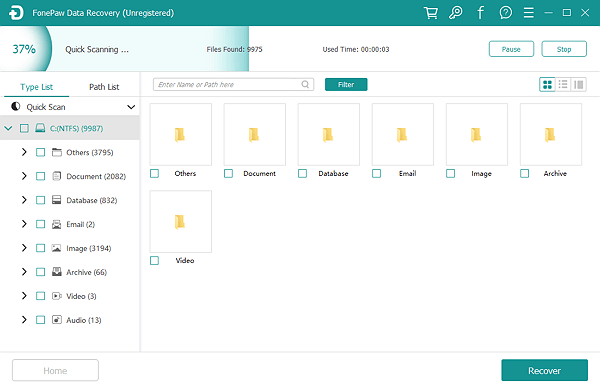 3. Check the Scanned Results.
All the results are shown in two categories: Type List and Path List.
In the type list, you can view all formats of the pictures, e.g: BMP, GIF, PNG, JPG, and more.
In the path list, the files are displayed according to their paths.
You can enter the name or path on the search bar to filter the images. Just double clicks on the image and you can preview it.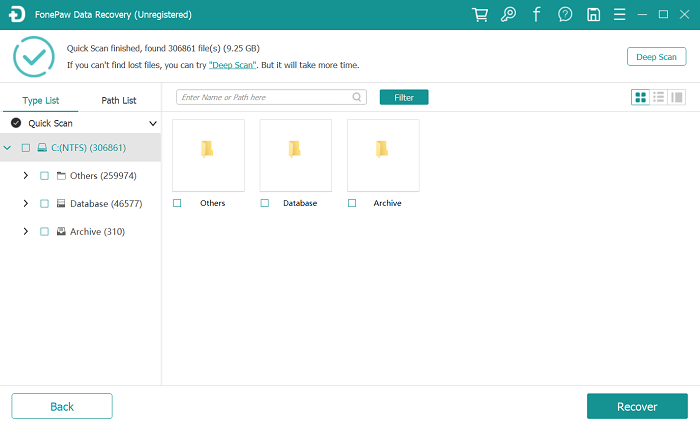 4. Successfully Recover the Deleted Photos.
As the ideal images are found, choose them and click the "Recover" button to retrieve .png/.jpg back to the computer. You can restore the lost photos on Windows PC and transfer them anywhere as you like.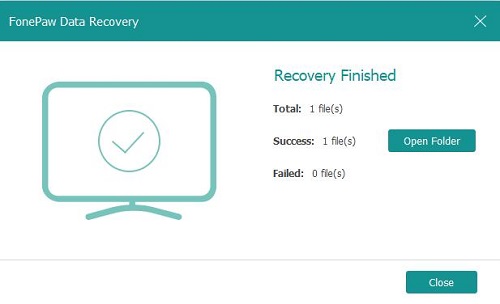 Free Download Buy with 20% off Free Download Buy with 20% off
Pros
Concise interface and simple operation.
VCustomizes scanning path and file format.
Different scanning modes available.
Precise filter of the path and file format - Type List and Path List.
Previewing scanned files available.
Fast recover speed.
Cons
PhotoRec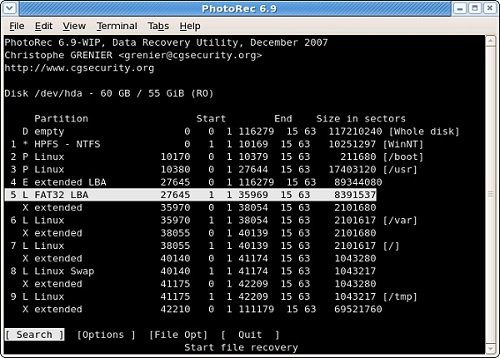 PhotoRec recovers files from hard drives, USB flash drives, memory cards, CD/DVD, and so on. There are also versions for Mac and Linux, enabling the user to recover their data from a different computer if required. It has an easy and convenient program guide.
Pros
Different platforms available.
Various file formats available.
Cons
Cannot recover all files.
A bit complicated. Not easy-to-use.
Disk Drill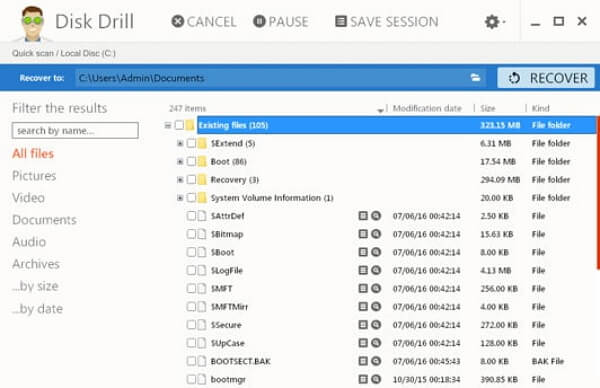 With the help of Disk Drill, you can get lost data, including lost photos back. It is a professional data recovery program that works on both Windows and Mac.
Pros
Organizes files found by category.
Filters the results by size and data.
Cons
Only free for 500MB.
Requires long scanning time.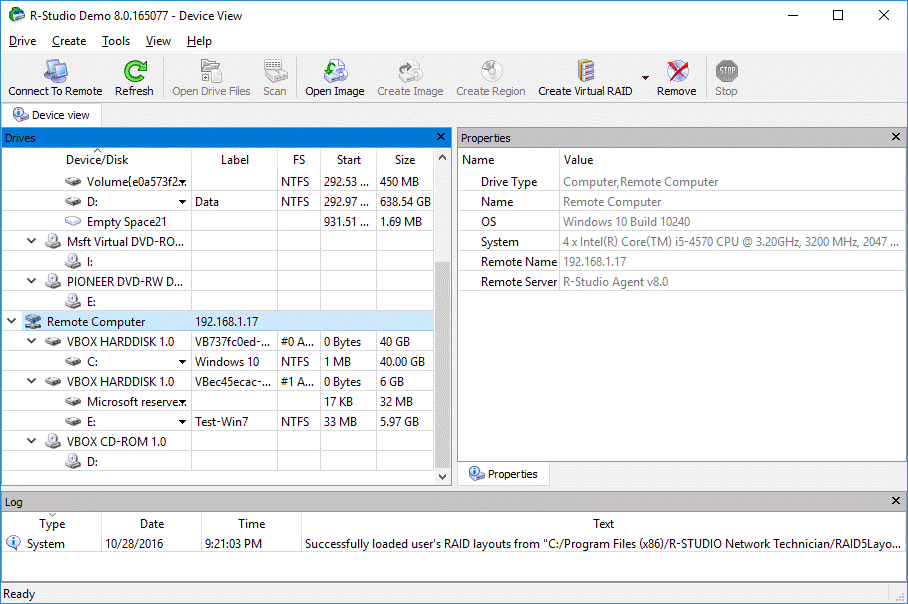 R-STUDIO is one of the most comprehensive data recovery solutions. It supports files recovery from NTFS, NTFS5, and so on. This software works well in recovering data from various real-life data loss situations.
Pros
Supports the data recovery from network drives.
Can create image files and recover files from image files.
Takes simple steps to perform photo recovery.
Cons
Has a complex interface.
Requires long scanning time.
Puran Data Recover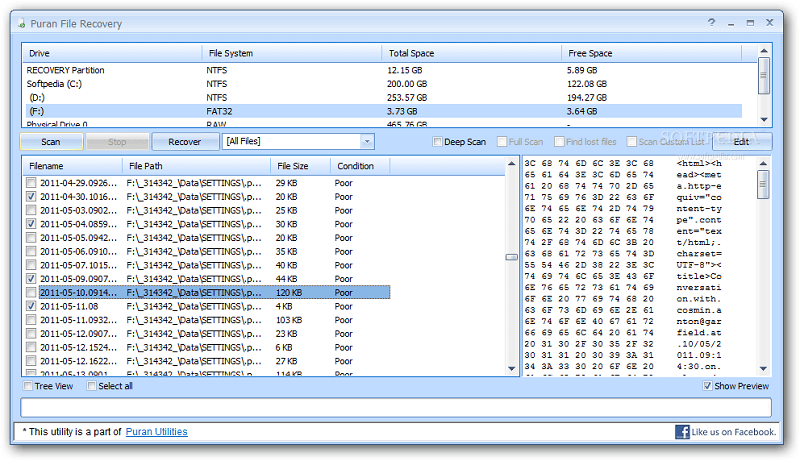 Puran Data Recovery can recover deleted photos, videos, and audio from computer hard drives and portable storage devices. This photo recovery software is worthy of trying.
Pros
Copies entire drives or individual files.
Different speed levels included.
Cons
Cannot filter the files you want to recover.
From the introduction and review of the 5 best photo recovery software above, it's not difficult to tell that FonePaw Data Recovery excels the other photo recovery software in most areas. FonePaw Data Recovery provides users with a simple and efficient photo recovery experience.