Accidentally emptied trash on Mac and find it impossible to restore? Don't panic! It's sure that emptied trash can be recovered from Mac and your important data can be restored to where they are. Read on to recover files from trash on Mac easily!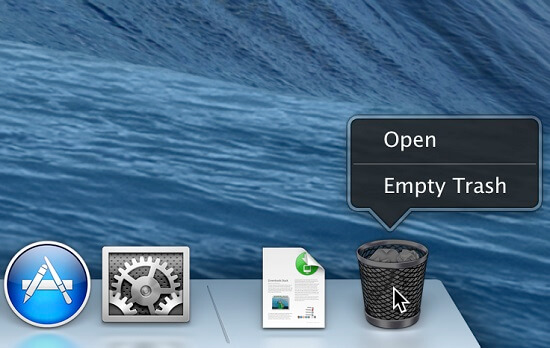 Is It Possible to Recover Emptied Trash on Mac?
Though Apple claims that once the Trash is emptied, the files in it will be deleted permanently; however, they are still lying on your computer! The fact is when you delete something on your Mac, it just turns somehow invisible and be marked as "replaceable" by the system for writing new data. The deleted trash is not really emptied until a new file is using its space. Therefore, to enhance the possibility to find your files back, avoid downloading or creating new files on your Mac in case the emptied trash may be replaced by new files.
However, not all emptied trash can be recovered on Mac. You can recover deleted trash from Mac when you:
Drag a file to the Trash and then click Empty Trash;
Choose a file on Finder and select "Empty Trash...";
Permanently delete a file using Option-Shift-Command-Delete buttons;
Click "Delete Immediately" to bypass Trash and directly delete a file.
But you cannot undelete trash when the file is erased by Secure Empty Trash (opens new window). Secure Empty Trash is an option available on OS X El Capitan or earlier, which will not only delete a file but also write a series of ones and zeroes over the deleted file, making it impossible to recover by any software. So, if your trash is securely emptied, there is little chance to get it back.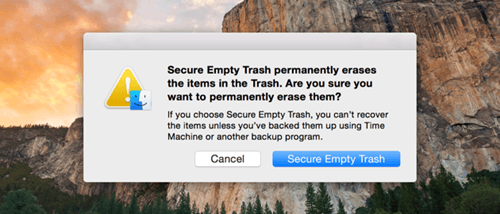 How to Recover Emptied Trash on Mac (Without Backup)
Even that we know it is possible to recover emptied trash, we still cannot undo Empty Trash without a professional data recovery program, since there is no "undo" button for the Empty Trash command.
To easily restore trash files on Mac without backups, you need the help of FonePaw Data Recovery (opens new window). It can somehow undo empty trash safely and quickly and retrieve deleted images, videos, audios, emails, documents, and more in the emptied trash. Moreover, FonePaw Data Recovery can also be your best choice to find data deleted or lost during system restore, factory reset, or system update.
The longer time you wait, the more likely the files are covered by new ones. Download it now and restore trash on Mac in only 3 steps! (If you wish to share FonePaw Data Recovery with your friends using a Windows computer to recover Recycle Bin, send them this page (opens new window).)
Free Download Buy with 20% off
Follow the simple three steps to recover files from trash. Believe me, it won't take long.
Step 1: Get Mac Trash Recovery Started
Install FonePaw Data Recovery and open it. On the homepage, you can select data type and location to scan lost data. You can choose the certain types of files you have emptied from Trash, such as image, audio, video, or document. Then click "Scan" to get started.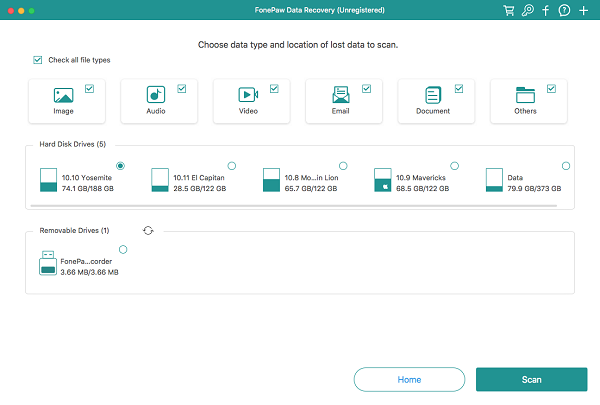 Step 2: Search for Emptied Trash on Mac
After you click the Scan button, FonePaw Data Recovery will start a quick scan automatically. When done, enter "~trash" in the search box to find emptied items on Trash.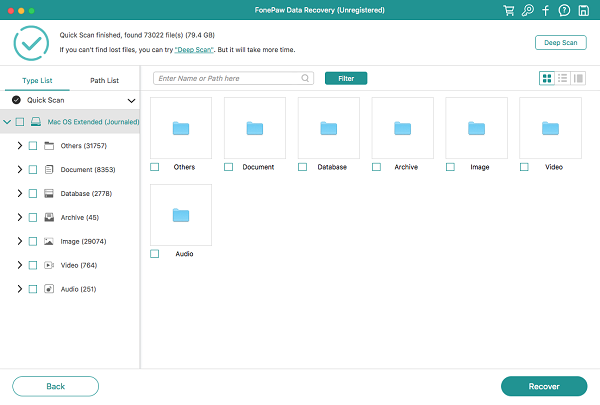 Tip You can preview the result by type. And in case you find the result not satisfying, click "Deep Scan" to find more emptied trash. It may need some time, even a day if your Mac has large-capacity disks.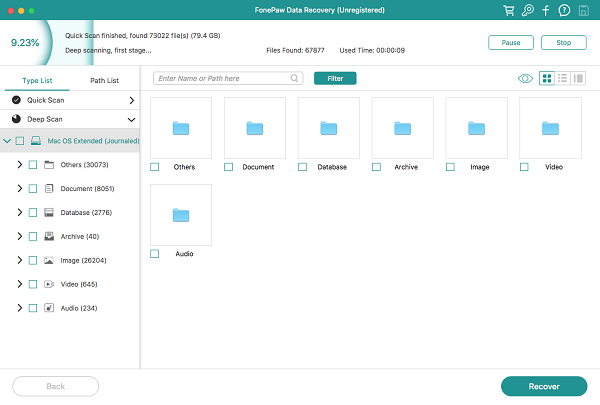 Step 3: Recover Emptied Trash on Mac
Choose the deleted trash that you want to recover. Click "Recover". Then check the output folder, and all the files you choose should reappear.
How to Restore Deleted Files After Emptying Trash (Without Software)
You may don't feel like downloading software to recover an emptied trash. There are two methods through which you can try restoring the deleted files without software.
# Check Your Backups to Retrieve Deleted Items
Think about your backups. If you've gotten your files backed up on Time Machine, iCloud, or even email, there's a chance that the one you are searching for is stored in your backups.
Here is a simple guide on how to recover permanently deleted files on Time Machine:
Step 1. Click on the clock icon > Enter Time Machine on the menu bar to launch Time Machine.
Step 2. Select the window by scrolling the timeline on the right.
Step 3. Locate the file you need and preview it.
Step 4. Click Restore and it will be back to its original location.
# Try Using Terminal to Rescue Your Deleted Data
If you didn't back up your files, you still can try the built-in tool Terminal, even though it generally restores files that are not permanently deleted from the Trash.
Step 1. Open System Preferences > Security & Privacy Preferences > Privacy tab, unlock the prevention at the bottom left, and choose Full Disk Access.
Step 2. Click the plus icon to drop Terminal into it.
Step 3. Launch Terminal by clicking on Finder > Applications > Utilities.
Step 4. Type "cd .Trash" and press enter.
Step 5. Press "ls -al ~/.Trash" then enter and view the content.
Step 6. Input "mv X../" then enter (X stands for the filename of the file you wish to recover). If this succeeds, your file will be in its original location.
Step 7. Type Quit, then enter to exit Terminal. Move the retrieved file to the folder you prefer.
Tips on Deleting Files from Mac
# Securely Delete Your Files
First of all, stop using "Command+ Option+ Shift+ Delete" to delete items on your Mac, as it will delete your Trash data permanently without warning. If you are used to using shortcuts to delete them, try "Command+ Shift+ Delete" and you will see a warning before deleting the files permanently.
Secondly, avoid trash emptying automatically. You should check your Finder Preference if you are using macOS High Sierra, Mojave, Catalina, Big Sur, or other new version operation systems. There is an option on the Advanced tab saying Remove items from the bin after 30 days. If you tick it, you will need FonePaw Data Recovery (opens new window) if you wish to get some items back from the automatically emptied trash.
Lastly, don't treat the Trash folder as a temporary storage location. Only put some data that really are trash in it and keep your temporarily useless files in a specific folder. In this way, you won't lose some important data after the Trash is emptied. Or if you are tired of distinguishing the trash, try securely emptying the Trash (opens new window).
# Undelete Files from Trash
You can undelete files if they are still in the Trash. This can happen if you dragged the file to the Trash directly; "control+ clicked" on the file and selected "Move to Trash"; pressed "Command + Delete" on the file.
Here is the simple guide on how to undelete your files:
Step 1. Open Trash and search for it (Sort the Items by Date Deleted or search the file name).
Step 2. Press "Option" and click on the file you wish to undelete and it will be back to its original position.
Verdict
All the above are the simplest way to quickly recover emptied trash on Mac. Also, it can be helpful to restore deleted files. Losing important data is devastating, and we hope this passage help. If you find this passage useful, please give us a like and share it with your friends!