Notepad is a basic text-editing program that you may often use to write down information or edit text without formats. As a rudimentary program, Notepad doesn't offer advanced features such as autosave, files backup, thus Notepad documents can be easily lost. For example:
"I spent hours editing a text file on NotePad. The computer suddenly crashed, but my Notepad file is unsaved. Can I recover unsaved Notepad files?"
"I mistakenly deleted some .txt Notepad files from Recycle Bin. Can I recover the deleted text files?"
If you have a similar problem: Notepad files are closed and unsaved after a crash, Notepad contents are lost during copy-and-paste, .txt files are deleted by mistake, etc., this post is going to show you how to recover unsaved or deleted Notepad files on Windows 7/8/10.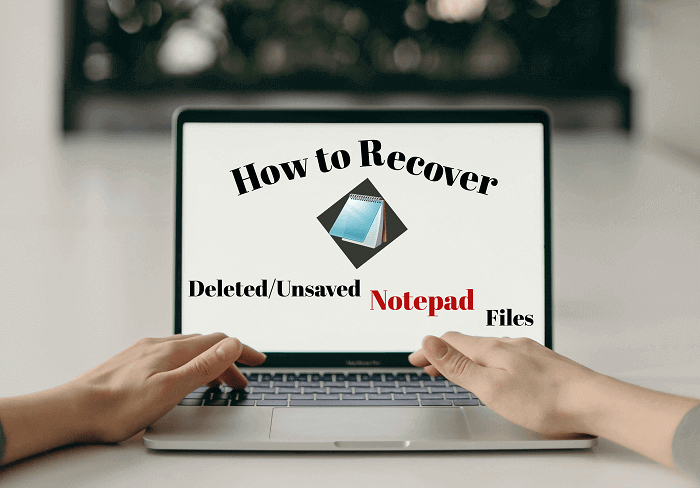 What is Notepad File?
As everyone knows, Notepad is a text editor provided by Windows by default. It bears basic features and a plain design, and is good to use for taking memos, writing codes, etc. It supports almost all the languages and is saved as files with a ".txt" extension.
Is Notepad the Same as Notepad++?
Some may confuse Notepad with Notepad++. In fact, they are two different programs. Notepad++ is a free source text-editing program which is mostly used as a code editor. It keeps the simplicity of Notepad and also expands more features to help code writing, so it's usually regarded as an upgraded version of Notepad.
Notepad does not offer an autosave function, so it requires you to press the "Ctrl+S" button frequently to avoid data loss. On the other hand, Notepad++ can realize this feature to save your changes automatically as long as your set it up. But if it happens that you have not set up anything and deleted/lost your Notepad or Notepad++ files, you can try to recover them with the methods below.
How to Recover Deleted Notepad Files
This method applies when you have saved your .txt files but lost it by mistake.
Actually, it is easier to recover deleted Notepad files than to recover unsaved or crashed files because your deleted text documents are likely to remain on the hard drive as long as you have saved them once. The reason why they are recoverable is that when they are just deleted from the Recycle Bin, the text files are not erased from the disk completely, but be markable as empty space, waiting for being overwritten.
In this case, you can easily use a Notepad file recovery program to recover the deleted Notepad files. FonePaw Data Recovery is the best choice to do this job.
Free Download Buy with 20% off Free Download Buy with 20% off
It's a simple but powerful data recovery program that specializes in recovering data from PC and various hard drives. It supports data recovery of most of the common formats including documents, photos, videos, bookmarks, browsing histories, etc. You can also use the filter to easily scan a specific file type at a selected disk, so it's possible that you successfully recover your Notepad file in minutes.
Use FonePaw Data Recovery to Recover Notepad Files

Note:
After a Notepad document is deleted, try not to use your computer to create a file, edit files, download things, which will write new data into the disk and could overwrite the deleted document. Once a file is overwritten, no data recovery program can recover it.
Step 1. Install FonePaw Data Recovery on Windows PC. The program also has a Mac version.
Free Download Buy with 20% off Free Download Buy with 20% off
Step 2. Launch the program, click Document and select the disk of your computer.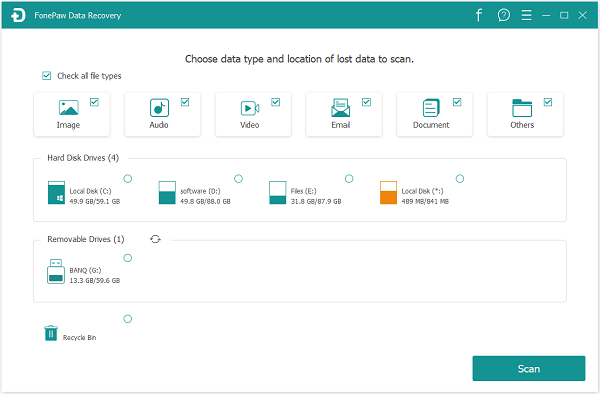 Step 3. Click Scan. The program will start to scan your disk for all your documents. After that, click the TXT folder to find the deleted Notepad files according to the file name, created date. If the deleted Notepad files don't appear after the first scanning, click Deep Scan.
Step 4. Once you find the deleted Notepad that you need, click Recover.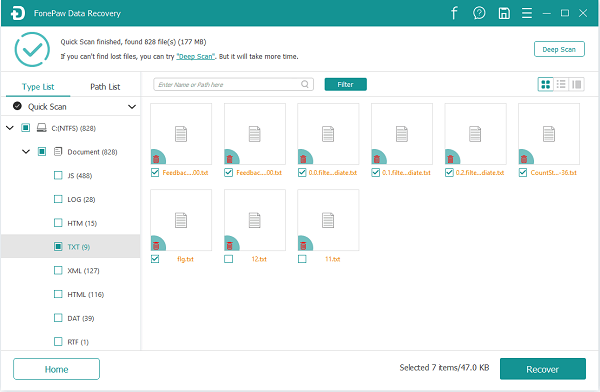 Besides recovering Notepad files, FonePaw Data Recovery can also recover deleted Word documents, Excel files, presentations, photos (.png, .psd, .jpg, etc.), and more.
Free Download Buy with 20% off Free Download Buy with 20% off
How to Recover Unsaved Notepad Files
This method is used for the situation that you forgot to save your .txt file and want to get back the contents you make.
To be honest, it is nearly impossible to recover a Notepad file that is unsaved because the file is not written to your computer's disk and there is nothing to recover from. But since the contents of the Notepad file have been saved in the computer memory temporarily, there is still faint hope that you can recover the unsaved Notepad documents from temporary files.
Step 1. Click Start > Search. In the search bar, type: %AppData% and hit Enter. This will open the AppData folder.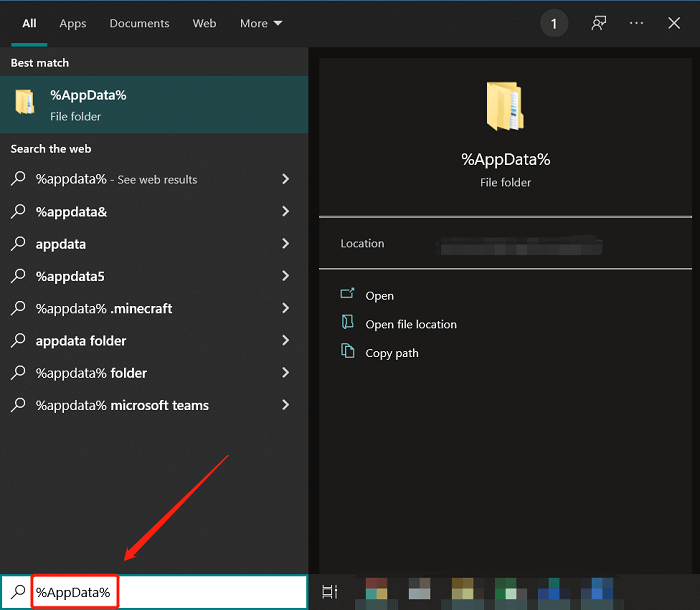 Step 2. Select Roaming to go to the path: Click C:\Users\USERNAME\AppData\Roaming. In this folder, search for the Notepad files and see if your lost Notepad files can be found.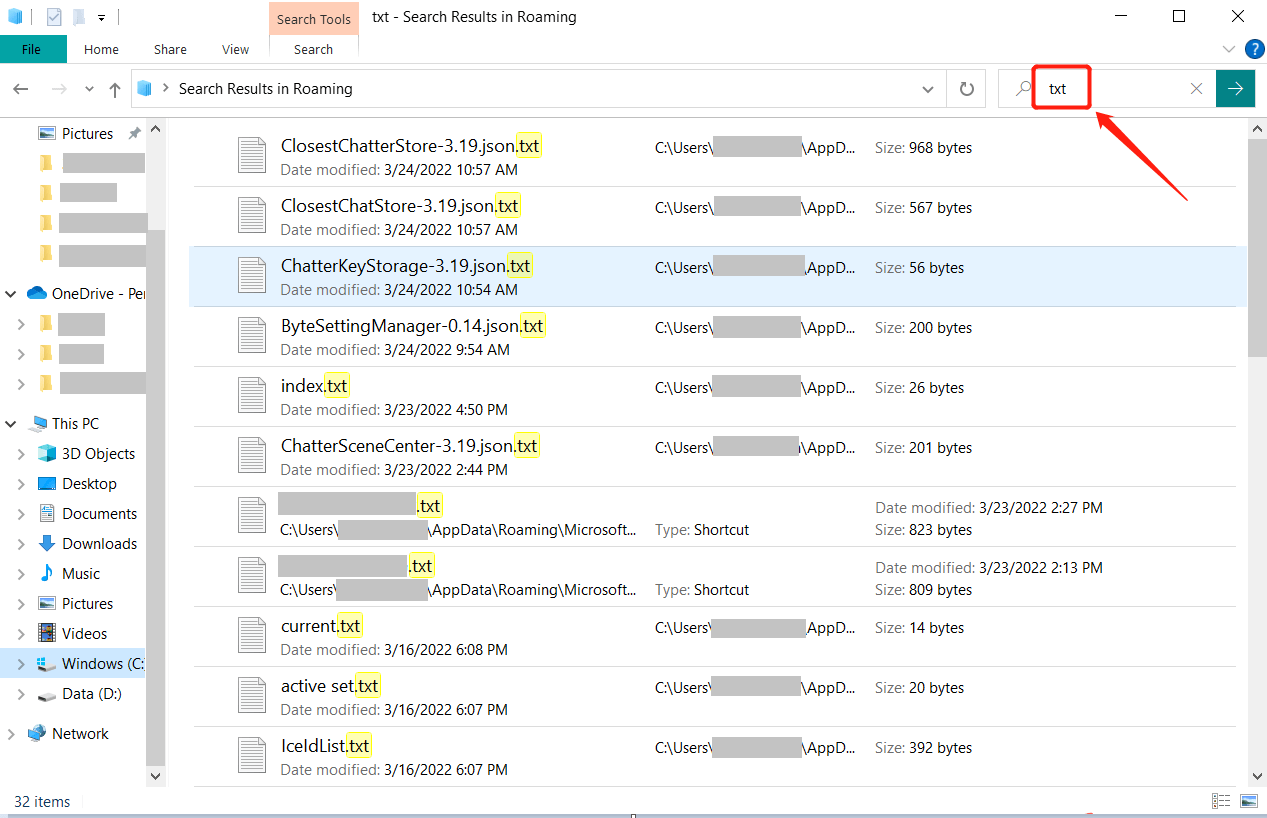 Note:
When your Notepad files are lost and unsaved, don't turn off and restart your computer. After the PC reboots, the unsaved Notepad files will be lost permanently so you won't go on unsaved Notepad recovery on Windows 10.
Wrap Up
Since Notepad cannot autosave or back up a file, we should be more careful when using Notepad to edit texts and click Save from time to time during editing. Also, it is a good idea to replace Notepad with a more