How do I recover my deleted music files?
We download lots of music files on computers and phones and when using computers and smartphones every day, there is high probability that we accidentally delete these audio files. Don't be upset if you lose music files. This comprehensive guide will give tips to recover lost music/audio files on your PC, Android and iPhone.
When audio files are deleted or lost, we cannot access and play them. However, the missing music files still exist on their original space on our Windows PC, Android or iPhone unless the new data overwrite them. This means that if you can recover audio files in time, the lost music files are recoverable. Therefore, you should perform data recovery promptly with data recovery programs that enable you to recover deleted music files on Windows 10/8/7, Android, iPhone.
# 1. How to Recover Lost Music/Audio Files on Windows 10/8/7?
FonePaw Data Recovery (opens new window) is a powerful data recovery software to help you retrieve deleted audios, images, videos, emails, documents from your hard drive on Windows 10/8/7. If you want to recover lost music files from computer hard drive, USB, memory Card, removable drive or other devices, it will be a good assistant. Moreover, the program can retrieve various formats of audio files, including AIF/AIFF, M4A, MP3, WAV, WMA, MID/MIDI, OGG, AAC and so on.
Note: Before taking steps to recover the lost audio files on Windows 10, 8/7, there are some important heads-ups.
When you find that your audio files are lost, first confirm the location of the files, and then stop using your computer to prevent the new data from writing over the deleted audio.
When downloading FonePaw Data Recovery, you also need to select the location of the hard disk that doesn't hold the lost music files. Otherwise, the installation could overwrite the deleted files.
Free Download Buy with 20% off Free Download Buy with 20% off
Step 1. Download and Launch FonePaw Data Recovery
Open the program, you can select the file types and computer drives. Please select correct drive and check the box of Audio. Then click on "Scan" button to scan, the program will go with "Quick Scan" automatically.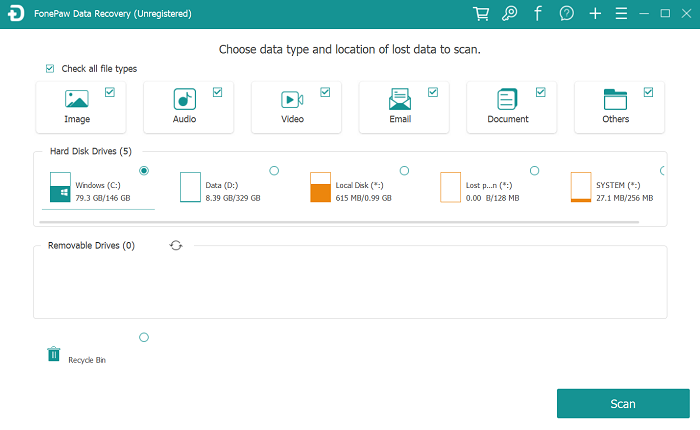 Note: It also offers "Deep Scan", which can search for the deleted music files more thoroughly and thus it takes a long time, so be patient during "Deep Scan".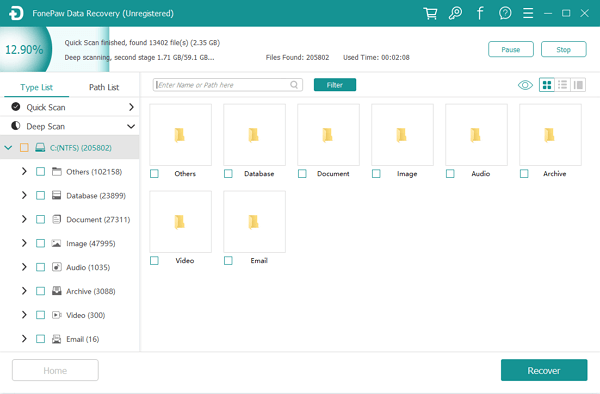 Step 2. Check the Scanned Results
After scanning, you can check the scanned audio files by Type List and Path List.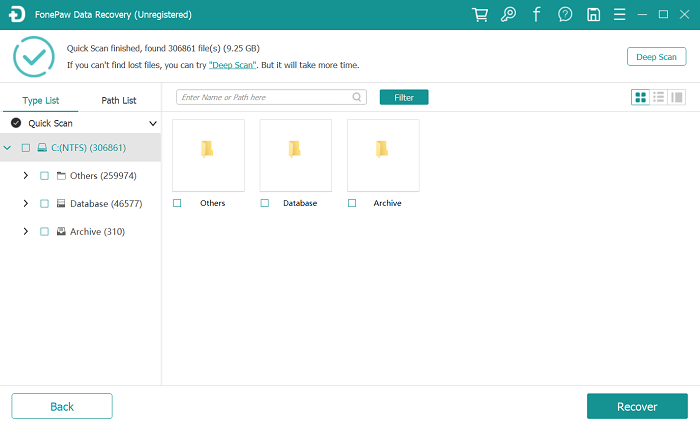 Step 3. Recover Deleted Audio Files
Tick lost audio files you want to retrieve. In the end, click on "Recover" button to save those deleted files on computer again.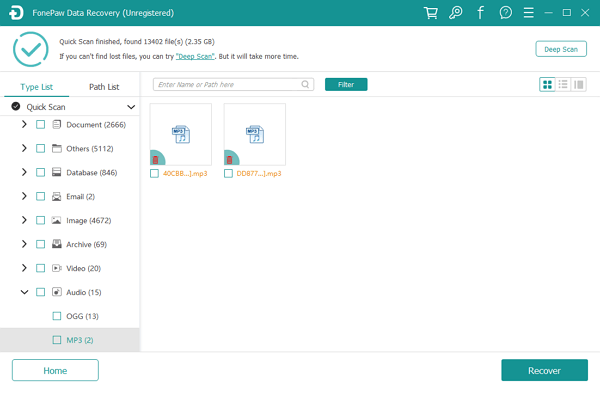 As you can see, it takes simple steps to recover the lost audio files with the help of FonePaw Data Recovery (opens new window)
# 2. How to Recover Lost Music/Audio Files on Android/iPhone?
2.1 Recover Deleted Music Files on Android
Android music files can be saved on both Android internal storage and external SD card. When these audio files are disappeared from your Android phone after the deletion, stop using your Android phone. As long as the deleted music files are not overwritten by new data, they are recoverable. FonePaw Android Data Recovery (opens new window) can help you quickly recover the missing music files, refer to How to Recover Music from Samsung Phone for the specific steps of recover deleted audio files from Samsung S8/S7/S5/S4/S3 (opens new window) and more.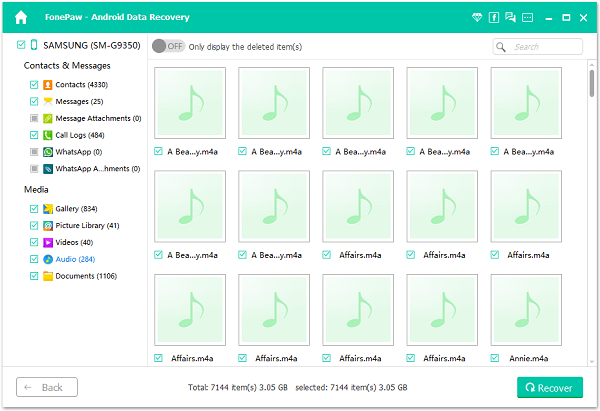 2.2 Recover Deleted Music Files from iPhone
For a variety of reasons your music files have disappeared from your iPhone, but you should know that these files are not really disappeared, and the deleted files are stored on iPhone. Apart from restoring these files from your backups such as iTunes and iCloud, you can also effectively recover them using only one program -- FonePaw iPhone Data Recovery (opens new window), which allows you recover deleted audio files from iPhone, iTunes backup as well as iCloud backup. You can recover lost music files according to the steps of the following article: How to Recover Deleted Files from iPhone (opens new window).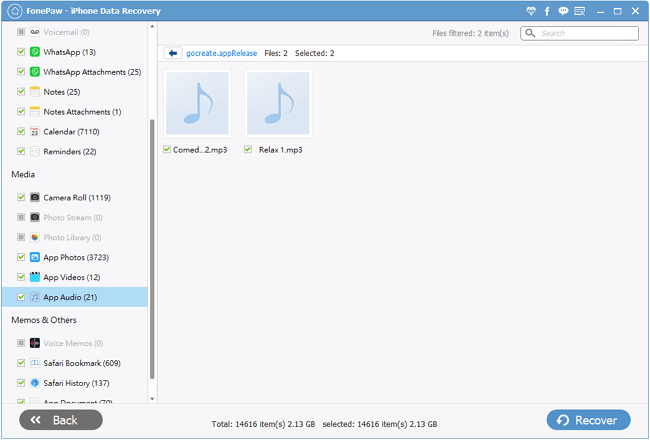 In conclusion, FonePaw should be the best choice for recovering lost music/audio files to you. Even though there are powerful data recovery program to help you, the best way to tackle data loss is still regular backups. Always back up important audio files on your computer, iPhone or Android to prepare for the rainy day.